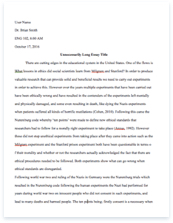 The whole doc is available only for registered users
Pages: 3
Word count: 682
Category: Culture
A limited time offer! Get a custom sample essay written according to your requirements urgent 3h delivery guaranteed
Order Now
How does the poem"Understand Old one" portrait the concept of "discovery"? Discovery can have a different impact on different individuals. The composer "Oodgeroo Noonuccal" reflects on her discovery of the" old native burial ground" as a spiritual journey, rather than an intellectual journey experienced by the scientists and the modern world. Discovery can offer us a positive or negative experience. Oodgeroo Noonuccal felt strongly reverential towards the old one and the past, but she was more disdainful towards the scientist and the modern world. And the discovery leads her to realise that her duty was to motivate other Aborigines to stand up and protect their cultural heritage. The emotive language "desecration, reverence, love, tears and wailing" conveys the composer's strong emotions about this discovery.
The metaphor of "stone gunyas" and the imagery of "swarms of cars", both demonstrate us her disapproving attitudes (disapproval) towards the modern technology and the modern lifestyle. In the line"at towering stone gunyas high in air", skyscrapers are metaphoric as "stone gunyas" to highlight… In the "Your duty to your race", the composer through the use of 2nd person pronoun intensively appeals to aboriginal people to preserve their cultural values and remind their cultural identity. The appealing further emphasizes with the time reference in the"……" Oodgeroo Noonuccal felt more attached to her cultural heritage in the spiritual discovery. Despite she has undergone a provocative discovery how modern world is destroying the indigenous culture, this discovery has stimulated her a new idea that Aborigines need to take fight. Words you need to remember for this week:
enthusiastic(adj) enthusiasm(n)= passion
isolate(v) isolated(adj) isolation(n)
appeal (v,n)
inspire inspiration
courage(n) courageous(adj)
determine(v) determination (n)
convey=show
intial (adji) initially (adv)
reverence (n) revere (v) reverent (adj)= respect
emphasize
despite= even thought
undergo_ experience= go through
indigenous freak
Discovery concept: discriminate
Discovery can allow people to gain new understandings of themselves, others and the larger world. Discovery can enhance/ enrich people's understanding. Discovery can be emotional, spiritual, intellectual and physical. Discovery can offer us renewed perceptions (perspectives)
Discovery can lead to people to alter(=change=waver) their opinions. Listening
What /why/ How( the biggest part)
Sound
Tone: friendly, exciting, interesting, enthusiastic, bitter Pace: fast(to show his enthusiasm and expertise(knowledge) about this topic Loudiness
Pitch: high(the speaker is excited)
Langauage:
Metaphor/ simile
Positive language(Great fun/ I really enjoyed it) to show the speaker is optimistc (condident) Negative phrase (feel lonely,sad, alien, nightmare, uncomfortable) Emotional language( I really freak out, I hate it)
First person pronoun( we are together/ we will work out this issue together) to appeal to the audience Repetition (repeat)
Rhetorical question
Humour
Special effect:
Backgound music to create atmosphere
Laughter
Answer structure: The composer uses…(technique) such as…(quote), to demonstrate/show/ emphasize ……. feeling(describe what feeling) Words for this week:
Impersonal=factual= objective
Critical(adj) criticize criticism
Aggressive
Reflective= nostalgic nostalgism
Fluency flueny
Evoke feelings/ a sense of ..
Maintain
Authentic/ authenticity/ author
Promote/ promotion/ promoted
Discriminate/ discrimination/discriminated/
Segregate=separate
Include= exclude
Discoveries of aboriginal people being hurt and discriminated from the mainstream society are confronting and provocative to Oodergoo Noonuccal and other Aboriginal people. Despite that, the experience of being a mother has stimulated her a positive vision that black and white people combine together in peace and harmony. In the phrase "heartbreak, hatred blind", alliteration is to highlight a harsh treatment that aborigines are suffering and emotive language is also to show aborigines' intense misery. The visual imagery of "blind" is used in "hatred blind" to reflect that there have been a stubborn hatred towards white people in the aborigines community due to historical brutal treatment.
In the line" your troubled eyes searched mine", descriptive languages reflects that composer, as a mother, was very worried when she discovered her son was experiencing racism and looking for answers. This evokes her a new idea that she should not just tell him about past and present issues and also encourage him to envisage a positive future. In the lines "black and white entwine/ And men in brotherhood combine", the visual imagery captures the composer's discovery that it is possible for black and white people working in harmony just like black and white lines tangling together. The positive word "brotherhood" emphasizes that Aborigine community and white people could make a positive choice to be a unity, regardless of colour.
Related Topics