Diagnosis of Psychological Disorders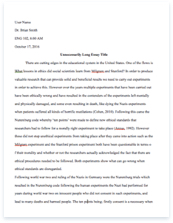 The whole doc is available only for registered users
A limited time offer! Get a custom sample essay written according to your requirements urgent 3h delivery guaranteed
Order Now
Different personality assessments are used throughout many practices regarding clinical psychology. These assessments have a wide range of theories and models that make it effective. Many articles state the given key points of what makes these assessment successful or not. The argument is that MMPI-2 is an effective test when diagnosing psychological disorders. It is important to discuss the MMPI-2's purpose and where it originates from. It is also key to compare the differences with other assessments. These assessments are designed to measure the client's characteristics, strengths and weaknesses, and emotions. This allows the therapist to dig deeper into what exactly the patient's needs. Personality assessments effectively help the patient get a better understanding of their self. The MMPI-2 is an effective test that measures personality and psychological disorders, as well as medical diagnosis.
The Minnesota Multiphasic Personality Inventory was published in 1940 by clinical psychologist Starke R. Hathaway and psychiatrist J. Charnley McKinley. The MMPI-2 was developed using an interesting new approach to psychological testing. In 1945, they introduced the first MMPI assessment. This test was designed for adults eighteen and over. After more research an MMPI test was created for adolescents, called MMPI-2A. These tests were widely used to help mental health professions diagnose disorders. This test was designed for a new way to self-report personality (Nordin et al., 2005). Hathaway and Mckinley had felt there was not enough accurate personality tests available. After the test was published in 1940, it grew fast becoming the most used objective measure of personality (Nordin et al., 2005). The test became very popular thus beginning people to question its use. Many patients were offended by the assessments, and felt it was offensive to their sexual identity or religious values. This made researchers begin to see ways they could improve this assessment. They started to develop an updated version of the MMPI titled the MMPI-2. This test was introduced in 1989, and has been revised countless times since then. Researchers will always be looking for ways to make it more effective for patients.
The original MMPI focused on diagnosing specific disorders like depression and schizophrenia. The test would analyze who had problems, before they were diagnosed. This was used to distinguish the qualities of people with disorders and people without. MMPI and MMPI-2 are used in personality assessments. During these assessments clinical psychologists use research to determine which method they will use with their patients. After these tests are finished the clinician determines the test takers psychological results by comparing the answers to those given by similar psychiatric groups. The clinician is then able to figure out the personal characteristics and traits displayed by the patient. The MMPI-2 is used and shown as more effective because it subjects to a larger normative group, which is the standard outcome of the tests. It has also been improved by making it better for a diverse population, instead of being inadequate, like the original MMPI. The clinicians are then able to determine what needs to be done in order to change the results that the patients show. Clinicians need training prior to monitoring MMP-2 assessments. These tests can only be monitored by mental health professions. These tests are valuable in giving the clinician an honest overview of what the patient is really like. In a therapist setting, it may be hard to fully understand a patient just by talking to them. These patients may not always answer truthfully to their personal characteristics. They may be afraid to confess how they think, behave, and feel. They also look into other diagnosis in health like pain. These test require true or false, straightforward answers. They ask numerous amount of questions referring to how the patients feels and their interests. It can almost be compared to taking a survey online. Often, society finds it easier to be more honest behind a screen than they do in person. After taking the test the clinician can diagnose groups of patients based on their results. Thus resulting in an effective way to test patients using MMPI-2 clinical and validity scales. Each study about MMPI and MMPI-2-RF further indicates their effectiveness in the psychology field.
Researcher Drayton (2009) talked about the importance for the psychologists to see if their patients agreed with the tests. The MMPI-2 includes 567, true or false questions. Drayton stated that, "It makes it very difficult for subjects to 'fake' responses, deny problems or give a particular impression" (Drayton, 2009, p. 136). The advantage is that it can determine lies, that is why it is widely used throughout the mental health field. Hahn (2005) conducted a study to determine whether participants were faking in North America. Hahn found that "whether the scales that detect faking in North America, English-speaking clients are also effective in the translation of the MMPI-2 for "fake-good" and "fake-bad" test takers easily adequate in the North American and Korean versions of the test" (Hahn, 2005). The questions include many different topics like religion, family, politics, and many more. The test focuses on ten clinical scales: demoralization, somatic complaints, low positive emotions, cynicism, antisocial behavior, ideas of persecution, dysfunctional negative emotions, aberrant experiences, and hypomanic activation. According to Nordin, Eisemann, and Richter (2005), they concluded that scores and grouping of scores were the same, and they correlated to clinical scales and code types that were consistent between MMPI and MMPI-2. The content skills were another use to measure these tests. The content scales are aligned with the clinical scales and serve as a way to further investigate the validity of the clinical scales. Another study conducted by Nordin, Eisemann, and Richter (2005) determined the effectiveness of MMPI-2 subgroups in a sample of chronic pain patients. In this study they used MMPI-2 scores of three hundred and seven females and one hundred sixty one male patients with chronic pain. There were two subgroups for both sexes (Nordin et al., 2005). The patients were admitted to the Department of Rehabilitation Medicine in Sweden because of negative response to the traditional treatments. In this study, the three validity scales L, F, K. psychologist used ten of the clinical scales, including: Hypochondriasis (Hs), Depression (D), Hysteria (Hy), Psychopathic Deviate (Pd), Masculinity‐Femininity (Mf), Paranoia (Pa), Psychasthenia (Pt), Schizophrenia (Sc) and Hypomania (Ma) (Nordin et al., 2005). The patients completed a questionnaire about their pain and intensity of the pain. Psychologists in the study used cluster analyses to find the normative sample, using the clinical and validity scales. They wanted to compare the chronic pain sample of patients with normative sample. They split it into the male pain samples and female pain samples. Then split male normative sample and female normative sample. Psychologists stated that they found, "The clustering procedure was applied to the K corrected and uniform T‐scores of both the pain sample and the normative sample and was computed for 2–8 clusters for men and women, respectively" (Nordin et al., 2005). The results of the study concluded that patients that had chronic pain sample were older than those who had the normative sample. The correlations between MMPI-2 validity scales, clinical scales, duration of pain and intensity were low but had a positive relationship between scales (Nordin et al., 2005). They ultimately concluded that MMPI-2 was reliable and successful when determining the normative and chronic sample of patients. Since this study was in Sweden, they wanted to know if the MMPI-2 would be just as affectful in other countries. MMPI-2 is considered just as effective in all different types of cultures because commonality in human culture, and similar characteristics of behavior. Overall in the study, MMPI-2 is an essential test in assessing the personality of chronic pain patients and creating individualized treatment programs for them. Although the MMPI-2 has been mostly used to diagnose disorders in the psychiatric field, this study indicates that it is also effective in the medical field. It has been an effective assessment for psychodiagnostics for medical patients. It has also proven to be used a lot for chronic pain patients, as this study shows (Nordin et al., 2005).
The Minnesota Multiphasic Personality Inventory tests have been renewed and reviewed for many years, even the MMPI-2 has been reviewed into the restructured form titled, MMPI-2F. Heijden (2013). The MMPI-2F was modified using some of the traditional scales that were used in the MMPI-2. Although the MMPI-2 has been modified and corrected it is still an effective source to measure disorders. In the research study, Heijden (2013) collected data in a Dutch forensic hospital, mental health care centers, and psychiatric hospitals. This was to research the validation of MMPI–2. They worked with substance use abusers, psychiatric outpatients, inpatients, and inmates. The outpatient diagnosis is commonly used in criminal cases to determine mental health. While the inpatient assessment was commonly used to determine psychiatric disorders. These participants were chosen to represent an in depth overview of psychological and psychiatric disorders (Heijden et al., 2013). The sample for the groups were six hundred and six men, around the age thirty four years old. Each of the participants showed different results. Some had different personality styles shown from the test. This study has proven the effectiveness of the MMPI-2 use in other cultures as well. Another study that included the MMPI restructured form was done by Chmielewski, Zhu, Burchett, Bury, & Bagby (2017). This study was explore and compare the capacity of the MMPI-2 and MMPI-2-RF. They wanted to test the validity scales to predict the suspected fakeness (Chmielewski et al., 2017). These studies compared the MMPI-2 and the MMPI-2-RF stating that the MMPI-2- RF has smaller available items than the MMPI-2 has. They wanted to compare the MMPI-2 and MMPI-2-RF effectiveness over reporting validity scales. For the method they brought in participants from a database of disability claimants at the psychological assessment service. All of the participants had experienced trauma or an accident in their workplace, and were reported to have a wide range of psychological symptoms. The MMPI-2-RF assessment because it is composed of 338 of 567 MMPI-2 items. They used over reporting validity scales to measure over reported psychology symptoms. For this assessment the patients took a M-FAST test titled, Miller Forensic Assessment of Symptoms Test. This was a 25 item interview, used to see malingering in psychopathy (Chmielewski et al., 2017). Researchers focused on the M-FAST, the MMPI-2 and MMPI-2-RF scales to see the 'feigning' of psychopathology; examining over reporting scales. In the results they found that, MMPI-2, MMPI-2-RF, and M-FAST were similar to the reported patient and disability claimant samples. The MMPI-2 and MMPI-2-RF over reporting validity scales were correlated with the M-FAST scales. They concluded that, "The results of the study provide support for both the MMPI-2 and MMPI-2-RF over reporting validity scales in detecting suspected malingering,corroborating past evidence from analogue studies and smaller-sampled criterion groups design studies" (Chmielewski et al., 2017).
Another study about the MMPI-2-RF done by Wershba, Locke, & Lanyon (2015). This study was about the MMPI-2-RF response bias as suppressors in a medical setting. The MMPI-2-RF and MMPI-2 validity scales have been shown to be effective at detecting NIM. They concluded that it is response bias scores reflect the respondents response to the test. They debated whether their high scores affect affect the scales in a clinical way. The goal of the study is to evaluate whether the response bias impacted substantive scales to see if the impact occurs through 'suppression.' They wanted to investigate the use of suppressors in psychomedical settings. In the method of this study, patients had been previously evaluated in Epilepsy Monitoring Unit, at Mayo Clinic Hospital in Arizona. There was a total of 664 patients admitted. They were each given the MMPI-2 as part of the evaluation. Only 221 of the patients were diagnosed with epilepsy. While 219 was diagnosed with NES. While the rest were indeterminate. Since they were determining whether the moderation or suppression existed for these patients, the binary logistic regression was used. For the results the largest effect sizes were with the RC1 and NUC scales. The scales were selected as the analyses of the study. The moderation was not found, but the suppression was found. The data from the study indicated psychomedical testing, and the effects of suppression on MMPI-2-RF (Wershba et al., 2015). Williams and Lally (2017) conducted a similar study looking into MMPI-2 and MMPI-2-RF. When these tests were introduced, researchers started to question if they were ethical. This study looks into how purchases of MMPI instruments can be used to estimate test administrations. They also wanted to address whether MMPI-2-RF was the better standard in the MMPI-2 assessments. The results concluded that practitioners were more likely to administer the MMPI-2 than the MMPI-2-RF. The MMPI-2-RF stabilized 30 percent of administrations of the test, while the MMPI-2 administrations were between 70-73 percent. This proved the widespread use of MMPI-2 years after it was published. Psychologists were also more likely to use MMPI products that use computerized scoring (Williams and Lally, 2017). This study accurately proved that MMPI-2 is a useful test still even if it was introduced in the 1980s. A final study done by Keo-Meier, Herman, Reisner, Pardo, Sharp and Babcock (2015) looking into testosterone treatment and MMPI-2 improvement in transgender men. They wanted to examine the short term effects of testosterone treatment using the MMPI-2 assessment. They got a sample from transgender men, non transgender men, and female. The participants were asked to complete the MMPI-2. They wanted to assess the psychological functional three months after testosterone use. The results concluded that there was statististical big changes in MMPI-2 scale scores for testosterone treatment. They found that the testosterone treatment resulted in increased levels of psychological functioning in transgender men. The study found that there was a positive effect on psychological functioning for transgender men after three months (Keo-Meier et al., 2015).
There is an subsequential amount of research proven to show the effectiveness of using the MMPI-2 assessments with many different approaches. Each study concluded different types of situations that needed to be assessed. Although MMPI-2 has proven to be effectful, there are cases where people question its ethical use. Researchers are always finding ways to update and revise the assessments to make it better for patients. They used studies about pain, reliability of scales, and normative samples. Each of these assessments are a vast variety of just how widely used this assessment is. It can be used to determine a lot in the psychology and medical field. Over the years it has been consistently used in different studies to measure its effectiveness. The results of each study were successful in supporting their claim. Although some researchers can report that these tests may have negative effects, there has been countless revisions of the MMPI-2 assessments. There will always be researchers and psychologists looking for ways to make it more effective, and updated.  
Related Topics