Develop Positive Relationships with Children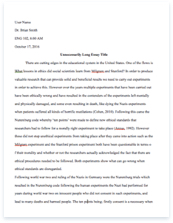 The whole doc is available only for registered users
A limited time offer! Get a custom sample essay written according to your requirements urgent 3h delivery guaranteed
Order Now
Positive relationships with children are important as it can help with their confidence and happiness. It also makes them feel comfortable and better able to separate from their parents without experiencing any anxiety.
If children are made to feel secure emotionally they are more likely to participate in activities and talk to us should any problems arise or they just feel the need to talk.
As we get to know an individual child we can better understand their personality and needs. We can respond to children more effectively as we get to recognise their expressions and emotions. This helps us to see how they are progressing with their development and adjust any activities to meet their needs and help them progress.
Good relationships are important for a child's well being. It is essential to be a good listener as this can help them connect and in turn help develop their own language skills if they feel at ease connecting with you.
A child's behaviour can be improved if we can recognise and meet their needs. If we can communicate in a positive and gentle manner they are more likely to open up to us instead of behaving badly.
It is important to be fair and consistent to maintain their trust and respect. Children must see that we can keep our word in order to trust us. We must be willing to give them attention when needed as our behaviour and time can affect their well being.
If a child feels they can communicate with you and believe that you will listen and help if needed they are more likely to share any problems and respect your decisions and judgment should any disagreements or problems arise.
I believe that I have built positive relationships with the children in my care. I take an interest in their likes and dislikes and always listen to them and encourage them when possible. I am consistent in my actions and always try to be a positive role model. The children are happy to see me when I arrive and greet me with a smile or run up to me to show me anything they have done or tell me what they have been doing since I last saw them. This reinforces my belief that I have good relationships with them, they are glad to see and are at ease talking to me.
It is important to have positive relationships with other adults involved in the care of the children in order to do what is best for each individual child. Good communication is vital as a joint effort is required to work towards what is best and make sure that there is consistency in their upbringing. Also sharing any relevant information about the children makes it possible to continue any extra help or needs that the children may have.
Maintaining good relationships with parents is key to gain their trust so they are comfortable leaving their child in your care and able to tell you if there are any problems that may affect their behaviour or health.
If a child needs help in any particular area then those caring for that child must agree on how best to do this and together can plan a course of action that will be best suited to the individual. It is also helpful to share idea's when planning any activities to avoid any confusion that may result in the child not getting that help and care they need. Consistency from all is far more effective and will lead to a better result for them and demonstrate to the children how to behave and make them feel more secure.
Related Topics