Derrick Coleman Is a Source of Inspiration for the Deaf Community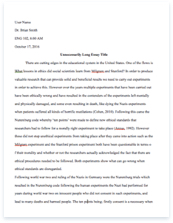 The whole doc is available only for registered users
A limited time offer! Get a custom sample essay written according to your requirements urgent 3h delivery guaranteed
Order Now
Derrick Coleman was born on October 18, 1990 in California. He was pronounced deaf in his left ear and later lost hearing in his right ear. He had to begin adapting to his hearing loss at the age of three. The rest of his family was hearing, and he attended a public school, so lipreading and talking became his way to communicate. He was able to go to speech therapy and got hearing aids. All Coleman wanted was to be treated like everyone else, but being just a bit different didn't allow for that. The bullying that he endured in elementary school caused him to look for an outlet.In junior high, Derrick Coleman begged to start playing football. His mother, a nurse, was very concerned about the effects that this could have on his hearing.
On the other hand, his father believed that this would be a great way to let lose some of his energy and maybe fit in more at school. To put his mom's worries at ease, a MRI was done and it proved that his hearing would not be affected. Coleman was ecstatic and became one of the star players. This momentum carried into high school. Coleman was what the team was built around. Being known on the field helped to stop the bullying and exclusion that he was experiencing in elementary school. He scored 38 touchdowns, breaking a school record, was named MVP, and was named to the first-team all league in his senior year. One of the most exciting things was when he was ranked as the number two running back in the country. These accomplishments paved the way for him to play football at UCLA.As Coleman knew, life always had its obstacles. During his first two years at UCLA, he didn't get to play much. This was especially hard after being the star for all four years of high school. This setback only motivated Coleman more and he came out swinging his junior year. He was second on the team in yards and was able to play on special teams. By his senior year, he had won the teams Tommy Prothro Award for Outstanding Special Teams Players three times and Paul I. Wellman Memorial Award for All-Around Excellence. His loss of hearing had helped him overcome these challenges and continue to work hard. Yet, Derrick Coleman had more to overcome. He entered the NFL draft in 2012, and was not picked up by any team.
Then, a glimpse of hope came when the Minnesota Vikings signed him as free agent. Though he worked hard to prove himself, he did not make it on to the roster.At this point, many would have put to rest this dream. Coleman was not going to prove all the people who told him he couldn't make it right. Four months later his life changing opportunity came. Derrick Coleman became the first legally-deaf offensive player in NFL history. He was signed by the Seattle Seahawks, made the roster, and worked his way up to being a starter. Coleman told the quarterbacks that he would make sure to get the plays, nothing special needed to be done. He would position himself in the front of the huddle and be able to read their lips and recognize what play was being called. He made amazing plays and left no question about his athletic abilities. Colemans capability to adapt, since junior high football, led him to be the first Deaf player in the SuperBowl. He starred in a Duracell commercial that captured the struggles and toughness he had overcome to get there. In the commercial it addresses the fact that he wasn't drafted in 2012 and he says, "They told me it was over. But I've been deaf since I was three, so I didn't listen". Derrick Coleman became the first Deaf SuperBowl champion. Coleman has proved that it is our ability to overcome obstacles that proves our strength.
He has not once let his hearing stop him from doing what he knew he could. He has inspired people across both the Deaf and Hearing communities. He has shown that being able to adjust in situations and working hard can really take you anywhere in life. To the Deaf community, Derrick Coleman is a lasting inspiration for kids who want to achieve greatness or who just want to fit in at school.
Related Topics