Deforestation Negatively Affects Our Planet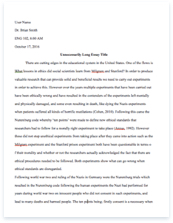 The whole doc is available only for registered users
A limited time offer! Get a custom sample essay written according to your requirements urgent 3h delivery guaranteed
Order Now
Deforestation is literally destroying the earth. Everyday animals are losing their habitat and going extinct. The issue with deforestation is how it is negatively affecting our planet. Entire forests are being destroyed for human purposes. In my research paper, I will explore what deforestation is, how it will affect everyday life, explain the pros and cons, and explain how it can either destroy or help the world.
"Every year about 18 million hectares is felled" (Vidal 1). A hectare is 107,639 square feet (0.01 km²). It is possible that 1 billion hectares, the same size of Europe, has been demolished (Vidal 1). It is said that if the rate of deforestation does not change we may lose forests all together in 100 years. Drylands are a large portion of the earth and cover 41 percent of the Earth's surface and 90 percent of dry lands are located in developing countries. "Every year, the earth is loses approximately 12 million hectares of land and global forest cover shrinks by 13 million hectares" ("Digital Streams" 2). What is the meaning of the term deforestation? By definition, deforestation is the act of clearing a wide area of trees. Deforestation is used all over the world to clear land for livestock and more. Deforestation is very popular amongst third world countries, in some cases millions of hectares are being destroyed.
The effects of deforestation in everyday life. Deforestation is a cause of global warming. Deforestation helps the farm industry. The farmland is mostly for livestock. Farm animals are a big factor on the economy.
There are pros of deforestation. Deforestation provides jobs for many people and clears land for more livestock and food. Deforestation helps developing countries make money. However, there is also a downside, 12% of all man made climate emissions now comes from deforestation (Vidal 1). These are a cause for global warming. Deforestation in Tropical areas causes carbon dioxide. Carbon dioxide is a primary greenhouse gas. This Carbon dioxide traps solar radiation. This causes temperatures to rise and leads to more climate change.
How to stop deforestation in the future? Protected areas had a larger percentage of saved forests than indigenous lands. A lot of countries have been trying to end illegal deforestation. Many countries have pledged to completely stop deforestation or at least decrease it a little bit at a time in their own territory. Bolivia, Brazil, china and Congo DRC all claimed that they will attempt to save 50 million hectares or more of forest over the next 15 years (Vidal 2). Indonesia, one of the earth's greatest carbon emitters, said they will try to reduce their carbon emissions by 29 percent through ending unlawful deforestation and replanting 12 million hectares of forest(Vidal 2). The south american country Ecuador stated that they will make an attempt to recover about 500,000 hectares of wooded area by the year 2017 and then increase it by 100,000 hectares every single year (Vidal 2). Other countries decided to do more for the forests also,Honduras pledged to replant and recover 1,000,000 hectares of forest by the year 2030 (Vidal 2). If nations cooperate and stay consistant and true to their plans and let damaged forests recover, average annual emissions from greenhouse gases can be cut by 24-30 percent globally (Vidal 2). From 2009 to the year 2014, sustainable use areas did not make a contribution to avoiding deforestation on average, the research showed that places that were at higher altitudes, that are close to commonly known roads and rivers, with a lot less forests, or with lower levels of precipitation "avoided more than 1% of deforestation under the sustainable use designation during the same time in protected areas established in or prior to 2000" (Jusys 9).
Why does the Earth need to save its forests?. Forests supply a number environmental services that are very important to many ecosystems throughout the world, just a fraction of these services are, diminishing greenhouse gas emissions; providing safe drinking water for humans and other organisms to consume, irrigation for farmers, and they produce energy; conserves biodiversity; and provides beatiful geography for recreation and travelors (Jusys 1). The earth's rainforests supply medical plants, incomes, essential resources and food for 300 million people (Vidal 1). Rainforests have some of the most lush,colorful, and unique wildlife in the entire earth.. Deforestation is speeding up global warming. Higher temperatures are affecting amazonian fish. Deforestation is killing off entire species. Deforestation affecting body size on amazonian fish. Forest cover is a very large influence local temperatures. On three distinct days in at the end of the rainy season, between the 24th of january 2013 and february 1st, researchers went out and measured the temperatures of the water at 1 hour intervals from about 9 to 19 hours in 10 different places equally within the first 2 killometer of each stream (Ilha 4). The stream and site sampling were put into a various order so the measurements were not bias (Ilha 4). A "hand-held temperature electrode" (ECTestr-Eutech Instruments)was used to record the measurements in this experiement. The results of the experiement were shocking but expected, out of the 10 different locations on 3 days all had a slight rise in water temperature (Ilha 4). Temperature is a very critical environmental factor that affects the distribution and performance of all organisms (Ilha 1). Temperature-driven body size reductions could raise significant concerns for the conservation of biological diversity (Ilha 2). A general, negative effect of higher temperatures on body sizes could manifest across levels of biological organization from communities to individuals (Ilha 2). That is, a community-level reduction in mean body sizes (the "community body size shift hypothesis") could result from either or both an increase in the number or relative abundance of small-sized species (a community-level response termed the "species shift hypothesis"-historically known as Bergmann's rule) and a reduction in the mean body size of its constituent populations (a population-level response termed the "population body size shift hypothesis"-historically known as James' rule) (Ilha 2).
Desertification caused by deforestation. What is the definition desertification? A slow process in which land productivity and flexibility is steadily declining. Who is influenced by desertification? Desertification influences everyone because we require land for countless benefits, for example, living space and security against erosion. It tends to be said that there is no natural issue which affects needy individuals as broadly or violently as land degradation or desertification. The reality is that a massive percentage of the world's rural poor live on degraded lands. This means going through intense environmental conditions such as water shortages, periods of drought, heat waves, land degradation and desertification. Poverty, lack of socioeconomic opportunities, food insecurity, conflicts, weak governance and inadequate policies are other problems they face ("Digital Streams" 2). How is India threatened by desertification? Almost 30 percent of India is degraded or going through desertification. Of India's total geographical area of 328.72 million hectares, 96.4 million is under desertification.
Extinctions caused by deforestation. Deforestation in Brazil has already killed many animals, but the ones that are lost to this date is only one-fifth of those that will slowly die out as a full impact on habitat loss. 30 years of concerted deforestation in eastern and southern amazon have shrunk enough territories to condemn 38 species to regional extinction (Ian Sample 1). If this continues then they will lose those species all together, White-cheeked spider monkeys are endangered largely because of the expansion of farmland and road building. The Population of bare faced tamarins has been cut in half in 18 years. (Ian Sample 1). If this continues then they will go extinct, Every year the rate of extinction is increasing. Many animals that rely on trees to survive are losing populations. The trees are not replanted. Farmers use the land for livestock or for other things like food. Countries must put a stop to this, or we may lose our wild life for good. In conclusion, deforestation is destroying the earth. If we do not stop deforestation or at least limit it we may lose our wildlife for good. Many animals may go extinct. Deforestation is increasing global warming. Deforestation that is causing desertification is ruining the land of many before rich ecosystems.
Related Topics