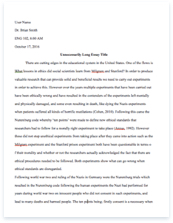 The whole doc is available only for registered users
A limited time offer! Get a custom sample essay written according to your requirements urgent 3h delivery guaranteed
Order Now
What is the first thing that arises to a person's mind when they hear the word "Pride?" Most people can consider many different subjects to describe the meaning of pride. Some think of pride as family, life style, a quality job, being the best at what they do, how they establish themselves, or allegiance. I believe pride is the confidence to stay true to the person you are no matter the circumstances. Some say that pride is the feeling they get when they do something for someone else, or when they achieve a well fought for accomplishment. It's like the feeling a person would get when they cross the finish line first, or when one would be rewarded a trophy for academic excellence. The Webster's 1913 Dictionary defines Pride as "1: the quality or state of being proud: as a: inordinate self-esteem: 2: a reasonable or justifiable self-respect 3: delight or elation arising from some act, possession, or relationship 4: a source of pride: the best in a group or class." (Pride-Definition). Pride is a lot of things at the same time.
Pride is family. I view family as a similar replication of the person's lifestyle, or a significant portion that lead to the development of who that person is today. A family that leads to the person's drive for self-worth and success, and where the relationships between the family members are positive is a proper representation of being a proud family. Children are the continuation their parents. I have heard many times that children are the future of their parents, and the reflection of the parent's inner dreams. And each accomplishment or goal that a child takes makes the parent proud. At the end of a victorious local school's sporting event, take a glance at the parents. Almost anyone can physically see the pride omitting from the parent section through the facial expressions. Parents must take the time to show them that they care. They need to inspire them to have a hunger for higher achievement and encourage them to do it just a little better each time. Encourage them to reach just a little further, to jump a little higher. A large amount of time, sweat, effort, and love is put into a family. That is something worthy of being proud of.
Many take pride in the type of lifestyle they choose to live. Lifestyle is a manner of living that reflects the person's values, attitudes, and many times worldly possessions. If a person is emotionally invested in something, then that is usually how they measure their pride. Some may find pride in the fact that they can indulge in exclusive and luxurious clubs or events because it gives them a social status above others. This view of pride typically boils down to the opinion of an individual on what a quality lifestyle is. One who finds wealth in the form of love might have completely different views on what a good lifestyle is to someone who finds wealth in physical items. Although it may be boastful, I take pride in how much I give to others in need, and how people will think of me when I am gone. There is no reason a person should not to be proud of the life they live as long as they are content with it.
When it comes to pride, many people may find it in being someone who is "the best" of something they do. Whether that thing is winning a gold medal at one of the previous Olympics, or something as trivial as the winner of the best dressed at the workplace. Too often people think of pride in this manner as egocentric. Mark Tewsbury, the three time Olympic medalist and motivational speaker, reveals to us in his article that he believes "Perhaps it is time we get more used to talking and hearing about our accomplishments. Personal pride can empower and motivate you. And when done right, sharing your success can inspire and uplift others, too." (Life). People have to take the time to appreciate and congratulate themselves in their accomplishments, especially if they are considered "the best" at that thing. The amount of determination, sacrifice, effort, and talent that goes into the process of obtaining a gold medal is substantial.
Pride is a well-established job. A good job is a big accomplishment in today's society because a lot of elements are put into the foundation that got someone that job in the first place. Having a good job is the result a successful education in high school and most importantly, college. The education process proves employers that the person has dedication to the career through sleepless nights and dreams about a better future. A decent job guarantees a stable comfortable income for the person and his family. You can gain self-realization and the respect of the associates and self-respect from being employed in a good job. Simon says "Sociologists regard pride along with self-worth." (Simon). Having any kind of job means that the person is claimed by the company he is working for, which opens doors for the possibility of moving up in the company and having a successful career.
Everyone admires professionals. John Bell brings forth the urgency of utilizing this admiration by saying "I see PRIDE as an acronym (Professionalism, Responsibility and Resources, Involvement, Inspeiration, Incentives, and Investment, Determination and Dedication, Education and Enthusiasm) and as such, a blueprint we can use as leaders in our communities to help reverse current trends." (John Bell). This allows pride to become a very helpful and proactive tool in today's society. People must take pride in their new found professional leadership rolls. It is the responsibility of those who have to power to be encouraging and uplifting to other people who will also soon be qualified. Being employed in a good job shows professionalism and brings many new opportunities in life.
A true pride is faithfulness to individuals, homes, feelings, beliefs, points of view, morals, and principles. This is about commitment to honesty, self-worth, and inner strength. Simon Wessely sums it up perfectly when he says, "To be genuine, pride must be earned." (Simon). To do this, you have to know who you truly are and what qualities you hold. A man can be proud of himself if he is true to his own family, loved ones and friends, if his judgment towards them does not change under the sway of any factors, and if his beliefs are thoughtful and his actions are unchanged with his words. Once someone lies, their trust is lost. And a man who has lost someone's trust truly has nothing, and cannot have pride in his allegiance to others. I am a strong believer that honesty has its rewards. A person who is honest, is trust-worthy. A trust-worthy person is sought after more often because people see an honest person as strong for admitting mistakes and not going back on their word.
For instance, a fifty year-old taxi driver by the name of Arvind Kant was the first driver awarded the Figi Taxi Union Crime Prevention and Civic Pride Award for returning luggage to a passenger whom he had picked up from the Nadi International Airport. A man must stand to his word no matter how alone he feels he is on his opinion. He has made a commitment; therefore he must follow through with his decision. Commitment, devotion, and honesty are primary parts that create Allegiance. If a person is committed, devoted, and honest to his ideals, he has the means of being proud of himself. This is why pride is allegiance.
But the major part of this essay is that the subject of pride has to bring positive changes to the life of the person and to the people and the world around him. Whether it is a family, lifestyle, being the best, a job or allegiance, it is always about staying true and earning the pride. And it must be done in living and loving in peace with the family, finding contentment in lifestyle, appreciating your accomplishments, achieving respect through having a job, or being honest and devoted to people and opinions. Take pride in who you are and what you do. Each of these exemplifies pride.
Works Cited
Wessely, Simon. "Pride." British medical journal 313.7072 (1996): 1594-5. ProQuest. Web. 6 Nov. 2011.
"Pride – Definition of Pride by Webster's Online Dictionary." Online Dictionary. Ed. Noah Porter. Web. 02 Nov. 2011. .
Tewksbury, Mark. "Life." Flare 23.10 (2001): 94. MasterFILE Premier. Web. 7 Nov. 2011
Bell, John. "Pride." Painting & Wallcovering Contractor 61.6 (1999): 36-. ProQuest. Web. 7 Nov. 2011.
Related Topics