Dangerous Behaviors of Adolescents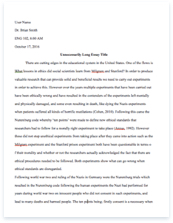 The whole doc is available only for registered users
A limited time offer! Get a custom sample essay written according to your requirements urgent 3h delivery guaranteed
Order Now
Non-Suicidal Self Injury shortened as NSSI, and attempted suicide are two different behaviors that are discussed in the article called: The co-occurrence of non-suicidal self-injury and attempted suicide among adolescents. Both attempted suicide and self-injury both deliberately involve causing harm to the body, but the definition of Suicide Intent is used to differentiate the two terms. NSSI is still considered to be attempted suicide because the act has at least some intent of suicide because of the dangerous harm that is caused to oneself.
The article goes into stating certain facts and percentages of the two behaviors and how they go hand in hand among these adolescents. Suicide in the United States for adolescents is the third leading cause of death among adolescents. There are some high schools, about 6.3 percent that report at least one attempted suicide in the previous year. Despite the differences between the two terms there are still high reports in adolescents and young adults that have a history of both self-harm and attempted suicide. About 3 to 7% of high school surveys reported that students have thought of or attempted both of these dangerous behaviors. Adolescents that have attempted suicide state that they had thoughts of self-harm as well or have done that as well.
Suicide attempts usually involve the thought of death or the want of ending their life where as non-suicidal self-injury just involves harm to the body to alleviate distress. Adolescents that have attempted suicide usually in the past have done self-injury and there are factors that come into play of why these adolescents turn to these behaviors in times of stress and or depression. Your upbringing, friendships, relationships, and other life stressors can increase or decrease the likelihood of adolescents turning to self-harm or attempting to commit suicide.
The article now goes into stating the importance on knowing the risk factors and what can increase likelihood of these adolescents getting involved in these behaviors. Adolescents with a history of Suicide Attempts along with Self-Injury had some type of psychological disorder that causes them to participate in one of these dangerous injurious behaviors. For example, someone with major depressive episode and bad past trauma along with abuse is at high risk of self-injury and suicide attempts. This type of stress is hard for adolescents, so this would be considered high risk for them to turn to these behaviors. An adolescent that only has Major Depressive Episode and other life stressors is more likely to attempt suicide. An adolescent that goes through maltreatment is at risk for self-injury. The more or higher stress an adolescent went through meant a higher or a more at-risk individual for self-harm or attempting suicide.
Psychological disorders, parental upbringing, friendships, relationships, family and treatment are all risk factors that go into the increase or decrease of the chance of these adolescents committing either or both dangerous behaviors.
To conclude, depending on psychological disorders and or life events that cause high stress usually cause an increase in adolescence to attempt to commit suicide and to commit self-injury to themselves. The definition of suicide intent differentiates the two terms, but attempted suicide and self -injury go hand in hand. The correlation between adolescents that have attempted suicide usually have attempted to self-harm or have already done so and for the adolescents that have self-harmed usually have thought of attempting suicide.
In the article called, Suicide and Self-Harm Related Internet Use which is a cross-sectional study and clinician focus groups focuses on the study of how the rise in internet usage influences suicide and suicide prevention. The internet is popular, well known, and most people have some sort of access to it. In the United Kingdom, 90 percent of households have a way of getting internet access. The United States has 86 percent and Australia has 77 percent of internet access. For the past 3 month there was a report made that 89% of adults and 99% of young adults had used the internet in the United Kingdom. Some of the information on the internet has suicide promoting or self-harm promoting material to increase their chances of committing suicide.
On the other hand, some material on the internet can give more accessibility to self-harm or suicide support services or advice on how to handle it. There can be benefits like suicide prevention interventions and talk groups. Some of the information is skewed and has little to no evidence on who has come upon or looked at suicide promoting material and or suicide prevention material. The point and goal of a cross sectional study is to estimate the frequency of suicide or self-arm among patients who have self-harmed, the sociodemographic and characteristics of these patients, and explore views on acceptability of questioning patients on suicide or self-harm connected internet usage. The end goal is to promote more suicide prevention material and a suicide prevention policy to patients in the hospital.
Sociodemographic and Clinical characteristics include the following: employment, ethnicity, age, gender and history with attempted suicide and self-harm. The groups that were asked at the hospital were audio recorded with consent and the data was word for word and this is how the data from the hospital was analyzed.
They had a focus group carried out by psychiatry team members at the hospital who asked patients about their suicide or self-harm internet usage during their assessments. These patients were told to talk freely about it, to go over their viewpoints and to talk to one another. Their age had different influences on what they were exposed to on the internet when it came down to suicide and self-harm internet related material. Your employment status had an influence on what you saw on the internet; however, age did not have association with suicide or self-harm related use. Patients that had high suicide intent had more suicide and self-harm related usage on the internet than the patients that had low intent.
The factors that come into play that bring up more suicide and self-harm material on the internet. Bullying and trolling can lead to self-harm. In the groups they discussed how the internet and the users on their can be dangerous to your health. Clinicians found it very helpful and important to ask patients questions on how the internet had an influence on their risk of suicide and self-harm material either support it or suggesting help. The article found that 2% of suicides happened after suicide or self-harm information was used on the internet which is a little lower than what they estimated with groups from the hospital.
To conclude this article, hospitals have had groups of clinicians to ask these adolescents about the internet and if they have ever encountered information on suicide or self-harm related material and they all have had different answers. They found that ethnicity, gender, age, employment, and self-harm or suicide history had more influences on your internet usage. Bullying and trolling also influences your internet usage. The internet either promotes suicide and self-harm or there are sites that have self-harm or suicide preventions interventions along with places to get advice on how to deal with it.
References
Andover, M. S., Morris, B. W., Wren, A., & Bruzzese, M. E. (2012). The co-occurrence of non-suicidal self-injury and attempted suicide among adolescents: Distinguishing risk factors and psychosocial correlates. Child and Adolescent Psychiatry and Mental Health, 6.

Padmanathan, P., Biddle, L., Carroll, R., Derges, J., Potokar, J., & Gunnell, D. (2018). Suicide and self-harm related Internet use: A cross-sectional study and clinician focus groups. Crisis: The Journal of Crisis Intervention and Suicide Prevention.    
Related Topics