Cultural Anthropology Entrance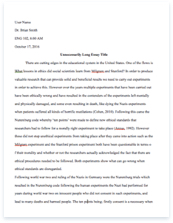 The whole doc is available only for registered users
A limited time offer! Get a custom sample essay written according to your requirements urgent 3h delivery guaranteed
Order Now
            To become a registered nurse in the future requires standardized continuing education involving different courses which aim to master the field of nursing through extensive clinical skills. This is not an easy academic arena to pursue given the fact that a nursing student must go through a variety of courses in order to be well-equipped and versatile at the same time. Since nursing is a profession needed to be applied in actual settings of health care, the student must be prepared to deal with people from varying cultures and all walks of life.
            In this application for a cultural anthropology class, it is expected that there will be a holistic study of humanity which is very interesting indeed. This particular branch of anthropology which promoted the concept of "culture" as such involves the study of human cultures and their similarities and differences. Further, it also deals as to how economic and political development and progression at a macro level affect indigenous cultures worldwide. This practically includes people's local beliefs, practices, customs, traditions, values, ideas, know-how, and financial system among others.
            A nurse deals with humans all the time. Along this line, the study of cultural anthropology will be helpful in order for a nurse to render his health care services more effectively. Professionally, this course will improve my communication skills since I will be transacting business with patients, clients and their families and these people come from different cultures, races and tribes perhaps. Personally, it will help me grow as an individual since knowledge of human cultures will aid me in developing harmonious interpersonal relationships with others since I will become more tolerant, acceptant and understanding of others. And finally, in the educational setting, cultural anthropology will give me thorough information of the culture of others which is useful in my nursing profession. These three aspects to be learned along with the study of cultural anthropology will make me a better nurse in the future.
            In this course, I wish to develop my communication skills as well as my social, psychological and cognitive skills. I am also looking forward to acquire knowledge of other cultures all over the world.  To achieve these, if I have enough knowledge of the cultures of other races, I would be able to impart my thoughts and views with my patients. Exchange of ideas and interaction would be facilitated much easier and the chance of success is higher compared to if there are communication gaps and racial distance.
            In conclusion, cultural anthropology is an important component leading to the study of nursing as cultures are vital considerations for registered nurses in accomplishing their duties and responsibilities. Education does not take place in the classroom alone. Much of it is learned in the actual setting applying knowledge learned from the classroom. The study of cultures is a necessity for registered nurses since cultural differences are controversial issues in health care institutions and this must be dealt with accordingly so that healing may happen.
Work Cited
Lynch, Brian Donohue. 17 September 2000. Cultural Anthropology. 30 August 2008 <http://www.qvctc.commnet.edu/brian/cultant.html>
Related Topics