Critically evaluate the statement that understanding organisational behaviour is important to organisational success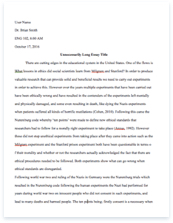 The whole doc is available only for registered users
A limited time offer! Get a custom sample essay written according to your requirements urgent 3h delivery guaranteed
Order Now
The term Organisational behaviour according to Stephen P Robbins is "a field of study that investigates the impact that individuals, groups, and structure have on behaviour within organisations, for the purpose of applying such knowledge toward improving an organisation's effectiveness" (2000). It is the systematic study of the attitudes and actions that employees exhibit and is primarily concerned with interpersonal, psychosocial and behavioural dynamics within organisations.
In the past companies placed a great deal of emphasis on the numbers produced and how to achieve those numbers with disregard for employees, they were moneymaking machines and how numbers were achieved was not a concern to their managers as long as the numbers were being met. Organisational behaviour studies have become more important today than in previous years because of rapidly changing business cultures that have derived from a competitive post-industrial market. A positive organisational behaviour is important for businesses because it gives them a good reputation, which therefore attracts customers. If everyone within an organisation has a shared understanding as to what the businesses organisational behaviour is then there is no confusion as to what the company's goals and expectations are and consequently everyone is efficiently working towards the same goal of organisational success.
Since the environment of business is always changing, the role of managers has become more sensitive. In order to know how to utilize a workforce to their full potential, and deal with the complexity of a new environment, supervisors need to develop their information about behaviour and attitude of individuals and groups in organisations. Organisational behaviour is now an essential part of training and development of the workforce and through this training employees are valued and feel needed which leads to increased production and profits resulting in organisational success. In industrial society soft skills were not a part of management training however, in the modern business world today, organisational behaviour is an essential tool for managing effective teams and creating a company culture that can sustain a company's success.
Another reason as to why understanding organisational behaviour is important to organisational success is because it helps management predict the effects of and reaction from employees to potential changes in policy and procedure before implementation and a possible resistance to change. This means that businesses are more prepared so that any change that occurs is as non-disruptive to organisations as possible. It helps managers explain why individuals are less or more motivated when certain aspects of their job are redesigned, why various aspects of team processes cause misbehaviour and inefficiency and why networks and new forms of organisation can have negative effects on performance.
It could be argued that understanding organisational behaviour is not important to organisational success, as other forms of management can be just as, if not more successful such as Scientific Management. According to Taylor it was his opinion that each man could not be doing his job in the optimal way, and he set out to find the "one best way" to perform the job efficiently. He stated, "People can be treated in a standardised fashion like machines" (1911). His argument was a proven success and in some instances "taylorism" resulted in productivity increases of 400 percent. In almost all cases, his methods improved productivity over existing levels. This statistic shows that repetitive atomised labour has worked in the past and therefore the softer approach of understanding organisational behaviour has not always been necessary for the success of these businesses.
In modern day businesses, organisational behaviour is an essential tool for managing effective teams. If managers understand an employees' personality, creativity, and adaptability, motivating that employee the way they need to be motivated will be far easier meaning a more effective workforce leading to higher profits and an increased chance of organisational success. However organisational behaviour is not essential for all businesses as Taylor's scientific management has proved, but over the years in our post-industrial society the environment of businesses has changed due to globalisation and, the role of the managers has become more sensitive to employees needs and feelings. In order to know how to handle a new workforce, and deal with the complication of the new environment, managers need to develop their information about attitude and behaviour of individuals and groups in their organisation. Hard skills are important to get the job done, but soft skills are equally as important as they help managers to do their job more effectively and efficiently meaning a greater chance of organisational success.
Bibliography:
1. Robbins, S. (2000) Organisational Behaviour, San Diego State University Prentice Hall International, Inc. 9th edition. 2. Bratton, J. (2010) Work and Organisational Behaviour. 2nd edition, January, pp.4-5. 3. Drummond, H. (2000) Introduction to Organisational Behaviour, New York. 1st edition. 4. Rashford, S. Development Journal, vol 8, iss 1, pp 17-21
5. Davis Keith and Scott William G, "Human Relations and Organisational Behaviour: Readings and Comments", McGraw Hill, New York (1969). 6. Taylor, F. (1911) Drummond, H. The principles of Scientific Management 7. Woodward, J. (Ed), "Industrial Organisations: Behaviour and Control", Oxford University Press, Oxford (1970)
Related Topics