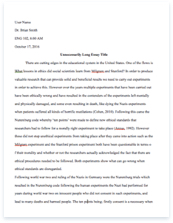 The whole doc is available only for registered users
A limited time offer! Get a custom sample essay written according to your requirements urgent 3h delivery guaranteed
Order Now
I've seen a lot of other documentaries that are similar to this one in message. I liked this one a lot because it brought in an environmental aspect as well as a nutritional aspect. Some of the other related documentaries like Forks over Knives and Food inc.concentrate on the generalization of how we would be much healthier if we ate vegan.
I am someone that really likes statistics as evidence; and this film really put that into play. There were so many and they all tied in nicely. Here are some of the ones I found to be most interesting; It takes 2,500 gallons of water to produce 1lb of meat, an acre of forest is lost every second, and for every 1lb of fish caught there is 5 lbs of by-kill caught. All of these stats are staggering. I have to admit some of the stats I felt were biased, and I couldn't bring myself to have full faith in them.
I normally don't eat much chicken or beef in the first place. Ill indulge maybe 1-2 times per week. I have tried to completely cut it out of my diet, but for some reason I feel that if I know I'm trying to make conscientious effort it makes meat that much more appetizing. When I don't think about it as a challenge it's pretty easy for me to substitute. I do know many people that have been able to convert since watching such documentaries and it's a very exciting thing. It may not personally work for me but, I'm glad there are other people that these films can affect.
Overall I thought the film was very interesting and informative. I really enjoyed the foods provided as well. I hope with some time I can slowly make a start to a healthier eating lifestyle and cut down my carbon footprint.
Related Topics