Confidentiality Is One of the Main Problems in the Field of Health Care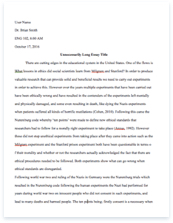 The whole doc is available only for registered users
A limited time offer! Get a custom sample essay written according to your requirements urgent 3h delivery guaranteed
Order Now
Confidentiality is protecting private patient information in the medical field. It is one of the most important ethical issues that happens in the healthcare industry. At times it may be hard to differentiate between what can be disclosed of and what cannot. The privacy of the patient must be kept confidential no matter what. I would like to discuss how a patient and a doctor should have a close nit and strict and confidential relationship. The access to between the patient and the doctor should be strictly monitored. I would like to explore confidentiality because it will help citizens to understand how private their information should be protected. Workplace confidentiality means keeping sensitive and personal business private. If there are any red flags in healthcare, professionals should always know when to keep information private. What would happen if a person's medical information is disclosed of and permission has not been granted? Why should a person's health information or amount or intensity of care be protected?
Terminally ill patients may have specific wishes because they want their lives to end. They may become tired and angry and want to end their pain and suffering. The wish that a person has for their healthcare should be granted and respected by healthcare professionals. A professional can give advice about the kind of care needed but can only respect what the patient wishes are. Dealing with health issues leads to intense care, compassion, empathy, and sympathy. A terminal condition or terminal illness is an irreversible illness that in the near future will result in death or a state of permanent unconsciousness from which the person is unlikely to recover. What happens if a patient has a DNR and the family wants to resuscitate them so they can possibly prolong their life but that is against their wishes? I will discuss terminal illness because I feel as if a patient's healthcare should always be discussed privately and personal information should not be given to any one unless it has been approved by the patient. Should a terminally ill person be allowed to decide the quality of care that they want provided? What are some of the issues that can happen if an advanced directive is not put into place when the terminally ill person cannot speak for themselves.
In the workplace ethical committees are very strict about sexual harassment of any kind in a healthcare facility. There is a risk of occurrence not only between a patient and a doctor, but also between two medical practitioners and others. When such situations arise, they have to be dealt with immediately. It is unlawful to harass a person (an applicant or employee) because of that person's sex. Harassment can include "sexual harassment" or unwelcome sexual advances, requests for sexual favors, and other verbal or physical harassment of a sexual nature. The law doesn't prohibit simple teasing, offhand comments, or isolated incidents that are not very serious, harassment is illegal when it is so frequent or severe that it creates a hostile or offensive work environment or when it results in an adverse employment decision. A good example of this is a person being demoted or fired because of their actions. Is it illegal to harass a woman by making offensive comments about women in general or make advances towards her?
Related Topics