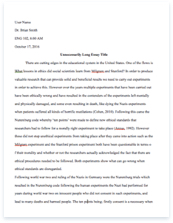 The whole doc is available only for registered users
A limited time offer! Get a custom sample essay written according to your requirements urgent 3h delivery guaranteed
Order Now
Identification on the Concept of Hope
Defining hope can be equivocal and yet it is commonly associated with a particular experience. Hope reflects an individuals moral values, it is required for human survival; hope is often needed when there is a sense of uncertainty for the future (Tanis & DiNapoli, 2008). In healthcare, hope is described as one of the most important concepts associated with spirituality; without it everything else seems to loose its value. Therefore, hope instigates positive adjustment during the dynamic process of recovery (Tutton, Seers, & Langstaff, 2009).
Purpose of Concept Analysis
Concept analysis highlights the importance of providing meaning and clarity to a concept. Conceptualizing hope has been one the most challenging terms to make one-dimensional, but the unique quality about hope is that it possess several attributes which make it an interesting subject to explore across various disciplines. The purpose of concept analysis in nursing is to bring about unified understanding of a term, which ultimately becomes a source of reference for improving nursing care and nursing diagnosis (Benzein & Saveman, 1998). In order for nurses to have the opportunity to extend and sustain hope in their patients, it is priority to first explore and understand the concept analysis of hope in terms of nursing care. Multiple researches have been done for the purpose of exploring the empowering properties of hope. In healthcare research studies, hope is commonly conceptualized in scenarios such as, recovery from a possible terminal or permanent illness, hospice and rehabilitation (Benzein & Saveman, 1998). Underlying Assumptions of Hope
Different assumptions have been made to conceptualize hope but a similarity observed between these disciplines is that hope reflects on the
future. In psychiatry, hope is conceptualized as a changing future referenced variable that is associated with an individual's response to a positive outcome (Caboral, Evangelista, & Whetsell, 2012). The common assumption attributed to hope is that it must possess realistic expectations (Tutton, Seers, & Langstaff, 2009), but hope can be identified in unrealistic expectations because regardless of what is being desired, hope is correlated to being human. This type of hope is usually attained from lived experiences (Esbensen &Thomsen, 2011). The use of hope in unrealistic situations such as palliative care has been described as a phase of denial, but contrary to that fact, hope is described as living the moment as normal possible and attaining a form of inner peace to whatever the future might bring. It can be deemed straight forward to understand how hope is experienced in different situation but hope should be viewed in a much broader perspective in relation to individualism. Theoretical Definition
Definitions in literature
The concept analysis of hope may differ depending on the case scenario, individual experience and the conceptual framework that defines it (Tanis & DiNapoli, 2008). Hope is defined as a way an individual thinks which promotes motivation and possibilities of achieving desired goals; it has been annotated to how satisfied a person is with life (Bailey & Snyder, 2010). Moore (2005) defines hope as a powerful concept that makes a difference in people's life, and nurses can create methods of implementing and upholding it. Another description of hope is having a goal or purpose in life which can be reflected on others (Kylmä, & Vehviläinen‐Julkunen, 1997). . Miller (2000) describes hope as an ongoing or improved level of positivity or a breakthrough from possible entrapment. Herth (1996) defined hope as an experience that reflects on phases which are constantly changing, and as force that drives and motivates an individual. Comparative Analysis
The various conceptualization of hope from the literature all possess slightly distinct but similar relationships in terms of their definitions. Concept analysis of a term is usually achieved through the process of research or experiences. In healthcare, most research conducted on hope is done to determine if hope is an experience that can be provided or awakened in a patient (Tutton, Seers, & Langstaff, 2009). A defining attribute of hope from these definitions is that, a positive mindset is required before hope can happen, hope is individualized based on experience and it can be kindled in others. Social Context and Values
Hope is evident when a person desires to avoid the feeling of despair and emotion that is associated with an uncertain future. Hope also enables a person to overcome difficult stages of their life; it gives the power of endurance and adaptability. In older adults, the values of past experiences are used to sustain their hope. Before nurses can give hope to their patients, it is important to understand what hope is and how to incorporate it in across the life span. Having a positive mindset alleviates emotional and physical pain and makes the recovery process a much pleasant one. Cases and Theoretical Definition
Exemplar case: Kathy is a married 45-year old mother of one and she has recently been diagnosed with pancreatic cancer. Kathy has always been a positive person in every situation and is quite known at her church for her smile and uplifting words of encouragement. Kathy's husband and teenage daughter came to visit her at the hospital and were initially shocked and saddened by her sickly appearance. Her husband asked her how she was feeling and was surprised by her answer. Kathy stated that she was in utter joy to be able to see her family once again, she cannot wait to get home to take the dogs out for long walks and she is quite excited to resume her yoga classes. The treatment is making her quite nauseated but she can feel it helping her day by day. This is an exemplar case because it contains all the components of hope; such as, having a positive mindset, a goal, an expectation, and it is individualized based on lived experiences. Contrary case: Jessica, a 22-year-old female just broke up with her boyfriend of 4 years.
After a couple of weeks, Jessica developed depression, her friends noticed that the once vibrant Jessica hardly paid any attention to her appearance and it seemed like she was loosing quite a significant amount of weight. One of her friends decided to intervene by asking her what was going on. Jessica stated that she is ugly and there was no point in grooming herself because she knows she will never be loved again. This is a contrary case because it is the opposite of the concept of hope. Jessica is hopeless about the love and the future. She feels like her ugly appearance is the reason behind her breakup. Related case: Daniel, a 60-year-old male is on the waiting list once again for a new kidney. Daniel had undergone 3 failed kidney transplants and it appeared like time was running out for him. Susan is a nurse at the dialysis clinic noticed how teary Daniels eyes were and asked him if everything was alright.
Daniel responded that he felt like time was running out on him and he just needed a moment to let out some buried emotions but he knows everything will be okay at the end of this journey. Daniel expresses some important components of hope. For example, having positive expectations and a determination to keep going. Some form of despair is still reflected in his behavior. Borderline case: Clara, a 33-year-old freshman-nursing student just completed her first exam, Clara spent an extensive amount of time preparing for the test and was quite confident that she would get an A. After the test, Clara thought the test was more challenging than she expected, she had covered all the required chapters but couldn't understand why it was so difficult to apply the concepts.
Clara admitted to her friend that she applied her knowledge appropriately to each question but was certain that her best attempts were not enough to even pass the test. This is a borderline case because it consist a few critical attribute of hope. Before the test, Clara had positive expectations based on her preparation for the test but, was letter challenged with hopelessness and worry after she had completed it. Theoretical definitions of hope will be based on the discussed case models, comparative analysis and defining attributes. Hope is a desire for a better future; it is a force that empowers the individual and carries them in to the next day. Operational Definition
Antecedents are situations or incidents that must take place before a concept can happen and consequences are the results that manifests after the concept occurs. The antecedents that occur before hope are usually triggered by stressful stimuli. A person usually experiences loss, grief, pain, and temptation to despair. But not all antecedents of hope are negative in nature; desire is an antecedent that is not generally triggered by stressful stimuli. For example, the desire to win a sweepstakes competition or state lottery is not triggered by a traumatic experience. Consequences of these antecedents can be empowering, life changing, generate new ideas and improve of quality of life (Caboral, Evangelista, & Whetsell, 2012).
An empirical referent represents category of occurring phenomena's which proves the existence of the concept. Evidence of joy, positive attitude and the ability of stay motivated regardless of the circumstances all represent empirical referent of hope (Caboral, Evangelista, & Whetsell, 2012). The Adult Trait Hope Scale (AHS) was designed measure reciprocal actions between goal-directed thoughts and goal-directed actions. The AHS composes of 12 likert –type question varying from 1(definitely false) to 4(definitely true), and two subscales which when summed up, they give the total score of hope. The two subscales consist of agency and pathways, which use four distraction questions. High scores on the scales suggest that the person is hopeful, motivated and capable of coming up with new ideas (Bailey & Snyder, 2010).
Application to Nursing
Analysis of the concept of hope in nursing practice is very important because it promotes a broader understanding of hope that can be individualized for a patient experiencing a tough recovery process. In the clinical setting, hope-facilitating strategies can be implemented through humanistic principles, interpersonal relationship, nurturing environment and knowledge based care. Nurses generally have more interactions with patient than any other member of the healthcare team; this provides the opportunity to influence the patient's experience. Nurses are responsible for providing a positive recovery process for the patient; not just by following doctor's orders and administering medications, but nurses can attempt provide some sort of holistic care for the patient.
Hope is not all about giving words of encouragement, but simply listening to the patients concerns can instill a sense hope that someone cares about their situation and they are not required to take this journey alone (Tutton, Seers, & Langstaff, 2009). A research was conducted to assess the role of the nurse and hope. It found that hope in acute care patients was kindled through talking and being positive than forming a deep emotional relationship with the patient. A second research involving homeless people, found hope through creating a nurturing environment, listening, providing support and focusing on positive realistic goals. This study seems to support the conceptualization of hope as being a positive state of mind with a broad application, which can be individualized (Tutton, Seers, & Langstaff, 2009).
References
Bailey, T. C., & Snyder, C. R. (2010). Satisfaction with life and hope: A look at age and marital status. The Psychological Record, 57(2), 5.
Benzein, E., & Saveman, B. I. (1998). One step towards the understanding of hope: a concept analysis. International Journal of Nursing Studies, 35(6), 322-329. Caboral, M. F., Evangelista, L. S., & Whetsell, M. V. (2012). Hope in elderly adults with chronic heart failure. Concept analysis. Investigación y Educación en Enfermería, 30(3), 406-411. Esbensen, B. A., & Thomsen, T. (2011). Quality of life and hope in elderly people with cancer. Open Journal of Nursing, 1(2), 26-32.
Herth, K. (1996). Hope from the perspective of homeless families. Journal of Advanced Nursing, 24(4), 743-753. Kylmä, J., & Vehviläinen‐Julkunen, K. (1997). Hope in nursing research: a meta‐analysis of the ontological and epistemological foundations of research on hope. Journal of Advanced Nursing, 25(2), 364-371. Miller, Judith Fitzgerald (2000). Coping with chronic illness : overcoming powerlessness (Ed. 3). F.A. Davis, Philadelphia, PA.
Moore, S. L. (2005). Hope makes a difference. Journal of Psychiatric and Mental Health Nursing, 12(1), 100-105.
Reder, E. A. K., & Serwint, J. R. (2009). Until the last breath: exploring the concept of hope for parents and health care professionals during a child's serious illness. Archives of pediatrics & adolescent medicine, 163(7), 653.
Tanis, S. J., & DiNapoli, P. P. (2008). Paradox of hope in patients receiving palliative care: a concept analysis. INTERNATIONAL JOURNAL FOR HUMAN CARING, 12(1), 50. Tutton, E., Seers, K., & Langstaff, D. (2009). An exploration of hope as a concept for nursing. Journal of Orthopaedic
Nursing, 13(3), 119-127.
Related Topics