Competencies Between ADN And BSN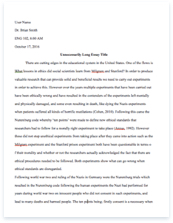 The whole doc is available only for registered users
A limited time offer! Get a custom sample essay written according to your requirements urgent 3h delivery guaranteed
Order Now
The importance of education is very critical with the evolving health care system and when caring for another human being. Differentiating between an ADN and BSN nursing degree will give us a better and clear perspective. The National Council of State Board of Nursing (NCSBN, 2005) define Nursing competency as the "application of knowledge, interpersonal decision-making and psychomotor skills expected for the practice role within the context of public health" (p.70). The Board of Nursing focuses on entry level practice and competency to meet minimal entry level standards. Competencies
Associate degree programs are offered through community colleges which focuses on basic nursing courses and some liberal art courses. It takes two years to complete the program and less expensive than the BSN program. Nurses are prepared for an entry level positions in their field/profession. They are taught to provide safe competent care in comprehensive ways. In 1951 Mildred Montag came up with an Associate degree program that gave an opportunity to many people including men, married women with children and older people for nursing as their career. This program was very successful and helped decrease the shortage of Nurses in 1970's and 1980's. The Associate degree programs are the major point of entry into nursing today and it prepares the nurse for an entry level jobs at hospitals and any health care settings. Nurses with ADN degree coordinates, assesses and communicates with patients and their families, collaborates with health care team, advocates for the patient, evaluates the patient and the situation, delegates tasks to other health care team members and maintains confidentiality. They focus more on the welfare of the patient and patient's families.
BSN is the Bachelors of Science in Nursing. It takes four years to complete the program which includes pre-requisites. The courses are based on research, theories and informatics (field of study that examines how nurses use technology). BSN programs came into effect when people started to ask questions about the nature of nursing, its mission, goals and scope of nurse's role. BSN degree gives nurses an increase opportunity to apply for advance positions in their field. The nurses are prepared at a more higher level of education with advanced clinical practice. It also prepares the nurse for broader scope of practice. Nurses with BSN degree coordinate, communicate, collaborate with the patient and their families, populations and communities. They use multiple referral resources, have strong management, leadership skills and critical thinking skills. They analyze the patient, patient's family, population and communities.
They also delegate task to other health care team members and maintain confidentiality. The focus of a nurse with BSN degree is not only on the patient but also on patient's family, community and organization as a whole. They have a broader view of the outcome and expectations. With a BSN nurse the quality of patient care increases and with a decrease in mortality rate of patients. The outcome of patient care is better with more satisfaction because of the nurses' education level. "Today there is an increase demand for nurses with BSN degree because it strengthens the platform from which nurses make better decisions, plans and evaluates patient" (Nursing History Theories and Conceptual Models). According to Grand Canyon University College of Nursing Philosophy "Baccalaureate Nursing Practice incorporates the role of assessing, critical thinking, communicating, providing care, teaching and leading". Patient Care Situation
Nursing care and approaches to decision making may differ based on the nurses' educational level (ADN vs. BSN). This patient care scenario will give a better idea of how a nurse with ADN degree and how a nurse with BSN degree will react or make a clinical decision. For example we have a fresh post-op patient, female, age 42 with TAH (total abdominal hysterectomy), with a history of type2 diabetes, HTN and arthritis. The assessment of the nurse with ADN degree will be if the patient is stable, and will continue to monitor the patient's pain level, vital signs and incision site and complications that may arise. The nurse will mostly rely on rules and may need support depending on her experience. It is the nurse's responsibility to assess, plan, intervene and evaluate the patient. A nurse with ADN degree will do all of these according to her knowledge in a safe and competent manner.
The assessment of a nurse with BSN degree will differ which reflects her educational level. The nurse with BSN degree will assess if the patient is stable with vital signs, pain level, incision site and monitor the patient for any complications. In addition he/she will also reflect on the patient's outcome, evaluate long term goal, plan ahead, analyze the situation, use resources available because of patient's medical history. As a result the patient outcome is better. Competencies between nurses prepared at the Associate degree level verses the Baccalaureate degree depends on the knowledge and educational preparation. Demand for nurses with higher educational level has increased. BSN degree programs prepares the nurse for more broader scope of practice which increases knowledge and makes your base stronger as a professional nurse. Nurses with ADN degrees are still in demand because of evolving health care system and an increase demand for nurses. Whether we graduate with ADN degree or BSN degree a safe practice and avoidance of injury or harm when providing care is expected of students graduating from all nursing programs.
References
Poster, E; Deges, E; Sportsman,S (2011). Differentiated Essential Competencies for Graduates of
Texas Nursing Programs. Journal of Nursing Regulation, p.45-50 Creasia,J and Friberog,E (2011) Conceptual Foundation; The Bridge to Professional Nursing Practice (5th edition). St.Louis; MO: Elsevier Mosby.
Graf, Cm. ADN to BSN Lessons from Human Capital Theory. Nursing Economics, P.135-142 Grand Canyon University College of Nursing Philosophy
American Association of Colleges of Nursing (AACN) Fact Sheet: Creating a More Highly Qualified Nursing Workforce
Related Topics