Compare and Contrast the Proposals of Mr. Collins and Mr. Darcy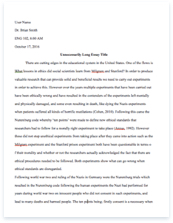 The whole doc is available only for registered users
A limited time offer! Get a custom sample essay written according to your requirements urgent 3h delivery guaranteed
Order Now
In the novel 'Pride and Prejudice' quite a few marriages and proposals occur. Two proposals that we learn about are from Mr. Collins and Mr. Darcy – these are two very interesting proposals, as you will see. Mr. Collins and Mr. Darcy both choose to propose to Elizabeth and we find out that they both get rejected by her.
When both men propose to Elizabeth, she turns them down for an obvious reason – 'love'. Elizabeth did not feel that she was in love with either of them in fact the thought of marrying Mr. Collins, just made Elizabeth laugh.
'The idea of Mr. Collins, with all his solemn composure, being run away with by his feelings, made Elizabeth so near laughing….'
Elizabeth was extremely shocked when Darcy proposed to her, as she had no idea that an event like this would occur as she hated Mr. Darcy
'Elizabeth's astonishment was beyond expression. She stared, coloured, doubted and was silent….'
Elizabeth had always disliked Darcy since they first met as Elizabeth had heard Darcy say…
'She is tolerable; but not handsome enough to tempt me…'; it must have offended her as Darcy was talking about her.
Elizabeth also thought Darcy was 'clever but continually giving offence'. Therefore she would not decide to marry Darcy, as she just did not like him.
A difference, which is also to do with love, is that Mr. Collins does Collins proposes to Elizabeth he even says-not propose to Elizabeth because he is in love with her; he proposes to her because 'Lady Catherine' said he had to.
'she said, Mr. Collins you must marry"'.
Mr. Collins assumed that she would instantly marry him just because he had money and friends with lots of money. When Mr. Collins proposes to Elizabeth he even says….
'When we are married'
Which must mean that he is assuming that Elizabeth will marry him. He also cannot believe it when Elizabeth says that she does not want to marry him…
'It is usual with young ladies to reject the addresses of the man whom they secretly mean to accept, when he first applies for their favour'.
When Mr. Darcy proposes it is clear that he is doing it for love, as his love for Elizabeth had been shown in the chapters before hand and when he proposes to her he says –
'You must allow me to tell you how ardently I admire and love you'.
Darcy must have thought that Elizabeth had the same feelings towards him but obviously she didn't, but at least he wasn't selfish like Mr. Collins who thought that it was a necessity to marry.
Both men manage to offend Elizabeth in some way; Mr. Collins offends her by not letting her have her say in whether she wants to marry him or not and he talks of her as-
'Modesty and economy'
Mr. Darcy offends her by telling her that-
'His sense of her inferiority – of its being a degradation – of the family obstacles which judgement had always opposed to inclination…'
When you finish chapter 19 you don't really feel sorry for the rejected Mr. Collins, as Jane Austen did not want you to sympathise with him. Mr. Collins comes across as a very pompous, selfish, and uncaring man throughout the whole book, I do not think Austen wanted us to like him. On the other hand I think Jane Austen wanted us to like Darcy because during chapter 34 Mr. Darcy only says a few things in direct speech the rest is indirect. When Austen does this she tends to make you feel sorry for Darcy –
'He spoke of apprehension and anxiety…'
Both men think they will have a chance with Elizabeth, as they are very rich; Collins mentions this factor when he proposes. Mr Collins tends to mention money most of the time, as it's the only thing about him, which could impress people!
'Make a small income go a good way', 'I am, to inherit', 'and that one thousand pounds in the 4 per cents' etc.
Both men are very eloquent and have much money. When Collins proposes he takes a very long time to say what he has to say, in fact it takes about two pages. Darcy's proposal takes about two sentences but he says it very awkwardly. I think he feels that he does not have to explain why he wants to marry her because he thinks that it is obvious -love. Mr. Collins probably feels that he has to explain himself as he does not really know Elizabeth and they definitely are not in love with each other.
At the end of each proposal either Elizabeth leaves the room first or the gentleman does. At the end of Mr. Collins's proposal Elizabeth leaves, as she is so frustrated-
'To such perseverance in wilful self – deception Elizabeth would make no reply, and immediately and in silence withdrew…'
At the end of Mr. Darcy's proposal, Darcy left in a gentleman like way-
'You have said quite enough, madam. I perfectly comprehend your feelings, and have now only to be ashamed of what my own have been. Forgive me for having taken up so much of your time, and accept my best wishes for your health and happiness'.
'And with these words he hastily left the room, and Elizabeth heard him the next moment open the front door and quit the house'.
This chapter shows a real gentleman, the other chapter with Mr. Collins shows quite the opposite.
Commentary.
I think that I have shown some of the contrasts that there are in these chapters of the two proposals. It can be seen that at this stage of the book that neither Darcy or Collins were suitable for Elizabeth to marry. Elizabeth wanted to marry for love not just for money. Although Darcy was offering love for Elizabeth she could not love him back as she thought that he was something that he wasn't.
Related Topics