, Common Pitfalls of Exporting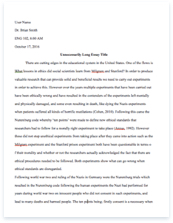 The whole doc is available only for registered users
A limited time offer! Get a custom sample essay written according to your requirements urgent 3h delivery guaranteed
Order Now
Companies that do business in expanding industries must grow to survive. Continuing growth means increasing sales, and a chance to take advantage of the experience curve to reduce the per-unit cost of products sold, thereby increasing profits (Wheelen et al, 2000).
A corporation can grow internally or it can grow externally. Nowadays, growth usually has international implications. A corporation can select from several strategic options the most appropriate method for it to use in entering a foreign market. There are six methods of entering a foreign market; exporting, licensing, franchising, joint ventures, turnkey projects, and wholly owned subsidiaries. Exporting is becoming increasingly popular especially for small businesses because of modern communication, transportation technologies, and gradual decline in trade barriers.
The international market is normally so much larger than the firm's domestic market that exporting is nearly always a way to increase the revenue and profit base of a company. By expanding the size of the market, exporting can enable a firm to achieve economies of scale, thereby lowering its unit cost (Hill, 2006). Firms that do not export often lose out on significant opportunities for growth and cost reduction (Pope, 2002).
Exporting is sending goods and services from one country to another (Daniels, et al 2006). According to Campbell (et al, 2002), it is the transfer of goods (services) across national borders from the home production facilities.
As said before, exporting is one of the methods to enter foreign markets and it has become a growing trend for companies which are large and small. There are many specific goals by doing this, but the main reason is to guarantee the long-term sustained growth for their business. But like other methods to enter foreign markets, it has advantages and disadvantages. According to Johnson (et al, 2005) and Hill (2006), these can be summarized as follows:
a) Advantages:
*No operational facilities needed in the host country. That is to say, it avoids the often substantial costs of establishing manufacturing operations in the host country.
*Economic of scale can be exploited.
*By using internet small/inexperienced firms can gain access to international markets.
b) Disadvantages:
*Does not allow the firm to benefit from the locational advantages of the host nation.
*Limits opportunities to gain knowledge of local markets and competitors.
*May create dependence on export intermediaries such as local agents and distributors.
*Exposure to trade barriers such as import duties. These tariff barriers can make exporting uneconomical.
*Incurs transportation costs.
*May limit the ability to respond quickly to customer demands.
c) Common Pitfalls of Exporting:
The firm wishing to export must identify and avoid the major problems that that are often associated with doing business in a foreign market. This is also necessary to understand the element in export strategy.
Common pitfalls include poor market analysis, a poor understanding of competitive conditions in the foreign market, a failure to customize the product offering to the needs of foreign customers, lack of an effective distribution program, a poorly executed promotional campaign, and problems securing financing (Ogbuehi et al, 1994).
Aside from these problems, there are some pitfalls that exporters often face. According to Daniels (et al 2006), these are; (1) failure to obtain qualified export counselling, (2) insufficient commitment by top management, (3) insufficient care in selecting overseas agents or distributors, (4) neglecting the export business, and (5) failure to treat international distributors.
To avoid some of the pitfalls of exporting such as lack of knowledge and access to distribution channels, many exporters use local agents or distributors. But, as mentioned above it is important to choose right agents or distributors and treat them. According to Agarwal (et al, 1992), exporting allows significant management operational control but does not provide as much as marketing control, because the exporter is farther from the final consumer and often must deal with independent distributors abroad that control many of the marketing functions.
Studies have shown that while many large firms tend to be proactive about seeking opportunities for profitable exporting, systematically scanning foreign markets to see where the opportunities lie, many medium-sized and small firms are very reactive (Cavusgil, 1985). One reason for more firms are not proactive is that they are unfamiliar with foreign market opportunities; they simply do not know how big the opportunities actually are or where they might lie (Julien et al, 2003). Some firms are often intimidated by the complexities and mechanism of exporting to countries where business practices, language, culture, legal systems, and currency are very different from the home market (Burpitt et al, 2000).
Although exporting is often chosen as the routes to expansion, it sometimes produces disappointing results. It is a fact that each of the business decisions involves taking a risk; this is an unavoidable factor in running a business (Gowthorpe, 2005).
To avoid making mistakes and identify opportunities, it is necessary to design an export strategy. Many companies begin exporting by accident rather than by design. Consequently, they tend to encounter a number of unforeseen problems (Daniels, et al 2006).
REFERENCES
Agarwal S., and Ramaswami, N. (1992), "Choice of Foreign Market Entry Mode: Impact of Ownership, Location and Internalization Factors", Journal of International Business Studies 23, No.1, p.2-5
Burpitt, W.J., and Rondinelli, D.A. (2000), "Small Firms' Motivations for Exporting: To Earn and Learn", Journal of Small Business Management, October, p.1-14
Campbell, D., Stonehouse, G., and Houston, B. (2002), "Business Strategy", 2nd Edition, Butterworth & Heinemann, p.210-20
Cavusgil, S.T. (1985), "Global Dimensions of Marketing", Glenview, IL: Scott, Foresman, p.577-99
Daniels, J.D., Radebaugh L.H., and Sullivan D.P. (2006), "International Business", Prentice Hall, p.504-534
Gowthhorpe, C. (2005), "Management Accounting", 2nd Edition, Thomson, p. 50
Hill, C.W.L (2006), "International Business", 6th Edition, McGraw-Hill, p.480-505
Johnson, G., Scholes, K. and Whittington, R. (2005), "Exploring Corporate Strategy", 7th Edition, Prentice Hall, p.349, 350
Julien, P.A., and Ramagelahy, C. (2003), "Competitive Strategy and Performance of Exporting SMEs", Entrepreneurship Theory and Practice, p.274-94
Ogbuehi, A.O., and Longfellow, T.A. (1994), "Perceptions of U.S. Manufacturing Companies Concerning Exporting", Journal of Small Business Management, October, p.37-59
Pope, R.A. (2002), "Why Small Firms Export: Another Look", Journal of Small Business Management 40, p.17-26
Wheelen, T.L. and Hunger J.D. (2000), "Strategic Management and Business Policy", 7th Edition, Prentice Hall, p.124
Related Topics