Commercial and Company Law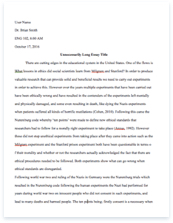 The whole doc is available only for registered users
Pages: 7
Word count: 1541
Category: Law
A limited time offer! Get a custom sample essay written according to your requirements urgent 3h delivery guaranteed
Order Now
Following your group presentation (see below) you are required to individually write a short 3 page essay reflecting on the group presentation and the group work process. Your reflection must answer the following questions:
1 What was the main way in which you contributed to achievement of the group's tasks? 2 In what way or ways did your group operate well? For instance, you may wish to identify a particular process that enabled your group to efficiently and persuasively make its presentation. 3 What was the key barrier to your group's effectiveness? What did you and your group do to overcome the barrier?
For instance, you could discuss the following issues in relation to each of the above questions:
Q1: The role that you played in helping the group to prepare for its presentation. You may have conducted research on points of law, or you may have thought about how best to speak to the class to convince them that your application of the law to the problem question facts is correct. Explain how this was linked to the group's objectives. Q2: You might like to discuss the process by which your group assigned tasks for the presentation and allocated responsibility for ensuring that assigned tasks were carried out or subject to review by another group member. Q3: Did your group experience difficulty in undertaking collaborative and creative problem solving? For instance, did your group meet to discuss what the best application of the law to the problem question facts might be, or did the group simply agree to divide up the problem question amongst group members, meaning that less creativity and collaboration could be achieved?
The above examples do not limit the issues that you can discuss. There are a broad range of issues that you could discuss in addressing the 3 questions. You may wish to reflect on a particular aspect of the presentation or the group work process, or may discuss examples about your group's overall process.
You can structure the reflective essay in whatever manner you prefer, provided you:
Address the three questions set out above.
Write in essay style and not as a series of dot points.
Use in-text referencing, where appropriate. You do need to include a bibliography but it does not count toward the page limit. Comply with the length and formatting requirements in the table below.
The essay must not be more than 3 pages formatted to 12 point Times New Roman font with at least 2.5cm margins and 1.5 line spacing (a blank document complying with these specifications will be made available on LMS). The page length will be strictly enforced. Any pages written beyond this length will NOT be marked. Students who have difficulties complying with the formatting requirements should raise this with the Unit Coordinator prior to submission of the assignment.
Note that you will not be assessed as a group on your group work tasks. The only assessment of your group work is by way of this reflective essay, which is to be completed individually.
Marking Criteria
Excellent
Very Good
Good
Satisfactory
Below Satisfactory
Ability to identify own contribution and group processes as referred to in questions 1 to 3
Level of critical reasoning and analytical skills applied to own contribution and group processes
Referencing, structure and clarity of expression
Total: /10
Group Work on Which Reflection is Based:
Working collaboratively in small groups, you will be expected to apply the principles that you have covered in the first 7 weeks of class to the legal advice essay problem question provided in week 2 which forms the basis for Assessment 1.
The reason that you have been asked to individually prepare and submit an assignment on the legal advice essay (for Assessment 1) is to ensure that each group member is adequately prepared and can appropriately participate in the group. The benefit to then engaging with the same problem question in groups is that it will provide you with the opportunity to:
further explore the law of tort aspects of the problem question receive feedback on the assignment which you can apply in your group work; learn from your peers by applying a range of skills and perspectives to help solve complex problems; develop skills such as teamwork, communication, negotiation, conflict resolution, leadership, critical thinking and time management, which are highly valued by employers; and be exposed to different perspectives and approaches.
Your group will be asked to analyse the problem question and to argue specified issues on behalf of one of the parties in front of the class as part of a pretend trial involving five other groups. Each group will make oral submissions on behalf of one party, or in respect of several specific issues, for the mock trial. This will mean that there will be two opposing groups for each issue. The timing for each group's presentation is set out below under the "Timing of Group Presentations" heading.
Your group will have 15 minutes to make oral submissions. Those submissions should cover or develop on the key issues that your group identified in your Assessment 1 essays, but your group must argue that issue from the perspective of your group's client. You will not need to follow any of the formalities of a trial (including the rules of evidence), but you will be expected to apply the legal reasoning approach covered in class of:
identifying the legal issue;
stating the legal rule that is relevant to the issue and applying it to the facts of your problem; and coming to a conclusion.
It is expected that each member of the group will be involved in helping the group to make submission, but this does not mean that all members of the group have to speak. Indeed, given the 15 minute time limit, it is suggested that each group split the group roles into: chair (who facilitates group meetings and ensures that the overall presentation fits together; researchers (who focus on what the best legal arguments are for the group's client); and speakers (who focus on how best to articulate the arguments for the client).
The only props that you are permitted to use are an A4 handout AND the whiteboard or visualiser. You will not be permitted to use Powerpoint slides.
As the aim of the presentation is to enhance your teamwork and communication skills, as well as providing you with an opportunity to practice applying legal principles to facts, you are not expected to undertake independent research for your presentation. You are expected to consider the material covered in class and the additional readings identified in class.
The lecturer will facilitate class discussion at the conclusion of the presentations to determine which group has presented the most convincing argument and other members of the class are expected to actively participate in the discussion in a respectful and constructive fashion. Ideally, participating in the discussion will provide you with useful practice for the final exam and will help create the right atmosphere for when it is your turn to present.
Topics
Each problem question will relate to material covered in weeks 1 to 7.
Formation and Operation of Groups
You will be asked to select a group between week 1 and week 2 on OLCR. The final number of groups and members of each group will depend on the final number of students undertaking the unit. However, it is anticipated there will be 12 groups, with each group consisting of approximately 6 members.
If, due to exceptional circumstances, you will not be able to present on your allocated day, you should speak to your unit coordinator as soon as possible.
It is expected that group members will all make a significant contribution to their group and that each group member will have an active role in their group's presentation. To support this expectation, all group members will have been required to consider their group's problem question by way of answering Assessment 1, the legal advice essay.
Further, to assist the smooth operation of your group, you should consider matters such as:
Do you have an appropriate allocation of resources within your group? Setting group goals. For instance, what are your needs and expectations? How do they fit in with those of the other group members? What level of presentation would your group like to achieve? Setting milestones.
Group rules.
Allocating roles and tasks.
For further tips on working in groups and dealing with, or preventing, conflicts, see the following links:
http://teaching.unsw.edu.au/develop-students-group-work-skills
http://archive.tlt.psu.edu/suggestions/teams/student/conflicts.html
http://www.deakin.edu.au/current-students/study-support/study-skills/handouts/groups.php
http://ipoint.uwa.edu.au/app/answers/detail/a_id/1306/~/group-work-resources
Your group may experience conflicts. Negotiating different needs and expectations is an important part of group work. However, if conflicts arise which you cannot amicably and fairly resolve, then you should see your Unit Coordinator as soon as possible.
Timing of Group Presentations
Submission of Assignments
Please submit your assignments to UniPrint, following the instructions at: http://www.uniprint.uwa.edu.au/services/current-students.
Late assignments will attract a penalty of 5% per day. This penalty will be waived only in exceptional circumstances.
Assignments will be returned in class or through the Business School Reception.
Related Topics