Code of Ethics of the American Nurses Association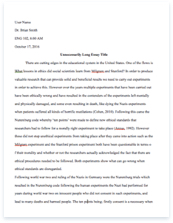 The whole doc is available only for registered users
Pages: 2
Word count: 431
Category: Life
A limited time offer! Get a custom sample essay written according to your requirements urgent 3h delivery guaranteed
Order Now
As an experienced nurse returning to school, I am reminded of my duties as a nurse which encompass a wholistic view of who I am when I clock in and out of work each day. Further, who I am at work each day is intricately linked to who I am every day and all the time. After reading through the American Nurses Association Code of Ethics and its nine provisions, I was left with a sense of overwhelming responsibility as a nurse. A nurse must understand and rise to meet who he/she is ethically called to be, in order to properly take care of each assigned patient. The ANA's nine provisions rightly focus upon the center of our care, the patient. As the provisions progress from 1-9, they gradually incorporate all of the outside factors affecting the delivery of ethically excellent care. This progresses from the patient to the nurse, then from environmental factors all the way to nursing education and finally ending with local institution up to nation institution framework and policy.
Provisions Five and Seven specifically focus in on the ethical obligation for each nurse to ensure that they are physically, emotionally, spiritually, scholastically and institutionally ready to care for patients. This commitment does not stop at the point of care delivery but reaches upward and outward into the system of care delivery. In light of a nurse's required commitment to the provision of ethical care, I am encouraged to not only meet the requirements of a nursing program, but to excel as a nurse. My planned strategy of success is threefold. First, to have a commitment to realistic self-reflection regarding time, duties and successes. "Personal integrity is an aspect of wholeness that requires reflection and discernment; its maintenance is a self-regarding duty". I plan to self-reflect daily, weekly and monthly assisted by my calendar app and good old fashion meditation.
Second, I plan to have designated times for study. These times will be coordinated with my family to facilitate not only orderly use of computer resources but also accountability. My third strategy for success is to intentionally stay ahead of, or at least on top of, required readings and assignments. The momentary benefits found in the resulting stress of procrastination is ultimately exhausting. I know that I work better moving forward rather than from beside or behind. In the Bible it says "Whatever your hand finds to do, do it with all your might". I look forward to the opportunity for my personal growth and success in school to ultimately affect the work of my hands in daily nursing care.
Related Topics