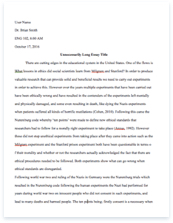 The whole doc is available only for registered users
Pages: 3
Word count: 588
Category: Abuse
A limited time offer! Get a custom sample essay written according to your requirements urgent 3h delivery guaranteed
Order Now
This Act identifi es the responsibilities of parents and professionals who must work to ensure the safety of the child. This Act includes two important sections which focus specifi cally on child protection. Education Act 2002 This sets out the responsibilities of Local Education Authorities (LEAs), governing bodies, head teachers and all those working in schools to ensure that children are safe and free from harm.
Children Act 2004
This provides the legal framework for Every Child Matters. It includes the requirement for:
● services to work more closely, forming an integrated service●the'common' assessment of children's needs ● a shared database of information which is relevant to the safety and welfare of children
● earlier support for parents who are experiencing problems. Policies which safeguard
Schools must develop a range of policies which ensure the safety, security and well-being of their pupils. These will set out the responsibilities of staff and the procedures that they must follow. Policies may be separate or incorporated into one health and safety policy, but they must include sections which cover the following issues of: ● safeguarding and protecting, and procedures for reporting ● e-safety
● bullying, including cyber-bullying (see page 00).
The Department for Education (DfE) provides guidance for local authorities including schools. Schools use this guidance to develop their own policy and procedures which must be followed. Two of these are listed below.
Working Together to Safeguard Children (2006)
This is guidance which sets out the duties of organisations and how they must work together to safeguard children and young people.Actions to take in response to concerns that a colleague may be:
a.Failing to comply with safeguarding procedures:
All organisations which work with children have a responsibility to recruit staffs who are suitable to work with children. When some one applies to work with children, he/she will be asked to complete a form to disclose any convictions that he/she may have. A CRB check will also be done for that person. Even with these checks in place abuse can, and has, happened within schools. This is called institutional abuse.
Anyone who works in school has the responsibility to take action if it is felt that colleagues are not following the codes of conduct. All staff has a duty to comply with policies and procedures. Failure to comply may put children and young people at risk of harm or abuse, so concerns should always be reported to the safeguarding co-ordinator or the head teacher. We should not delay in acting if we know or suspect that our colleagues are not complying with safeguarding procedures. Though it is difficult to complain about colleagues we should always have children and young people as our first priority. But we should not discuss these matters with anyone else.
b.Harming, abusing or bullying a child or young person:
Any person working in schools who suspects that a colleague may be abusing a child or young person must act on their suspicions. This action will serve not only to protect children but also colleagues from false accusations.
If we have concerns that a colleague is abusing a child, our actions should be exactly the same as if the abuser is a parent, family member or stranger. We must act immediately to protect children by informing the head teacher. If the allegation is against the head teacher, we should report concerns to the designated person for child protection or directly to the Education Authority. We have to fill up the concern form
Related Topics