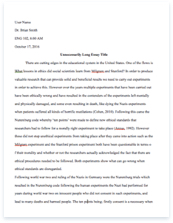 The whole doc is available only for registered users
Pages: 6
Word count: 1402
Category: Abuse
A limited time offer! Get a custom sample essay written according to your requirements urgent 3h delivery guaranteed
Order Now
The complex question that I will present in this paper is the following: Can lack of parenting skills lead to a pattern of child abuse and neglect? This extremely complex question has proven to be a great challenge to explore. I have had discussions with my friends and people that I know analyzing and developing a wide range of possible solutions to this problem. In the following paper, I will present the problem in more details and the various solutions. Child abuse in today's society is a very sensitive topic. Categories of child abuse include physical abuse, sexual abuse, psychological abuse, and general, medical, and educational neglect. The complete understanding of all these different types of abuse can help give you a greater perspective on just how enormous this problem is in today's world. Whom does child abuse affect? It can be children from all types' socio-economic, religious, and ethnic groups. Child abuse is not limited to any one race, religion, or demographic area. According to Colorado State University Family Education Department more than one million children are confirmed victims of abuse and neglect in the United States each year. (Frobose, 2007) The number of abused children in this country is almost unbelievable and very hard to comprehend the scope of the problem.
Perpetrators of child abuse often are caretakers, a family friend, or childcare provider. Perpetrators usually are people that children already know in everyday life. Also, Colorado State University states that 15 out of every 1,000 children are victims of maltreatment. (Frobose, 2007) That is a huge statistic considering the entire population of the United States. These statistics indicate that the problem of child abuse needs to be looked at even more and combated with solutions to fight this terrible problem. People believe that the problem of child abuse occurs in poor demographic areas. Poverty is the most noted risk factor for child abuse. The American Academy of Family Physicians notes that physical abuse and neglect are more common among people who are the poorest. Whether this association is predicated by the stress of poverty-related conditions or results from greater scrutiny by public agencies, resulting in over-reporting, is debated. (American Academy of Family Physicians, 2007) Nevertheless, child abuse can occur anywhere and anytime. It is not restricted to just one class of citizens; the problem can arise in any town or place in the United States.
When did child abuse start? The answer is as long as there have been human beings on earth. But today, the number of affected children is in the millions. That is a very scary statistic. As a society, we must be determined to find new and creative solutions to this ever-growing problem. There are several factors to why child abuse exists today in record numbers. One factor can be parental substance abuse. Drug abuse can clearly affect a parent's ability to make sound judgments for their children such as providing needed care, guidance, and discipline. Also, parent's immaturity, lack of parenting skills and unrealistic expectations of their child can be a factor that can cause child abuse. The child's parents may simply be lacking the proper education when it comes to understanding child behavior and capabilities. Another huge factor for abuse may be an unstable home with frequent family problems, economic pressure, and a past history of one of the parents being abused as a child. These factors and many others all contribute to this complex problem. As I look deeper into it I exploit three possible solutions for fighting child abuse.
The first solution that I explored was looking at possible ways to further educate parents, teachers, and caregivers that interact with the child. Can our state government offer more help and programs to educate the public? Making more programs available may help in educating lots more people. Often, people are not aware that there actually is help out there. The challenge is that child abuse is a very difficult subject and people often shy away from discussing anything pertaining to the subject. Education is very vital to solving this problem. People need to be made aware of all potential warning signs of child abuse and neglect. Knowledge can make all the difference in the world. Children often do not realize that they have been abused until the incident is over. Perpetrators are people that the child is previously familiar with in everyday life. The child may become afraid that the perpetrator will get mad if he tells someone of the alleged abuse. Mind games are the perpetrators biggest tool when it comes to abusing a child. They attempt to manipulate the child with fear. Who would possibly believe that Uncle George abused me? The child thinks that no one will believe them anyway. Why bother telling anyone about the incident. We need to educate people on the warning signs of child abuse and neglect.
The more knowledge we have, the better off we will be in the long run. The biggest challenge with education is participation. You can't force people to be educated if they do not want to be at all! My second solution is to attempt to better educate health care professionals about child abuse and neglect. Often signs of abuse will go unnoticed or ignored. Rising health care costs have made it difficult for some people to get the necessary treatment they need for abuse and neglect. Possibly, adding more educated doctors and counselors could help the shortage of knowledgeable people when it relates to child abuse and neglect. The big problem with adding more hospital staff is the issue of money. Can hospitals afford to hire more staff? Often, lack of employees can leave some people without the care they need. Another idea is that hospitals could attempt to add more programs relating to child abuse matters. These programs would ideally need to be easy for the community to attend. Possibly, health care professionals could provide more education to schools and other programs that involve children. The final solution I came up with was making improvements with Children's Protective services as far as cleaning up their reputation on the streets and adding additional case workers. Unfortunately, CPS has a bad reputation with the public.
People are either afraid or hesitate to ask them for help! Negative press about CPS often scares some citizens away that need help. CPS could also add more programs to educate the community by holding seminars and educating public schools. This solution is only as good as long as people participate in the programs. My personal solution to this complex question would be EDUCATION! People need to be knowledgeable and aware of potential situations that can occur. I believe people can benefit from programs dealing with child abuse. All three of our solutions deal with education in some way. It was no surprise that education is the first priority in attempting to solve this very difficult problem. People who don't have parenting skills have the opportunity to learn. They should want to do their very best when taking care and providing for their child.
If you don't have the skills then it is your responsibility as a parent to obtain them in any way you can! American Academy of Medical Physicians also emphasizes education in the article that I researched. I believe there is no excuse for abusing a child in any way. I don't know how any decent human being can justify doing that sort of thing to a child. I did not find any authorities that disagreed with the idea of educating parents. Education is the highlight of most articles that I have read pertaining to this subject. I had come to a conclusion that finding new ways to educate people on child abuse is the number one item that needs to be addressed! I realize that you will never get 100 percent participation but by giving people the ability to have more options to choose is very important to taking the next step against the fight of child abuse and neglect. My topic was extremely challenging and complex to say the least!
Work Cited Page
Frobose, Jane K, Colorado State University, (Extension, Consumer, and Family Education) 2007 Child Safety – Prevent Child Abuse http://www.ext.colostate.edu/pubs/columncc/cc010814.html Bethea, Lesa, MD. "15 March 1999: Primary Prevention of Child Abuse. American Academy of Family Physician. http://www.aafp.org/afp/990315ap/1577.html
Related Topics