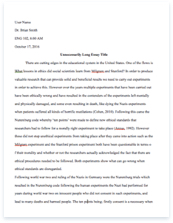 The whole doc is available only for registered users
Pages: 8
Word count: 1810
Category: Abuse
A limited time offer! Get a custom sample essay written according to your requirements urgent 3h delivery guaranteed
Order Now
List and outline the main legislation, guidelines, policies and procedures that safeguard children and young people. The main legislations that safeguard children and young people are, Children's act 1989- which states the responsibilities of parents and professionals who must work to ensure the safety of the child. This Act includes two important sections which focus specifically on child protection. Section 47- states that the Local Authority has 'a duty to investigate when there is a reasonable cause to suspect that a child is suffering or likely to suffer, significant harm. Section 17- states that services must be put into place to 'safeguard and promote the welfare of children within the area who are in need. The education act 2002- which states the responsibilities of Local Education Authorities (LEAs), governing bodies, head teachers and all those working in schools to ensure that children are safe and free from harm. Children's act 2004- This provides the legal framework for Every Child Matters. It includes the requirement for: • services to work more closely, forming an integrated service • a 'common' assessment of children's needs
• a shared database of information which is relevant to the safety and welfare of children • Earlier support for parents who are experiencing problems. The main policies and procedures that safeguard children and young people are, • Child protection/safeguarding children
• Anti bullying
• Collection or late collection by parents or carers
• Missing children
• Photograph policy
• Safe recruitment of staff and volunteers
• Safe internet use
• Whilst blowing procedure
• Procedure responding to concerns/ allegations of abuse or of poor practice
Assessment criteria 1.2
Explain how Child Protection comes into the wider concept of safeguarding children and young children. Child protection is a part of safeguarding and promoting well being of children and young children because it refers to the action that is taken to protect specific child/children who are suffering or are likely to suffer significant harm.
The Human Rights Act 1989- this does not fully account to children but it shows what some human rights are which are aimed at children such as, • Right to an education
• The right to life
• Freedom form torture
This protects and safeguards children because this is a legislation that has been put into place to protect all people in the UK Assessment criteria 1.3
Analyse guidelines like Every Child Matters and The Children's Act 2004 along with your settings policies and procedures for safeguarding, and say how they affect your day to day work with children and young people. Every Child Matters declares that schools are required to support students to be healthy, stay safe, enjoy and achieve, make a positive contribution and achieve economic well-being, no matter what their background or circumstance. When nurseries or schools are unsafe or unwelcoming to children, they are breaching Every Child Matters. ECM is based on the United Nations Convention of the Rights of the Child. The Children's Act 2004 was designed with guiding principles in mind for the care and support of children.These are:
• To allow children to be healthy
• Allowing children to remain safe in their environments
• Helping children to enjoy life
• Assist children in their quest to succeed
• Help make a contribution – a positive contribution – to the lives of children • Help achieve economic stability for our children's futures My setting follows both every child matter and the children's act 2004 because we have to promote the safety, success and well being of all children in our care to give them the best we can offer so they have a good successful start in life that can continue throughout the rest of their life.
Assessment criteria 1.4
Explain when and why inquiries and serious case reviews are required, how would you share your findings and what implications does this have for practice. The purpose of a Serious Case Review is for providers of childcare is to learn lessons to improve the way in which they work, local professionals and organizations work separately and together to help safeguard and promote the welfare of the children and young people. It is also set up to improve how they can work better together to ensure nothing like that happens again.A Serious Case Review is considered where- • Abuse or neglect of a child is known or suspected
• A child has died
• A child has been seriously harmed and there is cause for concern as to the way in which the authority, their Board partners or other relevant persons have worked together to safeguard the child. • a child sustains a potentially life-threatening injury or serious and permanent impairment of physical and/or mental health • a child has been seriously harmed as a result of being subjected to sexual abuse • a child has been seriously harmed following a violent assault perpetrated by another child or an adult If any member of staff is concerned about a child he or she must inform the designated senior person. Any information regarding the concerns must be recorded by the member of staff on the same day on a 'cause for concern' sheet, this has an outline of a body on and any marks need to be recorded accurately. It must be a factual account of the observations and must be kept in the manager's office in a locked cupboard. The designated person will then decide if this should be referred, this may be done without the consent from the parents. All staff including me needs to be updated on policies so that everyone is up to date on the awareness of abuse and its signs and symptoms. Assessment criteria 1.5
Explain your settings policies and procedures that cover data protection, information handling and sharing. How does this comply with current legislation, such as Data Protection Act 1998? In my setting data protection and information handling with regards to safeguarding children is taken very seriously. Although we have to keep information on children so that we can support their development and learning and so we can report on their progress, all this information is kept in locked cabinets in which only the management team have access to this. All contact details for children and staff are kept in the office in a locked cupboard and only the persons who has the key (management) can access this data, all the staff sign a confidentiality form when they start their employment with the nursery to say they will not discuss any information regarding a child or other staff member with people who it does not concern. For example if a member of staff was talking about a child on the bus saying that this particular child wasn't doing well at school because you thought they were having problems at home, someone who knows the child and his family may be on the bus listening. This could then have devastating effects on the child and his family.
Outcome 2
Assessment criteria 2.2
Explain the importance of a child or young person centred approach in safeguarding children and young people
The importance of a child or young person centered approach is to understand that every child is different. The framework of Every Child Matters was set up to support the joining up of services to ensure every child can achieve the five Every Child Matters outcomes. Support is offered to children to enable them to be healthy, stay safe, enjoy and achieve, make a positive contribution and achieve economic well-being. All services aimed at children or young people are based around the planning and meeting of the individual needs. Children's wishes should be taken into account during decision making to give them a sense of belonging and not to be made to feel as though its them who's to blame this should be done in a sensitive manner and they should be listened to, to find out how they are feeling and what they would like.
Assessment criteria 2.3
Explain what partnership working means with regards to safeguarding. The importance of partnership working to safeguard is that agencies and other professionals need to work together, it starts with government legislation right through to local working. Each professional or agency with have a different role of expertise so vulnerable children will need coordinated help from health, education, children social care and the voluntary sector and often the justice services so it's important that there is good communication within all the different services available. Safeguarding and promoting the welfare of children depends on effective partnership working between agencies and professionals all people involved in the welfare of a child have a duty to safeguard them.
Police, health, visitor, GP, hospital, child minder, nursery, school, after school club, leisure groups such as football, swimming, brownies, social worker, family, friends, neighbors and the local community are all responsible for safeguarding children and young people and it's important we all work and communicate together. The common assessment framework provides a way for early intervention for children before it reaches crisis point. It is a shared assessment and planning framework for all communication and that information is shared between different professionals and organizations. The assessment framework centers on child safeguarding and promoting welfare for practitioners to use who work with children. Assessment criteria 2.4
There can be many organisations involved with children and young people that have been abused or harmed. Describe the roles and responsibilities of some of these different organisations. There are many organisations involved with children that have been abused or harmed such as social services/ social workers, nspcc, health visitor, gp, police, school student service, nursery workers, and foster carers, below are a few and what their roles and responsibilities are. A Health Visitor' s roles and responsibilities are:
• A health visitor have crucial skills in protecting children from harm and abuse, they are one of the first to recognize children who are likely to be abused or neglected. • A health visitor plays a big part in all stages of a child protection process including case reviews. • Support the health of babies and children under the age of five. • They have contact with many multi agencies and they support the work of the Local Safeguarding Children's Board (LSCB). • They are trained to a high level to recognise any risks that the child might be in. • The health visitor will visit parents home so they will gather information such as signs and symptoms this will enable a health visitor to start the process of the signs and concerns of abuse or neglect. • The health visitor will need to have access to ongoing contact with the family if abuse or neglect is suspected. • Health visitors should use their own judgement on when to share information with other agencies. • They support and guide parents of young children.
Related Topics