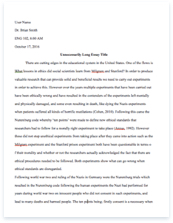 The whole doc is available only for registered users
A limited time offer! Get a custom sample essay written according to your requirements urgent 3h delivery guaranteed
Order Now
Chanel S.A., also known as The House of Chanel, is a privately owned company. Chanel is known world wide as a luxury brand. Through the luxury brand, the products sold are produced of high quality. Chanel is a global leader in fashion the fashion world and also the top innovator in the fragrance industry for decades. The mission of Chanel is "to be the ultimate house of luxury, defining style and creating desire, now and forever." Chanel illustrates products desirable of both sexes. Chanel's strategic planning for competitive advantage isn't as loud or demanding than other fashion brands today. Chanel is a well established brand for nearly a century, and globally known. Chanel's growing success today lies mostly on Karl Lagerfeld, who never fails to interest consumers. Chanel is also extremely effective in preserving the brand image, in agreement to buyer's wants and market trends. SWOT analysis of Chanel S.A
Strengths:
— Strong brand image: The brand focuses on timeless and classic designs that is highly recognized. The Chanel logo is also an icon. — High quality products: Most clothing pieces and accessories made are used with high quality materials and fabrics. Leather and tweet are the most infamous materials used in classic Chanel looks. — Designer Karl Lagerfeld: Fashion icon Karl Lagerfeld is always reinventing Chanel and is known to have changed everything, yet nothing about Chanel. — Strong Management: Chanel INC. is an Equal Employment Opportunity (EEO) employer, which has highly trained individuals who are technically skilled and knowledgeable about their qualified area of expertise. Weakness:
— Price: For some the price of Chanel maybe reasonable but for most working class people the brand is rather expensive, which comes with sacrifice. –Limited Production: Chanel discontinues many products after a period of time, especially in beauty production. Chanel may discontinue a certain item if it is from an older season. Opportunities:
— Expansion: There are Chanel stores located in North and South America, Europe, Asia, and Australia. The company continues to expand sales production in the booming Asian market today.
Related Topics