Center-Piece of Nigeria's Foreign Policy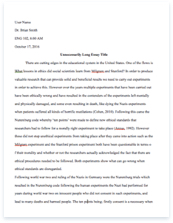 The whole doc is available only for registered users
A limited time offer! Get a custom sample essay written according to your requirements urgent 3h delivery guaranteed
Order Now
Upon independence in 1960 Nigeria's major foreign policy aim has been in the restoration of the African dignity and this became the centerpiece of the countries foreign policy. Africa has remained the centerpiece of the Nigerian foreign policy since independence when it was adopted under President Abubakar Tafawa Balewa. In his acceptance speech at the United Nations on October 8, 1960, Balewa clearly portrayed Africa as the foremost concern of his foreign policy. According to him as the country belongs first to Africa so also Africa must first claim attention in the country's external relationship. With the credit of being the first Nigerian Prime minister, Sir Abubakar Tafawa Balewa made the foremost foreign policy statements on behalf of the country and gave it a distinct direction which clearly focused on placing Africa overwhelmingly at the epicenter of Nigeria's foreign policy, and successive Nigerian leadership have well followed suit. However, it was the regime of Gen. Yakubu Gowon that clearly identified Africa as the center-piece of Nigeria's foreign policy.
Africa as the center-piece of Nigeria's foreign policy is a foreign policy thrust which primarily and persistently accords utmost attention, total concentration and exclusive recognition to Africa in Nigeria's foreign policy making and implementation before thinking of the outside world (Adekunle, 1986 cited in Dr. Nwanolue, 2012). This includes friendship and co-operation with all nations of the world which recognizes and respect Nigerian's sovereignty, assistance to African state in search of solution to their problems and encouragement of the development of their common tires among all African states to foster co-operation among countries of Africa in so far it is compatible with Nigerian's national interest, the defense of our sovereignty, independence and territorial integrity, the defense and promotion of world peace, the promotion of equality and self-reliance in African and the rest of the developing world. (Ogo Emakpor, 2005) The 1979 constitution of the Federal Republic of Nigeria, chapter II, section 19 states that the state shall promote African unity as well as total political, economic, social and cultural liberation of Africa and all other forms of state, and shall combat racial discrimination.
The concept of African as the centerpiece of Nigeria's foreign policy has emerged as the most consistent theme that runs through the country's foreign policies in all the various regimes. Dr. Gambari, former External Affairs Minster and Nigerian's representative to the United Nations, stated that the "foreign policy of Nigeria could be called a 3 concentric circle, these concentric circle clearly puts Nigerian's interest first, West Africa sub-region second and then the rest of Africa". (Ogo Emakpor, 2005) In Nigeria's Afro-centric foreign policy, the West African Sub-region remains the first line of implementation. Given the country's vast size, natural, economic and human resources, large market drive, Nigeria perceives itself as having an historic mission to exercise hegemonic influence in the West African Sub-region and indeed, the black world. Her economic strength and the high level of human resources at her disposal have allowed her a measure of autonomy in the pursuit of Africa's genuine interests in global politics. (Okunnu, 2010)
Nigeria was a founding member of the Organization for African Unity which is now known as the African Union, and has tremendous influence in West Africa and Africa on the whole. Nigeria has also in addition founded regional cooperative efforts in West Africa, functioning as standard-bearer for ECOWAS and ECOMOG, economic and military organizations respectively. In 1999 Nigerian ECOMOG forces intervened in Sierra Leone's civil war, paving the way for U.N. peacekeepers. The swiftness and success with which Nigeria has intervened since the founding of ECOMOG, and the leadership it has shown in supporting both ECOMOG and U.N. interventions, has gained Nigeria significant international notoriety for the strength and commitment it has shown as a regional force. With this African-centered stance, Nigeria readily sent troops to the Congo at the behest of the United Nations shortly after independence and has maintained membership since that time.
Also, although Nigeria never sent an expeditionary force in that struggle, it offered more than rhetoric to the African National Congress (ANC) by taking a committed tough line with regard to the racist regime and their incursions in southern Africa, in addition to expediting large sums to aid anti-colonial struggles. The country also supported several Pan African and pro-self government causes in the 1970s, including garnering support for Angola's MPLA, SWAPO in Namibia, and aiding anti-colonial struggles in Mozambique, and Zimbabwe (then Rhodesia) military and economically. Nigeria retains membership in the Non-Aligned Movement, and in late November 2006 organized an Africa-South America Summit in Abuja to promote what some attendees termed "South-South" linkages on a variety of fronts. Nigeria is also a member of the International Criminal Court, and the Commonwealth of Nations, from which it was temporarily expelled in 1995 under the Abacha regime. Nigeria has remained a key player in the international oil industry since the 1970s, and maintains membership in Organization of the Petroleum Exporting Countries OPEC which it joined in July, 1971. (O.E. Shitta, 2010)
The role that Nigeria has played in various international organizations over the years has been proactive, especially in the AU. Nigeria has vigorously articulated and consistently defended African concerns and interests as a member of various international organizations. She has used this platform to champion the interests of Africa in the true spirit of Pan- African ism. That is why in recognition of her struggles and contribution to the elimination of colonialism, apartheid and racism she was categorized as a "Front line State". Within the West African Sub region, successive administrations in Nigeria have ensured the promotion of cooperation with other African nations in all fields of human endeavor through economic exchanges and regional integration of members. This has been achieved through deployment of more Technical Aide Corps (TAC) volunteers whose services have been in high demand by other countries to assist in the areas of their manpower needs.
In specific terms, there have been considerable integration through sharing Nigeria's know-how and expertise with other African, Caribbean and Pacific (ACP) countries; Promotion of integrated infrastructure in the West African sub-region; Establishment of the ECOWAS free trade area; Promotion of sub regional (ECOWAS) Economic integration; Establishment of the Ministry of Cooperation and Integration (which was later subsumed in the Ministry of Foreign Affairs); Establishment of the Second West African Monetary Zone; Complete eradication of all rigid border formalities; Adoption of a common ECOWAS Passport; Establishment of ECOWAS Trade Liberalization Scheme (TLS);
Establishment of the ECOWAS Court of Justice; and Promotion of sub regional peace and security initiatives. President Goodluck Jonathan also reiterated the centrality of Africa, its peace, political stability and socio-economic development to Nigeria's foreign policy. According to him, "Africa remains the center-piece of our foreign policy and I have always believed that if real progress and development is to come to Africa, we must initiate it ourselves. We cannot keep waiting for others to do it for us. Establishing functional relationships among ourselves, is a necessary first step in this regard and we are committed to ultimately having full diplomatic representation with all African nations." Thus though the country has had 52 years since its independence, Africa has remained the corner-stone of its foreign policy.
REFERENCE
• Ibidapo E. Okunnu. 2010. Nigeria's Leadership Roles in Africa and Daunting Challenges, available at: www.economicconfidential.net (accessed on 13th November, 2012) • Idumange John Agreen. 2010. The Problematic of Redefining Nigeria's National Interest in the Context of Global Diplomacy, available at: www.pointblanknews.com (accessed on13th November, 2012) • Ogo Emakpor. 2005. The Center of Nigerian's Foreign Policy, available at: www.shvoong.com (accessed on 13th November, 2012) • Olusola Babarinsa. 2011. Stakeholders brainstorm on Nigeria's foreign policy, Daily Times, Lagos, 17th November, 2011 • Prof. Adewale Stephen. 2011. Nigeria @ 51: Need to redefine foreign policy, Vanguard, Lagos, 7th October, 2011 • Shitta Olusoji Emmanuel. 2010. Nigeria's Foreign Policy, available at: http://www.blogger.com/ (accessed on 24th October 2012)
Related Topics