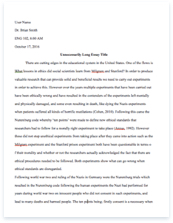 The whole doc is available only for registered users
Pages: 3
Word count: 503
Category: Law
A limited time offer! Get a custom sample essay written according to your requirements urgent 3h delivery guaranteed
Order Now
Natasha Hallet was a veteran performer for Cirque du Soleil and performed numerous times without injury until one mistake that took place during a show in Orlando, FL changed all of that. While performing an aerial stunt, Ms. Hallet said that she forgot to rig her harness properly and that her partner missed her mistake during a routine safety check. Since the harness was rigged improperly and not caught by her partner, Ms. Hallet fell 40ft, hitting the stage and shattering 19 bones from the waist down. Many professional athletes will continue to receive a regular salary during a serious injury that was sustained during their athletic duties, but for Cirque du Soleil performers this is not the case. When a member of Cirque du Soleil gets injured on the job they are treated like normal workers and only receive workers compensation benefits that can be thousands less a year than their normal salaries as a performer. This is a problem for the performers that lay their bodies on the line to promote Cirque du Soleil's $850 million per year business.
Ms. Hallet was making $150k a year performing for Cirque du Soleil. After her injury, her pay dropped about 85% to about $2,000 a month due to a cap on compensation payouts for Florida workers (Berzon & Maremon, 2015). Subsequently from the loss of income Ms. Hallet ended up losing her home to foreclosure after her benefits were stopped because of the two year maximum Florida pays out for Workman's Compensation claims. At this time, Ms. Hallet contacted a Workman's Compensation attorney and fought for additional compensation based on her injury and inability to return to her normal line of work. Initially, Ms. Hallet was offered $45,000, she said. After disputing the decision, she settled for $170,000, a large amount in Florida, according to workers' compensation attorneys there (Berzon & Maremon, 2015). IRAC Analysis
Issues: Was negligence demonstrated?
Rules: Negligence is defined by Cornell University Law School as, "A failure to behave with the level of care that someone of ordinary prudence would have exercised under the same circumstances. The behavior usually consists of actions, but can also consist of omissions when there is some duty to act (e.g., a duty to help victims of one's previous conduct)" (Cornell University Law School, n.d., p. 1). Analysis: Ms. Hallet was rigging herself up for a Cirque Du Soleil performance, and she did not correctly tie herself into the rigging. Her partner failed to notice Ms. Hallet's error in tying her rigging. As a result, Ms. Hallet fell during a performance a broke 19 bones below her waist. Ms. Hallet had to have surgery to repair her ankle. Ms. Hallet was paid through her workman's compensation at 15%, and she was unable to pay her bills. Ms. Hallet countersued and won a higher settlement than originally awarded. Conclusion: Ms. Hallet is liable for negligence but won her workman's compensation countersuit.
References
Cornell University Law School. (n.d.). Negligence. Retrieved from https://www.law.cornell.edu/wex/negligence
Related Topics