Case Analysis of Levendary Café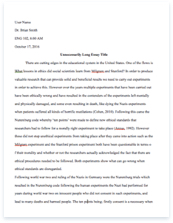 The whole doc is available only for registered users
A limited time offer! Get a custom sample essay written according to your requirements urgent 3h delivery guaranteed
Order Now
To evaluate the way Levendary Café has entered to China, I would like to use "SWOT" analysis to figure out how it is doing. Strength: Levendary has a very clear and unique business mode which is targeted at high level customer group. It has a very successful business in the United States. There are stores spread across the country. The high-quality food and hospitality service are becoming Levendary's brand and reputation. The company is willing to dedicate themselves and build a culture of "delighting the customer." Weakness: First, the most important issue in China is "Localization." There are some services or products are useless in the Chinese market. For instance, most Chinese people don't have a peanut allergy or a gluten allergy. So there is no need to provide these types of food, because they don't need this kind of service. Just like African people don't need to go to tanning salons. Secondly, Levendary Cafe is spreading too fast in China. It is getting short-term profit. But in the long run, some stores will close because of less training, nonsufficient supply and other issues. Levendary Café is a delicate brand. There are a lot of good qualities that cannot be copied in a flash. If the foundation not solid, the top will collapse sooner or later.
Opportunity: With economic globalization developed, more and more Chinese people are interested in American food. They are curious about what American people are eating and prefer to get the food exactly the way it is in America. Besides, China already has a lot of foreign restaurants spreading everywhere. Most of them have changed flavors to make the food more acceptable for Chinese, which in some parts loses its original taste. Chinese people are more open to new things. They get more familiar with American people's dietary custom after eating many years of McDonald, KFC and Pizza Hut. Now they want to try something that is exactly the same as "Made in America".
Furthermore, people in China are willing to pay more money to buy fancy stuff, as long as it is pretty and famous. Take iPhone 6 as an example:
Chinese people are willing to pay $1000 to buy one from the United States. Another opportunity is that because a lot of food safety sandals have exploded in China in recent years, people now take their lives seriously and eat food very carefully. They prefer food that comes from safe and clean sources, even if it may cost more. So it isn't an issue for Levendary having a higher price, as long as the food is organic and without pollution. Threat: Louis Chen, the VP in charge of Chinese business, is ruining the brand of Levendary Café. Customers come from all over the world. When they visit the store in China, they can tell that there is something wrong with the decoration and menu in the Chinese store. It will destroy the company's reputation if they notice that the menu is totally different from what it is in the United States. There are Pizza Hut, Starbucks and other competitive American brands, which are growing steadily and widely. They will split the market share from Levendary Café.
I think Mia Foster should be tougher and decisive. As the case discusses, she is losing control of Chen. This visit to China is a great chance to turn the table. First, Mia Foster should ask Chen to take her to look at all 23 restaurants in China and find out what is going on. The most important thing is to find out how different they are from ones in the United States. Then, she should talk to Louis Chen and take back some of the authority. It must be done, even though it may sacrifice some stores. But it is worth weeding out those unformed stores, to keep the brand and reputation as good as before. I think headquarters should provide more professional support to the Chinese market. There should be more direct control from headquarters to help stores maintain their style. No matter if it is legal restriction or financial sanitation, headquarters have to take control of how the business is running. They should prevent this situation happening again because there will be no redo in the future.
First of all, Mia Foster should do some surveying behind Chen's back. Because every piece of information Foster got was from Chen, she doesn't know what the real situation is in China. Foster cannot win the debate with Chen without any solid knowledge and evidence about the Chinese market. She has to get down to the earth and collect the information. For example, how many times do Chinese people dine out each week? How much are they willing to pay when they eat in a foreign restaurant? Do they prefer pure American style or mix with Chinese characteristic? Second, after gathering all the background information, Mia Foster should set up a department to help Chen to make good decisions. From the very beginning, Chen has had no professional support from headquarter, beside the six-weeks-training. Chen cannot make all the decisions correctly by himself, so he shouldn't take full responsibility for some mistakes. There should be a COO, a CCO and a CFO to assist Chen to manage the Chinese market. A COO can manage restaurant business and communicate with headquarters about every following step. A CCO can capture the latest food trends, combine them with Chinese people's habit and culture, and come up some fancy "Chinese food" which is also fresh and unique. A CFO can help Chen to make new budget and managerial plans to cut cost and meet profit quickly. With those helpers, Chen will transfer from a go-getter to a professional manager.
Related Topics