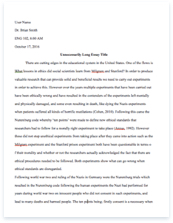 The whole doc is available only for registered users
A limited time offer! Get a custom sample essay written according to your requirements urgent 3h delivery guaranteed
Order Now
Choosing a career is one of the most important decisions in a persons' life. Every person needs to consider a number of things when deciding upon a particular career path. One cannot simply waltz into any career and expect it to be adequate. Research needs to be conducted and deep thought needs to have taken place. One should also seek advice from experienced persons as to HOW to pick a certain career path as oppose to WHAT career path to take. The career path a person chooses to take needs to be that persons' OWN decision.
There are a number of things people need to take into consideration before making this all-important decision. One of these factors is satisfaction or, namely, happiness. It is impossible to go through life with a job you absolutely despise. Since the average person spends about 120 000 hours at work in their lifetime, enjoying your job just makes life much easier. If you do not enjoy your job a number of things will go wrong with your life. Your stress levels will rise and this can lead to medical problems and problems at home. You will have wild mood swings because you are not happy with your life and, at the end of this long road, when one retires, you will look back on your life and see that you have a lot of regrets. So, it is in ones' best interests to find a job that he/she enjoys.
Another important factor to think about is money. I realize that money isn't important to everybody but there are always going to be bills that need to be paid and children that need to be clothed and fed. You really need to think ahead into the future when making this decision. For some, money is happiness. For others, it is nothing more than a means to acquire basic necessities. But we all need money. So it would be wise to choose a career where money would not be an issue.
The third factor one needs to consider is moral fulfillment. Again, this is only important to certain people. You may not know it, but by the end of your career, you may want to look back on your life and say to yourself "Wow, my career actually meant something to the world". However, not all people look at a career in this way. This is why a career choice requires deep thought. One really needs to think about who they really are and what they want from life.
When choosing a career, you need to set realistic goals and choose a career that you can realistically do. For example, you cannot choose a career that you know you do not have the intellect for, no matter how much you would like to do the job.
Listed above are the main factors that people need to reflect upon when deciding on a particular career path. The right choice is not always made due to wild fantasies or unrealistic goals. Basically, the final decision comes down to this: Happiness, satisfaction, moral fulfillment and financial security. So think wisely and remember that once your decision is made, it is not easy to back down and simply walk down a different road
Related Topics