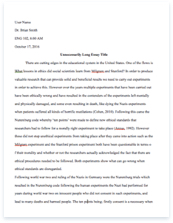 The whole doc is available only for registered users
A limited time offer! Get a custom sample essay written according to your requirements urgent 3h delivery guaranteed
Order Now
A care plan is a written statement of the individual's assessed needs, identified during an assessment. It sets out what support the individual should get, why, when, and details of who is meant to provide it. It is also essential that care plans be reviewed on a regular basis, this allows all parties to ensure they are meeting the individual's needs i.e. social, emotional and educational.
A care plan can be known by a few different names including, a plan of care, personal learning plan and life plan. Regardless of the name they are all essentially the same.
When formulating a care plan one of the first tasks should be to complete a risk assessment of the individual, the SSSC Codes of Practice (code 4) clearly states "as a social service worker, you must respect the rights of service users while seeking to ensure that their behaviour does not harm themselves or other people". The health and safety executive give clear guidelines that should be used when planning a risk assessment.
Step 1
Identify the hazards
Step 2
Decide who might be harmed and how
Step 3
Evaluate the risks and decide on precautions
Step 4
Record your findings and implement them
Step 5
Review your assessment and update if necessary
At my place of work (residential school) we also use an Individual Crisis Management Plan, this is another risk assessment that we use and mainly used on the YP's Behaviour. The ICMP indicates any safety concerns or warnings, any potential triggers, any behaviours of concern and any physical intervention strategies that is not recommended we use on the YP. There are different models of care and methods of working when supporting people in care. I have used person centred planning (PCP) for many years. The title 'person-centered' is used because those who developed it and used it initially shared a belief that services tend to work in a 'service-centered' way. This 'service-centered' behavior appears in many forms, but an example is that a person who is isolated would be offered different groups to attend (each run by a service specifically for people sharing a specific label), rather than being helped to make friends in ordinary society.
I have found PCP to be an extremely useful and effective way of working. (PCP) is a set of approaches designed to assist someone to plan their life and supports, is used most often as a life planning model to enable individuals, requiring support to increase their personal self-determination and improve their own independence. Carl Rogers believed that the person was the expert on themselves and that all individuals were capable of changing. Rogers regarded every one as a "potentially competent individual" who could benefit greatly from his form of therapy. The purpose of Roger's humanistic therapy is to increase a person's feelings of self-worth, reduce the level of incongruence between the ideal and actual self, and help a person become more of a fully functioning person. Rogers believed that in order for a person to grow or change there are 3 core conditions 1.The worker must be congruent with the person.
2.The worker must provide the person with unconditional positive regard 3.The worker must show an empathetic understanding to the person. Congruence is also called genuineness. According to Rogers, Congruence is the most important attribute, this means being open and honest with the person. Rogers believed that for people to grow and fulfill their potential it is important that they are valued as themselves. This refers to the workers deep and genuine caring for the person. The worker may not approve of some of the person's actions but the worker does approve of the person. In short, the worker needs an attitude of "I'll accept you as you are." The person-centered worker is thus careful to always maintain a positive attitude to the person, even when disgusted by the client's actions.
Empathy is the ability to understand what the person is feeling. This refers to the workers ability to understand sensitively and accurately [but not sympathetically] the persons experience and feelings in the here-and-now. Abraham Harold Maslow was best known for creating Maslow's hierarchy of needs, a theory of psychological health predicated on fulfilling innate human needs in priority, culminating in self-actualization. Maslow stressed the importance of focusing on the positive qualities in people, as opposed to treating them as a "bag of symptoms.
The pyramid is split into 5 different "growth needs"
1.Physiological needs – air, food, drink, shelter, warmth, sleep. 2.Safety needs – protection from elements, security, stability, freedom from fear. 3.Social Needs – belongingness, affection and love, – from family, friends, romantic relationships. 4.Esteem needs – achievement, mastery, independence, status, dominance, prestige, self-respect, respect from others. 5.Self-Actualization needs – realizing personal potential, self-fulfillment, seeking personal growth and peak experiences Maslow believed that every person is capable and has the desire to move up the hierarchy toward a level of self-actualization. However before progressing to the higher level growth needs it is important that lower level basic needs are met first.
I recently updated a care plan for one of our YP's, in line with the schools policy all care plans must be reviewed and updated at the end of each school term. Whilst formulating this care plan I followed the steps in the care planning cycle. Assessments (of needs) ->Care Planning (plan the care program) -> Implementation (delivering the care plan) ->Check of services (review). I will anonymise the YP to protect his confidentiality and in keeping with the data protection act 1998, the SSSC codes of practise and the schools confidentiality policy. I will call the YP, C. Before I began reviewing and updating the care plan with C, I wanted to ensure I was familiar with his background and his risk assessments, I also decided to call his parents and social worker as this would give me a fuller picture to ensure his needs were being met. Once I had read over C's background and risk assessments, I decided to have an informal chat with C in the office at the unit, I used the office as there was a few of the other YP's around and I wanted our conversation to remain confidential.
As C is only 12 years old I had to make sure that I communicated in an age appropriate way ie I spoke clearly to C and didn't use too many big words that he may struggle to understand, I kept my language plain and tried not to use too much jargon. I started by asking C if he was ok for us to discuss this or did he want anyone else there, C replied no he was fine with just us. I explained that as it was the end of a school term we needed to review his care plan and update his targets. I gave C, a copy of the National Care Standards (school care accommodation services) this was to ensure C knew what his rights were. As we discussed C's targets, in particular the ones that he was struggling to meet, I soon discovered that C needed a little extra support in these areas and we discussed different ways in which this would be possible, I asked C what he felt would help him to achieve these targets, by asking for C's input and asking what he felt would help him achieve these, I was empowering C to take ownership of his care plan and giving him a sense of independence.
Once we had completed his targets and we were both happy that they were realistic and achievable, I updated them into his care plan. I explained to C that he could have access to the completed plan should he wish. I also explained to C that all relevant bodies involved in his care would be updated of his new targets ie education staff, parents and social work. This would ensure that we are all working together to enable C to reach his full potential.
Related Topics