Can Music Therapy Help Individuals With Mental Health Disorders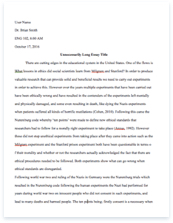 The whole doc is available only for registered users
A limited time offer! Get a custom sample essay written according to your requirements urgent 3h delivery guaranteed
Order Now
The authors in this article reviewed numerous records of studies that were done to test the effectiveness of creative art therapies treating PTSD (Post Traumatic Stress Disorder). They narrowed their review down to seven studies that used a controlled study structure and had conveyed evidence of actual changes to PTSD symptoms. However music was not the only focus. Creative art therapy studies also include art, dance, movement, and drama. Unfortunately, no valid studies were found for dance and movement therapy. All of the evidence provided was evaluated for quality, bias, and grade. The authors' research on this topic concludes that while there are notable results from the studies conducted, the quality of these studies was very poor. Furthermore, they suggest that better scientific precision is required in future trials to prove whether or not these types of therapies are consistently effective in treating PTSD symptoms.
Grau-Sanchez (2017) reviews a study that was conducted on a single patient who had suffered from a chronic stroke. The study was mostly focused on the timeline that motor function and neuroplastic function improved as a result of Music-Supported Therapy (MST). The experiment was done over a period of seven months. The structure of this study consisted of four week periods alternating from period A to period B and back to period A…etc. Period A involved no MST treatment while period B included MST treatment. Motor tests and keyboard tasks were performed by the patient and analyzed. The author reiterates that the results from these tests did show significant improvement in the patients functioning and motor skills in the beginning periods and maintained these improvements after three months. Evidence from this study supports the idea that Music-Supported Therapy assists in quick progress for patients if used regularly.
This article covers an experiment conducted on individuals suffering from severe brain injury or stroke. Eighteen participants were divided, and half was given standard rehabilitation while the rest received the same rehab combined with music therapy. The experimental group had three treatments a week, not exceeding 10 treatments. Participants were evaluated on mood and social functioning prior to the study being conducted, during, and after it was finished. Staff members as well as family members gave feedback. As expected, the experimental group showed significant improvement in mood and social involvement. Nayak (2000) concluded that the combination of acute rehabilitation and music therapy provide improvement for people with brain injuries compared to those not receiving the music portion.
Rose (2018) summarizes a study that was done on an eight year old boy living with autism, ADHD, dyslexia, sensory processing difficulties, and dyspraxia. This study was conducted and measured over a one year period. During this period the boy engaged in musical activities. Specifically, he was taught to use an instrument. Tests were conducted before beginning the music learning and then again after the one year study. This author's review then goes on to discuss the results of those tests. Before music, the young boy had an average IQ and lacked motor, social, and emotional skills. Post testing revealed that improvement in all of these areas except social and emotional abilities. Rose (2018) concludes that implementing different teaching styles, such as music learning, should be supported and is important for children.
The authors of this journal article evaluated a study that was done with Music listening in an extended care facility. The study was conducted over a five month period and included a total of ninety-two dementia care residents. Forty-five of these residents received their regular care, and forty seven received regular care combined with two to three music listening sessions a week. Also mentioned is this article was that some residents who were prescribed antipsychotics continued receiving that medication during the study and furthermore helped to assist in additional comparisons among the two groups. The authors give detail that all participants showed results of being more relaxed. Thus concluding that music listening is a natural alternative to relieving symptoms of dementia. The end of this review gives a brief explanation that antipsychotic medications have been associated with cerebrovascular issues and sometimes death. Further studies will need to take place to fully establish the effectiveness of music listening for adults suffering from dementia. 
Related Topics