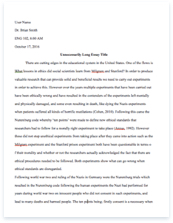 The whole doc is available only for registered users
A limited time offer! Get a custom sample essay written according to your requirements urgent 3h delivery guaranteed
Order Now
In order to begin the journey toward awareness an individual must encounter an existential crisis, which stimulates him or her to begin introspective thought. In Camus' The Stranger, Meursault experiences existentialism throughout the entire book because he is detached from so many things. This detachment causes him to go through traumatic experiences, leading up to the end of the novel, where he comes to realize what kind of life he lived. Similar to John Roth's quote, Meursault is a strange character, looking for the meaning in life, yet at the same time abandoning it, embracing apathy.
There are some events in the book that show Meursault's own emotion, before he transitioned into an apathetic man. Many examples lie in chapter one during Meursault's stay at the Home. First was Meursault's decision on whether or not it was proper to smoke in front of his mother's casket. Another is during the funeral procession, when they are walking. Meursault realizes the beauty of nature that surrounded the Home and grew to understand why his mother grew to love the home and her environment. A third example is when Meursault feels the need to explain himself to his boss – and almost to the caretaker – about his leave/leaving mother at the Home all alone. He apologized to his boss, exclaiming that it wasn't his fault his mother died, as if he were guilty. These three examples showed that Meursault did care in the beginning about life. He cared enough to think about things and have a complex about them.
However, during those same events Meursault also showed signs of indifference. When his mother died, he shows absolutely no emotion from memories of her, or just the fact that his mother was dead. Since he had put her in the Home, he was detached both emotionally and physically from her. When she passed away, his life really didn't change much. During her funeral and vigil, he was indifferent. He smoked, drank, and thought of what things to do when he went back to his home, rather than talk of his feelings. When he returns home, he goes on with life: going out with Marie, looking at the neighborhood as he always did, and working at an uncaring pace. Life held no special meaning to him. Even in jail, Meursault feels detached from Marie. Nevertheless, just like his job, Meursault feels like he could get used to any type of lifestyle, whether it be marriage, a new job, or being in jail. He does not know how to feel any emotion such as frustration, friendship, or love anymore. He is detached from all these emotions, leaving him feeling that nothing in life is important.
As the book comes to an end, Meursault's thinking process is revealed. He begins to think about his mother, and understand why she had all of a sudden, started to begin a new life. He realizes that she, so close to death, felt like she should live it all over again, and fill in what she left out the first time. Meursault begins to feel ready to live his life all over again as well, and for the first time he opens himself up and is willing to be handed new experiences from the world. The death of Maman, his boss and job, Marie, and his denial that hes on trial, are all examples of Meursault's detachment from emotion. He became detached from emotions like remorse, frustration, love, and guilt. Proving that he was detached from most aspects of life, and is existentialistic towards anything natural and indifferent. His own search for meaning led him deeper into a true belief in the life's futility.
Related Topics