Business Ethics in Communication Erna Mrkaljevic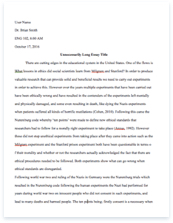 The whole doc is available only for registered users
A limited time offer! Get a custom sample essay written according to your requirements urgent 3h delivery guaranteed
Order Now
Abstract
Business ethics play a major role in the workplace field because what company can stay successful in an unethical setting? Z. Hereford suggests that any company that aims to be socially and ethically responsible must make a priority of ethical communication both inside the company and it its interactions with the public. In a world where companies compete in so many ways to become more economical, gain more customers and make impact within their community how can one expect to achieve success without strong ethics. Being committed to the customer comes with a responsibility of open honesty and a lot of companies aim to please in this department. According to Scott Thompson, "Ethical business communication builds trusts between all stakeholders including the company's employees, the owners, consumers or clients and the local community." That way everyone is mutually responsible.
Summary of news or articles
It is important that companies put ethics on the front line of their to-do list by demonstrating social responsibility and building strong trust. "Implementing ethics is not just a concern of managers setting the firm's overall strategic direction, but should pervade all levels of the business" according to Patrick E. Murphy. Not only having these ethical policies, but actually following through with them and holding all employees accountable of doing so. When you think of a business, you want to think of it as a relationship and nobody would want to be in a relationship where there is no trust. Same goes for business, nobody wants to invest their time and money into a product or service that isn't trust worthy.
Ethics should be modeled from the CEO all the way down to the front-line managers so that their staff can also model those behaviors, which will reflect onto the customers who will then spread the word to others and the business will stay successful as long as this stands. One might ask "What happens in a scandal situation where for some reason the company was put into the bad light?" For me, the answer is simple, Honesty. No company is expected to be 100% perfect and run into no mistakes however, how the top leaders react during bad times and how they address the public about it will play a huge role in whether customers continue to stick with this company. I believe in the hardest of times is when ethics are really tested and it's usually when the whole world will be watching.
Importance of Ethics in Business
So why is business ethics important? For one, ask yourself would you want to do business with a company that isn't truthful or sells products that aren't safe or reliable? Most would answer no. Ethics is can be complex though because one might ask Are business ethics different than personal ethics? But I believe when practicing good and healthy ethics you will inhabit good traits, as long as the company that you work for is honest and really does strive to do what is best for the consumer and of the course the community around it. Of course there are companies out there that operate non-ethically but those practices usually come to light. Now, following ethical guidelines means also abiding by laws so most companies won't choose to do anything illegal because it can come at a very high dollar price if they run their business immorally. According to Carroll (1991), The satisfaction of legal responsibilities is required by all corporations seeking to be socially responsible. Though Business Ethics has become more of a topic within the past decade, it's something that has improved more and more over time. According to Society and Business review, more improvement has been showed within the last 30 years. Business ethics is important because it holds companies up to a certain level of responsibility to their customers and stakeholders of respect, honesty and commitment. All companies are in the business of providing and it's of most importance that they are providing their source of incomes with respect and honesty.
Conclusion
In conclusion, Business ethics are an important practice when it comes to keeping your company successful. It's important that you implement strong ethical rules and regulations and they not only exist but they are practiced everyday in every area of your company from the CEO to the front-line employees. It's a good idea to even make consumers, stockholders and the public aware of these ethical behaviors your company practices. Making them openly available also shows accountability and people are able to see the progress from their own point of view. It's also very important to remember if a company is caught in a "scandalous" situation that they act out of complete honesty and integrity in how they handle the situation, this can be a huge defying moment for some companies and can determine whether your company will completely fail from here or continue to be successful. "Treat others as you would like to be treated" is the quote that always come to mind for me, and when I open or operate a business I will run it with this motto. I will make sure I implement strong, moral business ethics and I would expect every employee in my business to respect and model those traits.
References:
URL: https://www.essentiallifeskills.net/goodcommunicationskills.html
Title: Good Communication Skills Key to Any Success
Retrieved from: https://www.jstor.org/stable/25071852?seq=1#page_scan_tab_contents
Retrieved from: https://link.springer.com/article/10.1007/BF02388590
Retrieved from: https://link.springer.com/article/10.1007/BF02388590
Related Topics