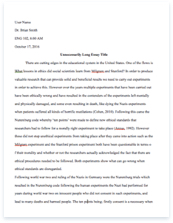 The whole doc is available only for registered users
Pages: 3
Word count: 677
Category: Gender
A limited time offer! Get a custom sample essay written according to your requirements urgent 3h delivery guaranteed
Order Now
Blackrock, a playwright written by Nick Enright is a morally flawed performance and tests the boundaries on ethical behaviour. The reader is able to explore the themes of mateship, the marginalising of genders and parental guidance. These combine to create a problematic environment and are conveyed as an element to defining ones identity and thus results in the ultimate consequence of Tracey's raping and death.
A predominant theme in Nick Enright's playwright "Blackrock" is gender discrimination, he shows us the extreme of the unjust and prejudicial treatment against women thus leading the to fragility of the female characters. Many of the male characters refer to the females in derogatory terms and names like "you're a bush pig" and "bitch" this does lead to a drop in self esteem for the females. In scene fourteen we discover that Tracy Warner had been murdered after being sexually assaulted by three men defining the ultimate act of discrimination. While later on in scene twenty-one, Ricko threatens Tiffany with violence. "You looking for a smack in the mouth?" These scenes elicit a response from the audience to again question why men would resort to threatening women, let alone assault them
A second recurring theme in Enright's performance is the parenteral responsibility for the teens of Blackrock. Toby's dad is an example of a poor parental influence, he works at an advertising agency who exploit the female body and shows it to be a sexual object, he also chooses to not punish his son for his deed instead he promises to get a good lawyer to reduce his sentence. Enright is allows the audience to consider how the parenting lifestyle affects the characters in the performance, He also shows how the parent's attitudes also start to rub off onto the children. For instance Stewart works in an industry that exploit the female body and treat them as sexual objects, in supporting this Toby willingly accepts this hence it ultimately contributes to the range of factors for Tracey's raping one of them being poor parental influence.
Playwrights have various conventions at their disposal to position the audience to respond to the themes and issues that are presented. Nick Enright's play Blackrock depicts the lives of teenagers in a community. Enright uses various techniques such as characterisation, dialogue, the plot and the setting to elicit a response to the issues. This includes the issue of youth culture, violence against women, masculinity and double standards. Blackrock positions the audience to see how the youth culture in society has become a major social issue. Through the plot we learn how teenagers are able to purchase alcohol and host parties which are unsupervised by adults. In scene six, Toby is able to purchase, "a supermarket trolley stacked with beer," for his party. From viewing this scene we learn that it is socially accepted in society to purchase and supply alcohol at a party. Enright positions the audience to question how teenagers are easily able to attain alcohol and why no adults intervened to stop the party. We are also positioned to predict an upcoming conflict as In many cases alcohol can lead to other issues such violence. A major issue in the play is that of violence against women.
Enright's shows that mateship is a flawed bond shared with two or more people more often between men. It is someone you wouldn't go against and be loyal to. This idea is thoroughly explored throughout Blackrock. The readers understand Toby's attempt to form this bond when he hosts a party, however succumbing to peer pressure we find out he took part in the ultimate act of discrimination and raped Tracey, in his defence he said "he sort of had to". The free use of the word "mate" constantly reiterates the idea of mateship
The Performance Blackrock by Nick Enright is a direct representation of youth problems, mateship, the marginalising of genders and parental guidance affecting individuals in the 90s. These issues are extensified through the recuing themes and behaviour of the characters.
Related Topics