Big Five Personality Test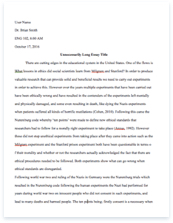 The whole doc is available only for registered users
A limited time offer! Get a custom sample essay written according to your requirements urgent 3h delivery guaranteed
Order Now
Based on the Five Factor Model credited to Goldberg, Costa and McRae, this test is a comprehensive personality assessment designed to provide you with valuable insight into your character, aptitudes, and disposition.
Your Personality Type: The Diplomat
Send a bunch of Diplomats to a hostile planet with green aliens and they'll negotiate a peace treaty in no time. Diplomats are very agreeable people and are easy to get along with. They have their fingers on the pulse of the world and know exactly what to say and do in order to make things right again in difficult situations. As such, they possess fairly good self-control and can generally keep a cool head when necessary. Diplomats are progressive thinkers and fairly optimistic, always looking for the best in people. They have an uncanny ability to connect with others, no matter how different their views or backgrounds, and always manage to leave a lasting impression.
Based on the Five Factor Model credited to Goldberg, Costa and McRae, this test is designed to provide you with valuable insight into your character and disposition. It is based on the theory that all human personality traits belong to one of five broad dimensions of personality. Using factor analysis, a technique that reduces a set of characteristics into a smaller number of underlying factors, personality psychologists discovered that five recurring factors seemed to encompass all others. The first three factors established were Emotional Stability, Extroversion, and Openness. Emotional Stability refers to calmness, confidence, and emotional security, whereas Extroversion refers to an external orientation and an interactive and socially engaged nature.
Openness suggests curiosity, imagination, and flexibility. The additional two factors that form the big five are Agreeableness and Conscientiousness. Agreeableness refers to good-naturedness, sincerity, and likeability, and Conscientiousness refers to careful, productive, rule-abiding behavior. Each of the five main personality traits stretches along a continuum. The personality traits tested in the questionnaire are consistent cross-culturally, and are fairly stable over time, beginning in young adulthood. An understanding of your position on each dimension can provide you with valuable insight into your personality.
Emotional Stability (score 91)
There are likely few things that can affect your mood or peace of mind. You are usually very content and have an upbeat demeanor, and this is likely reflected in the way you interact with others, the way you feel about yourself, and the way you deal with stress and hardship. You have an amazing ability to tolerate frustration, and do not allow annoyances, both minor and major, to get to you. You are able to regulate your emotions effectively, and simply do not allow things to get to you.
Extroversion (score 68)
You are generally quite extroverted and sociable, but do possess some introverted tendencies. Being around others stimulates you; you enjoy interacting and bouncing ideas off of others. You are content to spend some time alone or work on individual tasks, but not for extended periods of time – too much solitude will likely bore and stifle you.
Openness (score 91)
You are very flexible, have a broad range of interests, and enjoy indulging your imagination. People like you are typically liberal and adventurous, and may be considered free-spirited and creative. You would likely be quite comfortable with people who are different from you, and are not afraid to stand out in the crowd. You refuse to maintain the status quo, and are always looking for new things to learn, new things to try, and new adventures.
Agreeableness (score 91)
You are the perfect diplomat. You interact with others in a tactful and respectful manner at all times. It is highly unlikely for you to be insensitive. This is likely due to the fact that you make it a point to be conscious of your words and actions when you converse with people, and using both empathy and insight. You are likely also skilled at dealing with sensitive situations that require a delicate approach. You are easy to get along with and a pleasure to be around.
Conscientiousness (score 82)
You are a purposeful, industrious individual who believes in the value of hard work. You continuously strive to accomplish more and to meet even the toughest work demands, and do not shy away from big workloads or responsibility. You are motivated, or at least dedicated, to doing your duty and more if need be, making you a highly-valued employee. You stay focused on your goals, even when the desire to give up is strong, and see tasks through to completion. There is no denying the fact that you are committed to completing whatever you set out to accomplish.
The following is a summarized version of your results, categorized as Strengths, Potential Strengths, and Limitations.
Strengths
Your emotions tend to be quite stable
You are very open-minded
You are easy to get along with
You are a diligent and conscientious worker
Potential Strengths
No potential strengths were detected
Limitations
No limitations were detected
Related Topics