Benefits of Wellness Programs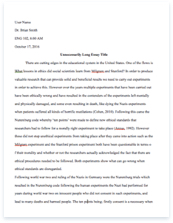 The whole doc is available only for registered users
A limited time offer! Get a custom sample essay written according to your requirements urgent 3h delivery guaranteed
Order Now
Wellness programs have increasingly gained momentum since the turn of the century and as employers start to see the positives those programs have started to become a staple of most businesses today. Since most employers pay for their employees health insurance it makes a lot of sense for companies to start taking a bigger interest in their employees wellbeing. Implementing a wellness program to fit a specific work environment can increase productivity and reduce absenteeism if employees are engaged and participating in the program. It is no secret the obesity problem facing many americans today and data shows if employees invest enough time in their programs they can reduce and eliminate their own obesity problems. Lastly the cost of health care is an enormous expense facing every company who offer those benefits and one of the main reasons wellness programs started was purely financial. If a company can design the right wellness program and continually tweak and tinker it to the needs of their employees their return on investment will be well worth the initial time and money spent.
Measuring the costs of lost productivity and absenteeism can be hard to calculate but once an effective method has been established the results will be quite eye opening. Reliable studies have shown how unhealthy behaviors and illness can cost companies dearly, one such study conducted in 2002 found that at the Dow Chemical Company the cost of lost productivity due to health factors was just under 7% of their total labor costs. (Shultz,Chen, & Edington,2009) . This figure came from a survey conducted by their own employees so one can infer the actual percentage may be higher than what was reported. Many health problems effecting productivity can be countered by incorporating stress management into a wellness program.
Those who may not handle stress too well will more likely miss work due to depression or some type of anxiety disorder, in the United Kingdom alone the entire workforce "loses thirty million working days each year because of illness or injury, costing employers a combined thirty-two billion euros." (Bloxham,& Evans, 2013, p. 13) Comparing the size of the United Kingdom to the United States it is easy to assume the amount of money and days missed are far greater. Once a company can see how unhealthy behaviors effect productivity and absenteeism they then can begin to design a program to eliminate the problem.
Success of a program relies heavily on the amount of participation from employees and the popularity of wellness programs may never have come about if it was not something people wanted. A survey conducted of employees of a local government who had participated in a wellness program showed over 75% believed wellness programs encouraged them to work harder and about half of the survey group reported the programs would encourage them to stay in their current position. (Benavides, & David, 2010 ) Not only have programs proved to increase employees will to work but also helped reduce absenteeism through happier employees. The United States Postal Service (UPS) started their wellness programs almost 20 years ago and although momentum was slow at first eventually employees started to see the value in what was actually being offered to them. Instead of simply creating a program for their employees the company asked what they could do to improve on the corporate level and the desire for more health and safety information became clear.
Since starting the programs, UPS has seen improvements in productivity and reduction in absenteeism while reducing on the job injuries by 60%. Scott Stenson, a driver in Petaluma, gave up drinking coffee, quit smoking, eats less junk food and has displayed a lot of enthusiasm about his health. Another driver, Marty Lidlcy, took up yoga. Carlson says that since Lindley began yoga classes, she has seen a positive attitude change in her coworker. He experiences fewer aches and pains, possibly because of better stress management. One driver, Chris Jacquez, even lost 100 pounds. (Bloom, 2008, p.234) Data and statistics can only go so far in a persons mind but when people can see how participation in these programs can clearly have a positive effect on their quality of life that participation will only improve along with an increase in productivity and a reduction in absenteeism.
Mental health is only part of a wellness program an even bigger part is the physical aspect.While some of the benefits of wellness programs can be achieved in the short term the bigger rewards come from continuous participation in a program. Some of the most costly diseases and illnesses stem from obesity like cardiovascular disease, high blood pressure, high cholesterol, type 2 diabetes and certain types of cancer just to name a few. From 1980 to 2004 the prevalence of obesity doubled among adults and by present day it was estimated over 700 million people would be considered obese. (Ickes, & Sharma, 2009) As the obesity rate has continued to rise so has the costs to employers as they continue to pay out of pocket for their employees health insurance. Obesity negatively effects all facets in the workplace and working to reduce the problem can not only continue to help improve productivity but help reduce expensive medical coverage.
Comparing the cost of an obese worker and a healthy weight worker is one very good way to see what the future may hold for a companies financial investment in designing a program. A normal weight employee will annually cost 35% less in medical expenses than an obese employee, using thirteen times fewer sick days and making 7 less times the amount of medical claims. (Macdonald, & Westover, 2011) Even when companies make sure their employees are properly trained on how best to perform their jobs safely the unhealthy behaviors of one single employee can end up costing far more than their salary. Each and every employee should be treated like an asset and implementing programs that maintains longevity is crucial in improving the health of an organization. If companies all over the United States had engrained a culture of health and wellness from their birth and been privy to the unsettling trends in the rise in obesity they may have taken a proactive approach instead of waiting until the obesity problem had become worthy enough of national recognition.
Earning the title of the fattest city in America lit a fire under the city of Houston and they decided to start a city wide wellness program. In order to evaluate the effectiveness they established a twelve week program focusing on physical and mental well being. The test group of 235 people came from the Houston Airport where over 60% of employees were obese at the end of the 12 weeks the participants lost a total of 345 pounds which was equivalent to 1% body fat from each participant. After comparing the results to the Diabetes Prevention Program the study found that participants reduced their risk of obesity by 58%.(Ebunlomo, Hare-Everline, & Weber, 2015) Although the results are impressive more importantly were the employees attitudes after the 12 weeks where they were able to provide positive feedback and overall viewed the program as something they would want to continue in the future.
The importance of establishing a program that will last for the long run will yield those long term results of reducing obesity. Another example took place in Coppell, Texas where the city offered a wellness program to anyone who was interested.Crediting the city for helping her lose over 200 pounds, Stephanie Tumlison said, "It was the foundation of the program that got me to the point to say ok this is what I am going to do." (Benavides, & David, 2010, pg. 2) These two examples clearly show how a well designed program can help employees lose weight and lower their risks of becoming or staying obese. When employees start finding success in the programs offered to them their participation will only increase and in return for their partipation the company will start to see lowered healthcare costs.
In 2002 the yearly cost of healthcare was roughly 5,400 dollars per employee, fast forward to 2010 and the cost has risen to over 10 thousand dollars. ( Brewer, Gallo, & Smith, 2010 ) The rise in healthcare costs are directly correlated with the american people steadily becoming more unhealthy as deaths due to preventable diseases and habits have also risen. 33% of all deaths, or 800 thousand per year are due to preventable diseases and could have been avoided with healthier life choices. ( Brewer, Gallo, & Smith, 2010) These costs to employers were simply becoming too expensive and in order to lower the inflation rates of healthcare costs employers absolutely needed to start taking a proactive approach to help their employees become healthier.
Even though these programs can seem like a no brainer today 20 to 30 years ago the world was a different place. Technological advances have changed the working world where human intervention is not as important as it once was creating a more sedentary work environment also advances in science have added many years onto the life expectancy of a person which has raised the retirement age for many americans both of these changes have been part of the reason health care costs have increased so much over the last few decades. In the United States alone the cost of preventable diseases due to obesity are in the range of 150 and 200 billion dollars a year and climbing. (reference obesity.org)
These expenses began forcing companies to either offer less in the form of health care or start taking manageable steps to reduce the costs and save money. Benefits from a wellness program would not be possible without employee participation and in order to get to the point where physical savings are becoming obvious the programs need to become an established part of the workplace. First with the attitudes of employees buying into and participating in the program leading to increases in productivity and reductions in absenteeism. Then over time as those employees effected by obesity start to become healthier and lower their risks of some of those preventable diseases the financial rewards become measurable.ENDS THE SAME AS THE OTHER PARAGRAPH
Once employees have found success in their programs and continueously take advantage of what is available to them the company in return will start reaping their own rewards in the form of savings. The amount of money invested in a wellness program will ultimately be a fraction of what companies could end up paying if they fail to choose the right wellness program.
Generally the return on investment varies from company to company depending on their own specific program but overall the ratio for successful programs is usually at a minimum of 3 dollars returned for every dollar invested. In 2001 Citibank won the C. Everett Koop National Health Award for their accomplishments stemming from their wellness program where they were able to visibly see lowered medical expenses with savings of 4 dollars for every dollar invested. Another award winner Motorola accomplished identical savings with their own program averaging nearly 4 dollars saved for every dollar spent which is equivalent to about 6 million dollars a year. (O'Rourke, & Sullivan, 2003) Examples like these show companies all over the United States how much money they can save and as wellness programs continue to prove their worth the popularity will only continue to grow.
Financial savings will always be the number one goal for wellness programs and those who create them. Early studies involving the worth of wellness programs have shown financial savings do not always come about right away but as wellness programs continue to show how much money companies are saving those trends are also changing. Before even starting their wellness programs two San Fransisco companies, ADD THE COMPANIES, were able to lower their health care premiums for a guaranteed two years based solely on their commitment and their providers knowledge of the possible savings created through wellness programs ( Bolch, 2010) After part of the programs were setup and the company sponsored a volleyball team soon after both walking and cycling clubs were formed out of the employees own initiatives.This accomplishment is huge because health care providers have started to lower their premiums based solely on the knowledge of how wellness programs lower health care costs.
At first wellness in the workplace started as an idea to hopefully generate health care savings. As the popularity continued to grow the idea turned into a guarantee to not only lower healthcare costs but improve many areas of the workplace. Companies all over have started to engrain health and wellness into their culture as ways of improving productivity, reducing absenteeism, lowering threats of obesity, and saving money. The benefits of wellness programs were once an idea to improve these things but as technology has helped businesses everywhere measure these goals that idea is becoming common knowledge and most business today have created or intend to create some type of wellness program.
Peer reviewed sources
1. Schultz, A. B., Chin-Yu, C., & Edington, D. W. (2009). The Cost and Impact of Health Conditions on Presenteeism to Employers. Pharmacoeconomics, 27(5), 365-378.
2. Bloxham, S., & Evans, C. (2013). Increasing productivity by improving
staff health and wellbeing. Management Services, 57(4), 12-16.
3. Benavides, A., & David, H. (2010). Local government wellness programs: a viable option to decrease healthcare costs and improve productivity. Public Personnel Management, 39(4), 291-306.
4. Bloom, S. (2008). Employee Wellness Programs: How UPS Improved Productivity & Reduced Injuries. Professional Safety, 53(8), 41-42.
5. Ickes, M., & Sharma, M. (2009). WORKSITE HEALTH PROMOTION: A PRACTICAL STRATEGY FOR OBESITY PREVENTION. American Journal Of Health Studies, 24(3), 343-352.
6. MacDonald, S. C., & Westover, J. H. (2011). The Impact of Workplace Wellness Programs on Decreasing Employee Obesity and Increasing Overall Health. Journal Of The Utah Academy Of Sciences, Arts & Letters, 8891-113.
7. Ebunlomo, E. O., Hare-Everline, N., & Weber, A. (2015). Development of a Comprehensive 12-Week Health Promotion Program for Houston Airport System. Texas Public Health Journal, 67(1), 11-13.
8. Colombi, A. M., & Wood, G. C. (2011). Obesity in the Workplace: Impact on Cardiovascular Disease, Cost, and Utilization of Care. American Health & Drug Benefits, 4(5), 271-277.
8. Brewer, P. C., Gallo, A., & Smith, M. R. (2010). Getting Fit with Corporate Wellness Programs. Strategic Finance, 91(11), 26-33.
9. Corporate Wellness Programs Are Keeping the Bottom Line Fit; What About Employees? ( November 13 2013). In obesity.org. Retrieved from http://www.obesity.org/news-center/corporate-wellness-programs-are-keeping-the-bottom-line-fit-what-about-employees.htm
10. Bolch, M. (2012). Wellness Works. Financial Executive, 28(6), 26-29.
11. O'Rourke, M., & Sullivan, L. (2003). Corporate Wellness: A Healthy Return on Employee Investment. Risk Management (00355593), 50(11), 34-38.
only sample the numerous other success stories all over the United States where companies have started to really take a vested interest in their employees and encourage them to live a better life and once this kind of success is achieved the programs real value can easily be measured in health care savings.
Related Topics