Autobiographical Essay-My life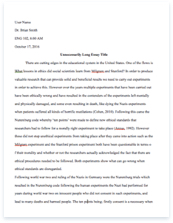 The whole doc is available only for registered users
Pages: 4
Word count: 791
Category: Life
A limited time offer! Get a custom sample essay written according to your requirements urgent 3h delivery guaranteed
Order Now
My childhood-a part of my life which makes me who I truly am today. I will always remember the good times, my loving family, caring friends, the visions of chaotic birthday parties but there are always the bad spells. Though my childhood seems quite hazy to me, I can still remember vividly times in my life which now seem so unimportant, but yet still remain plastered fast against my memory. Now I am fourteen, and I laugh and joke about things which seem to never matter now, but at the age of four or five, the daunting task of having to read a book to a unfamiliar face was intimidating.
I can recall sitting on the minuscule chair, its faded green cloth relentlessly scratching at my delicate skin, sweating hands slipping on the book and stuttering over simple words like 'cat' and 'key'. But my first ever memory which I can recollect is my friend, Rebecca. I will always remember her uncontrollable laugh, her sweet nature, her rosy face which shone like the mighty sun, soaring high in the sky. We were inseparable, holding hands and happily running free in the playground laughing and screaming with joy.
After nursery, she would visit my house, and we would sit transfixed to the television watching 'Rainbow'. Looking at pictures of us both, we were loving and loyal, always at one another's side, as a man and his beloved dog. She always had the upper hand, and always seemed more popular than me, but that didn't matter. We were friends and as long as we were together, in my mind, nothing could tear us apart. That's where I was mistaken. If I recall rightly, in the summer when I was around four or five years old, a new girl moved to the tiny village and settled with her family in their new abode near to where Rebecca lived.
Both Rebecca's and the new strangers family went to the same church so soon were aquatinted. Anna, the 'new girl' was a year younger than both Rebecca and I. One day at school, I can remember seeing Rebecca talking to Anna, such a petty thing to do. Still a surge of jealously ran through my veins. She was my friend, my companion, why should anybody else have her? Rebecca looked up, and must have seen my devil red face glowing as red as a white hot poker, and my body shaking as the fury fired and pulsed through my flesh.
Yet, she smiled and ran over, her hair bouncing like a soft rabbit around her shoulders. Then I knew everything was fine, and she still belonged to me, my chum. However, things didn't stay the same, just Rebecca and I. A new face came into the picture, one which unsettled me until I was around six or seven years old. Jealously. Hate. Spite. Words can't describe the wrath and loathing I felt towards Anna. She gradually shimmied her way between Rebecca and I, our relationship like a string, each bind ripping one by one.
What was once a mere hazard was now a vicious circle, me becoming increasingly distant until I was alone. Abandoned and isolated from the real world. Night by night, tears ran down my cheeks as I cried for the warmth and affection of Rebecca to return. What was a perfect dream was now a tormenting nightmare. Still I kept asking myself the same question. Why? The more I yearned, the more Anna took Rebecca away. In my eyes, I was the victim, but looking back, did Rebecca ever feel the same way I did?
I can remember one incident at the local park. It was a glorious afternoon, and the sun shone as brightly as a flash of lightening. Rebecca told me that she and I were going to the play park for a picnic. A rush of relief flooded my body like a raging torrent of flowing water. When my mother and I got to the playground later that day, all I can remember seeing was the figure of my archenemy swinging innocently on the squeaky swing. I stopped suddenly in my tracks and my eyes turned misty and began to sting with tears.
I refused to go any further and ate my lunch under a immense tree, its leaves and branches protecting me from the hurt and suffering I felt after that day. All I could picture was Anna's smirking face, her evil grim piercing my heart like a spiny dagger. That day still haunts me today, like a dubious ghost, always there and waiting to pounce. My life was never going to be perfect from that moment on. Friends would become enemies and enemies become friends. "Take things on face value, and appreciate what you have".
Related Topics