Assumptions and Empathy of Philadelphia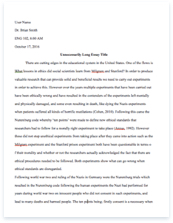 The whole doc is available only for registered users
A limited time offer! Get a custom sample essay written according to your requirements urgent 3h delivery guaranteed
Order Now
The purpose of this paper is to evaluate issues presented in the movie Philadelphia. By using critical thinking this paper analyzes the logic of the movie along with real assumptions presented and intellectual empathy that can be found for the main character. This paper supports what grounds we are able to intellectually empathize with the main character and what assumptions may underpin our empathy. This paper also informs assumptions that can be attributed to the filmmaker of Philadelphia.
Assumptions and Empathy of Philadelphia
Philadelphia stars Tom Hanks who plays the role of Andrew Beckett, a young up and coming lawyer who is both homosexual and has AIDS, which is unknown by his fellow employees and employer. Andrew receives a promotion and is made a senior associate at the law firm he works for and is quickly given the firm's top prize case. At the same time one of the partners, who had previously worked with a female who was stricken with the AIDS virus, notices a lesion on Andrew's forehead. The partner recognizes the lesion as one that is associated with AIDS. Andrews prepares for his case, but is unable to be at work the day that it is due. The case file mysteriously disappears, but reappears just before the deadline expires. As a result of the file mishap, Andrew is fired on grounds of his incompetence, but he is convinced that it was all just a set up to get rid of him as a result of the firm realizing he has AIDS. His being fired leads Andrew to launch a wrongful dismissal suit against the law firm.
There are assumptions on which each side of the court bases it argument. An assumption is a statement accepted or supposed as true without proof or demonstration. It is an unstated premise or belief. All human thought and experience are based on assumptions. Most of our assumptions are unconscious and we typically are unaware of what we assume and therefore rarely question our assumptions. All of our prejudices, biases, and preconceived generalizations lie in the form of assumptions. Everybody makes assumptions and as we age we make more assumptions based on prior information or experience. Many assumptions are made daily about people who align with various cultural, religious, ethnic, and sexually-orientated groups. Andy Beckett's defense assumes that he is fired for having AIDS. Their assumption is that the defendants fired him because they are discriminating against him because he is gay and has contracted the AIDS virus. Andy and his lawyer's assumption is that the law firm partners are bigots. The plaintiff assumes that the defense is homophobic. The law firm partners also make assumptions about Andy. They assume since he has the AIDS virus that he is going to die. They assume that he is too sick to be able to fulfill his work duties.
They assume that since he has AIDS he is morally wrong and has made bad life choices. They assume his gay lifestyle is reckless and any discretion he had made was solely based on his homosexuality. Even Andy Beckett's lawyer makes assumptions. Surprisingly, Joe Miller is a homophobe himself. He knows that Andy was discriminated against and that by law it is wrong, but he makes it very clear by his actions that he does not like gay people. He assumes that all homosexual people are "gross" and they make him sick. On many occasions he is caught calling them "fags." We can assume he discriminates against homosexuals also. We also see though, that Miller is able to overcome his own assumptions and those of his friends to defend Beckett. We can even make assumptions about the filmmaker. I would assume that the filmmaker has empathy for the gay community and for people that are stricken with AIDS. I assume that the filmmaker is trying to show the world through this movie how homosexuals are discriminated against.
The filmmaker wants America to have empathy for homosexuals and is trying to change the assumptions that so many people have toward them. This film makes it very easy to empathize with the main character, Andy Beckett. To have intellectual empathy is to imaginatively put oneself in the place of others on a routine basis, so as to genuinely understand them. It requires one to accurately reconstruct the viewpoints and reasoning of others and to reason from premises, assumptions, and ideas other than one's own. I found myself empathizing with Andy while watching Philadelphia. The movie made it easy for me to put myself in Andy's shoes, which ultimately enabled me to be able to empathize with the main character. I was able to see how wrong it was for the law firm for which he worked for to fire him. I empathized with him having to cover up his lesions so he would not be judged.
I empathized with him over being judged by so many people just because of their assumptions of homosexuals. I empathized with him when I seen how people looked at his lesions and then was instantly afraid. I empathized with him over having to see so many lawyers and they all turned him down due to his disease and sexual preference. I even empathized with him because of his disease of AIDS and thought how hard that must be to know he was ultimately getting ready to die. The movie Philadelphia demonstrates the damage that assumptions can do to individuals and the assumers themselves. This movie encourages us to think more critically and to focus on individual merits rather than assume what we know about people. Prior experiences can help keep you safe and develop your capabilities, but it should not be used to make assumptions to judge anyone. Life would be far more enjoyable for everyone if we could empathize and see things with open eyes and realize that things do exist beyond our own assumptions.
Bibliography
Paul, Richard, and Linda Elder. Critical Thinking: Learn the Tools the Best Thinkers Use. Concise ed. Upper Saddle River, NJ: Pearson Prentice Hall, 2006. Print. Philadelphia. Dir. Jonathan Demme. Perf. Tom Hanks, Denzel Washington. Columbia. DVD.
Related Topics