Appraising Employees at the San Diego Zoo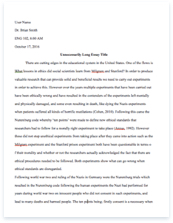 The whole doc is available only for registered users
A limited time offer! Get a custom sample essay written according to your requirements urgent 3h delivery guaranteed
Order Now
Author Note:
This case study is being submitted August 14, 2011 for Bill Erickson's B165/MAN1300 Section 12 Introduction to Human Resources Management course.
Case 06: Appraising Employees at the San Diego Zoo
Introduction: The San Diego Zoological Society previously had an appraisal system in place for its 2,600+ employees that was almost entirely ineffective. This year it is beginning to implement a new web-based appraisal system that is centered around employee accountability and will include pay increases based on merit. I feel that the structure of the new system will be very beneficial for both the company and its employees. Case Summary: The San Diego Zoological Society, which employs over 2,600 employees in the operation of the San Diego Zoo, the San Diego Zoo's Wild Animal Park, and the conservation and Research for Endangered Species scientific center had a very ineffective appraisal system in place. Reviews were inconsistent, with some employees going years and even decades between being reviewed. This is changing.
Tim Mulligan, who is the current director of Human Resources for the company is working on implementing a new web-based appraisal system focused on employee accountability based on the organizations strategic plan. This system will determine manager's pay raises based on their performance, rather than just being cost of living increases, which was the basis of pay increases in the past. The new format will be rolled out as a part of management review this year and will include all exempt employees as well beginning next year. This new format is based on two categories; goals and leadership competencies and will include mid-year appraisals along with the end of year appraisals. This will serve as a tool to encourage on-going dialogue and to avoid any "surprises" in the year end review process.
Critics have stated that while web-based reviews improve efficiency of appraisals and are more cost effective, they are not a sufficient substitute for the one on one communication involved in more traditional reviews. Mulligan has assured that one on one dialogue will not be compromised and in fact the reviews cannot be viewed individually, there must be two people present and that the supervisor must certify that the in-person meeting occurred (Bohlander & Snell, 2010). Analysis: The previous performance appraisal system, or lack thereof, that the San Diego Zoo had in place most certainly needed a face lift. Reviews were inconsistent and lacked any system in place to back up the results. Employees would sometimes go years in between appraisals and when they were reviewed there was no follow up from the HR department. They were also not used to determine anything like pay increases. With this lack of substance, consistency, and follow up I feel that the old system was essentially worthless and a change was long overdue.
Choosing to go to a web-based performance appraisal system was the right move for the San Diego Zoo. This system can be more cost effective for the company along with allowing it to frequently update its appraisal process. It also allows for more timely feedback and efficiently eliminates a lot of the paperwork involved. However, the company must be careful to not eliminate the communication between supervisor and employee that is vital for effective performance appraisals (Bohlander & Snell, 2010). The one on one appraisal allows an employee to have feedback in their own appraisal and to open a two-way communication between the employee and their supervisor (Pros & Cons, 2011). Recommendations: I agree with the San Diego Zoological Society's decision to proceed with implementing the web-based appraisal system. Furthermore I also agree with the decision to begin with the management and proceed with all other exempt employees at a different time. With as many employees as the organization has it would be a rather daunting task to begin this system with everyone at once. This will allow for management to become properly trained in the process before administering these appraisals themselves.
The San Diego Zoo must be careful to take into account not only the positive aspects of using this web-based system, but also be careful not to overlook some of the negative aspects that can occur. The main aspect being the one on one communication between the supervisor and employee. The organization must be responsive to the possibility that appraisals can initiate unnecessary competition among employees and managers. While the appraisals will allow supervisors to rate their employees based on goals and performance, they must be careful to avoid employees feeling "blamed" for things that they feel are out of their control (Pros & Cons, 2011). Conclusion: Overall with the system in place the San Diego Zoo should see increased output from its employees. The midyear and year end reviews will allow for ongoing dialogue and training. Determining pay increases from this review process will also provide incentive for employees to do well at their jobs in order to receive a higher raise at the end of the year.
References
Bohlander, G., & Snell, S. (2010). Appraising Employees at the San Diego Zoo. In Managing Human Resources (15th ed., pp. 402-404). Mason, Ohio: South-Western Cengage Learning. Van Wyden, G. (n.d.). Pros & Cons of Performance Appraisals. Retrieved August 14, 2011, from ehow.com website: http://www.ehow.com/‌facts_4843724_pros-cons-performance-appraisals.html
Related Topics