Ap English synthesis essay obesity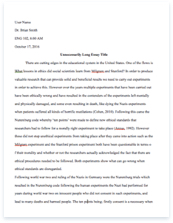 The whole doc is available only for registered users
A limited time offer! Get a custom sample essay written according to your requirements urgent 3h delivery guaranteed
Order Now
Obesity is a medical condition in which excess fats have grown and accumulated to the point of harm, and a shortened life expectancy. Obesity is a problem that has been more prominent in the 20th and 21st century and is now a main concern for both society and the government. It is the citizen's duty to resolve this epidemic known as obesity in the United States.
American society has created the concept of obesity. They identified what the perfect human should look like, and has outcasted everyone who does no resemble that, most commonly obese people. The Barbie character that is a landmark fashion doll and cultural icon portrays this perfect human figure (Source E). This perception of the perfect human has a negative psychological effect on these obese people. People start to call themselves fat and put themselves down; this is known as "The Language of Fat". Not only is this a female problem it also courses through the male thought process. When men are overweight they lack self confidence and the drive to go after the things they want such as a job promotion or a girl they want to ask out due to this "Language of Fat" that they tell themselves they aren't good enough(Source D). Due to this the psychological effect causes people to become depressed, and due to this eat more.
Society encourages the eating of unhealthy foods which is a main contributor to obesity. Places such as McDonalds and Burger King make unhealthy food easily accessible and cheap for the average American. This can be contagious through the public with other people craving a fast food place, and then you too begin to crave fast food. Research shows that when people eat and are obese, their friends have a 57% increase to become obese. The closer the friendship means the higher the chance of becoming obese as well (Source G). Due to this there is an increase of obesity in specific areas of the country while in other places there are low numbers.
Not only does America increase obesity through discrimination, but competition as well. People pay money to enter competition made for people to eat as much, and as fast as you possibly can. This causes people to develop unhealthy eating habits and makes people want to get bigger so they can claim the title as the best eater in the world. New Jersey women who weighs 604 pounds said it's a fantasy to weigh 1000 pounds one day. She says she spends 750 dollars a week on just herself for food (Source F). This contributes to other people's fantasy that also wants to be bigger like her and relates back to the fact that eating is contagious (Source G).
Other people think that it is the government's problem to fix obesity. Although the government's efforts have been provided, they have been lackluster and ineffective through society. The government has implemented such organizations such as the ABA to regulate beverages in schools to make for a better lunch. They try to regulate beverages in elementary schools, middle schools, high schools, and even times of day they can and can't be sold (Source A). This is ineffective because this just causes people to bring in their own unhealthy drinks, and more likely more of them then needed because they can't buy them in school.
In the United States the society needs to work on controlling this problem known as obesity. It is a problem that if does not get controlled sooner than later, will spiral out of hand even more. Before this spirals out of control society needs to take action to reducing the cost of healthy food amongst middle-low class citizens so they can eat the appropriate foods that will keep them healthy.
Related Topics