Anticipatory Logistics on Supply Chain Management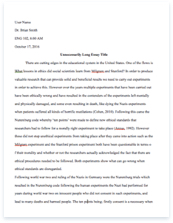 The whole doc is available only for registered users
A limited time offer! Get a custom sample essay written according to your requirements urgent 3h delivery guaranteed
Order Now
Getting the right product to the right place in the right quantity at the right time, in the best condition and at an acceptable cost is the challenge of logistics. It's an area that embraces purchasing and supplier management, materials management and manufacturing, inventory management and warehousing, distribution and transport, and customer service. With all this said I do believe that the corporate world can benefit from anticipatory logistics.
First there must be a definition of what "anticipatory" logistics really is. Just like some might interrupt "logistics" and "Supply Chain Management (SCM)" as being the same, some communities have different definitions to what these and anticipatory logistics are. In my research on this module the term "anticipatory" logistics is enabled by digitization. For example, an engine sensor on a military vehicle records a value that it may begin to fail; via some sort of digital communication a request is made to either supply or replenish the repair part. While this is a basic example anticipatory logistics is using real time data to make instant decisions about ordering or re-ordering, which in some cases may begin the process of SCM. Before I talk about anticipatory logistics I want to discuss logistics, supply chain management, and how they differ from military to civilian.
As in the article, "Anticipatory logistics: The Army's answer to supply chain management," the basic components and factors of SCM are extremely similar for military and civilian corporations. "Logistics is a process, which interfaces and interacts with the entire company and with external companies, vendors, customers, carriers and more. Logistics is responsible for the movements of products from vendors right through to the delivery at customer's door, including moves through manufacturing facilities, warehouses, third parties, such as repackagers or distributors. It is not shipping and receiving, nor is it traffic or housing. It is not shipping and receiving, nor is it traffic or warehousing. It is more. Logistics must make-work effectively. This is required by your customers and, in turn, by your company. For effective logistics, there are five key issues." As I further read this article I noticed many similarities between what this author deemed as the 5-key issues and what the author of our required read mentioned.
Supply chain management is a driving factor in today's business world. Supply chains run from vendors right through to customers' doors. With international sourcing and international sales, the scope and complexity of supply chains can be significant. Customers, and their requirements, drive the process. They demand that their orders be shipped, complete, accurate, on time, and in the manner they require. The purpose of SCM is to drive out excess inventory and unnecessary costs. The SCM must work at all levels, strategically and tactically to be effective.
Now that overviews of what Logistics and Supply Chain Management are I would like to look into why anticipatory logistics can work in both civilian and military environments. As there are many similarities between the military and civilian SCM one of the biggest differences remains that the military is not in it for a profit, there profit is ensuring the soldier on the battlefield has what he needs. Civilian companies are focused on customers (same as soldiers) and stockholders. I went on a recent interview with a company called Food Lion (a East coast grocery store), as I learned more about the job I noticed how much computer and asset/tracking software is used in that industry.
Every time a product is purchased at one of Food Lion's store the main computer in North Carolina is updated in real time. What this allows forecaster and analysts, at the corporate office, to do is manage stockage and ordering more precisely. This is extremely important when taking about perishable items like dairy and fruits. So, this method of forecasting/anticipating requirements can be called anticipatory logistics. Food Lion is using computers, satellites (like the military's tactical internet), and complex software to maximize the SCM process.
I wouldn't want to say that the military uses SCM differently–it is just there mission is uniquely different that most corporations. For example, the order and ship process, a critical part of the Army's supply chain, is intended to deliver supplies responsively and efficiently so weapon systems can be repaired and combat readiness can be maintained. The demand for repair or service parts is characterized by increasingly unpredictable demand and there is a paramount need to support rapid deployments and surge requirements. As a result, this supply chain must not be confused with those supporting more predictable manufacturing operations or the movements of regularly ordered commodities, like the Food Lion example above. Any supply chain for predictable, regular items would be inappropriate for the military, no matter how lean and efficient.
More comparable are corporations that must rely upon highly responsive supply chains to survive rapidly changing environments and unpredictable demands. Despite seeming dissimilarities, the computer and toy companies must both have highly responsive supply chains. Seventy-five percent of all toys are sold in the month of December, and computer parts depreciate precipitously within short product life cycles. Thus, stock-outs translate to lost sales, and excessive inventories are deadly to fiscal survival. Both industries must forecast accurately and adapt quickly to changing consumer needs.
In conclusion, both the military and civilian corporations are using anticipatory logistics. While some may use it more and some less it all really falls into the category of utilizing computers and technology to track, record, forecast, and move a product. Whether it is a 72-ton tank of a puzzle for a toy store the same SCM method can be used and are being used.
Related Topics