Annotated Bibliography Critical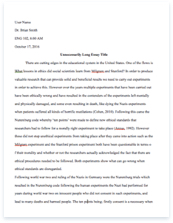 The whole doc is available only for registered users
A limited time offer! Get a custom sample essay written according to your requirements urgent 3h delivery guaranteed
Order Now
Fulton, Betsy, Amy Stichman, Lawrence Travis, and Edward Latessa. "Moderating Probation and Parole Officer Attitudes to Achieve Desired Outcomes." Prison Journal 77.3 (1997): 295-313. CECybrary. ProQuest Database. Allentown Business School, Center Valley, PA. 7 July 2004 . This study was an assessment of the role preferences of probation and parole officers and the conflict between control and treatment. It was determined that organizational philosophy is a determinate on officers' attitudes and preferences. Specifically, the authors' focus was on offender outcomes of two polar intensive supervision programs.
It was determined that the law enforcement, surveillance-oriented approach was not effective in reducing offender recidivism. In contrast, effective intervention aimed at assistance, problem resolution and treatment demonstrated a significant reduction in recidivism. Findings concluded that officers need stronger and more comprehensive training to focus on rehabilitative functions and strategies in light of its affect on offender recidivism. As applied to this research prospectus the study directs inquiry and suggests the need for entry-level training in treatment and rehabilitative strategies for probation and parole officers.
Lowry, Kevin D. "United States probation/pretrial officers' concerns about victimization and officer safety training." Federal Probation, 64.1 (2000): 51-55. CECybrary.
EBSCOhost Database. Allentown Business School, Center Valley, PA. 7 July 2004 . Lowry describes the shift in role and activities, from social work to law enforcement. This study on U.S. Probation/Pretrial Officers presents a claim that subjects under supervision have become more dangerous and training safety issues have become major concerns. The research involved a national survey of officers and a measured comparison of the type and frequency of officer victimization, officers' concerns for personal safety, their satisfaction with training methodologies and equipment, ideological orientation and high-risk activities performed. The study hypothesized that training would reduce victimization and that law enforcement ideology and high-risk activities would increase it.
No statistically significant relationship between training, ideological orientation and high-risk activities on victimization rates was established. Pursuant to training, no type of training was mitigating to officers' concerns for safety and in at least one typology; training was the cause of enhancing perceptions of danger. Ninety-three percent of the respondents maintained that officer safety training is critical for entry-level probation and parole officers thus supporting this research prospectus' inquiry on identification and selection of content in curriculum development.
Seiter, Richard P. "Prisoner Reentry and the Role of Parole Officers." Federal Probation 66.3 (2002): 50-54. CECybrary. EBSCOhost Database. Allentown Business School, Center Valley, PA. 7 July 2004 . This exploratory study identified the functions of parole officers while supervising and assisting offenders with community reentry while concurrently considering the dynamics between law enforcement (surveillance) and rehabilitation (casework). The study included a four-step research design, which included identifying the tasks performed by parole officers and how they ranked their perceived importance, creating data collection instruments, pre-testing the survey and interview instruments and analyzing the data. Programs available for parolee reentry were identified and coded into 5 categories: job training and/or vocational rehabilitation, legitimate and continuous employment, maintaining alcohol and drug sobriety, stable and structure support systems (i.e., family), maintaining pro-social structure or routine, and complying with terms of supervision and monitoring.
The study suggested that reentry programs are always effective if implementation is correct and advocated a more proactive approach. Inasmuch as the study recommends that reentry functions most critical to offenders' success, as carried out by parole officers, be identified and expanded, and that surveillance activities should not override the rehabilitative aspects of supervision, strategies to facilitate these functions must be taught and learned by entry-level probation and parole officers. The research supports this research prospectus and exploration of the types of training in rehabilitation strategies required or available to entry-level probation and parole officers.
Shearer, Robert A. "Probation Strategies of Juvenile and Adult Pre-Service Trainees." Federal Probation 66.1 (2002): 33-37. CECybrary. EBSCOhost Database. Allentown Business School, Center Valley, PA. 7 July 2004 . The purpose of this study was to describe and compare probation strategies of probation officer trainees and to generate initial normative data to compound the validation of an instrument that measures probation strategies. The instrument's design measures three predominant caseload management strategies: casework, resource brokerage and law enforcement. Five groups of trainees (n=158) were administered the instrument during pre-service training. The study asked several questions relating to the variables of age, length of service, gender, and assignment as an adult or juvenile officer on role and function perception.
Using analysis of variance, correlation, and multivariate analysis, results found that juvenile trainees scored significantly lower on the law enforcement scale and older trainees endorsed law enforcement strategies less than younger trainees who tend to endorse it. The study also found that law enforcement strategies fade with length of service and gender did not play a role in strategies. The study concluded that the probation strategy of law enforcement remains a primary role in probation and parole. The instrument's ability to match officers with functional roles and intervention strategies in varieties of probation settings could assist in training entry-level probation and parole officers in understanding the range of roles, functions and strategies required to perform the job. Accordingly, the research supports the further inquiry designed in this research prospectus.
Related Topics