Ann Taylor: Survival in Specialty Retail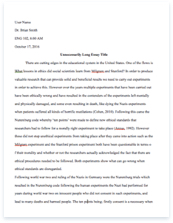 The whole doc is available only for registered users
A limited time offer! Get a custom sample essay written according to your requirements urgent 3h delivery guaranteed
Order Now
Founded in 1954 by Robert Liebeskind, Ann Taylor starting out in New Haven, Connecticut, is first stand-alone store. Ann Taylor was considered a store for the busy socially upscale women- polished, refined and versatile women. Although Ann Taylor wasn't a real person, her persona lived up to the character of the customer. Ann Taylor has been one of the most popular women's clothing companies in the United States. Ann Taylor has four divisions; Ann Taylor (ANN), LOFT, LOFT outlet, and Ann Taylor Factory. There are 929 stores in 46 states and 231 manufactures and vendors.
Ann Taylor's current strategy was designed for professional women whose time was limited and was drawn to Ann Taylor total wardrobe strategy, personalized customer service, store layouts and continual flow of new products. Within their divisions, Ann Taylor's purpose is to the working customer and with this being their primary focus, these divisions have been successful. With ANN having multiple divisions this could hinder growth with each division-competition. ANN could become its own direct competitor with its division. Because nowadays the working environment is more casual; LOFT had become the competition for Ann Taylor because they were more oriented toward casual clothing. With the new president and CEO of ANN, Kay Krill, wanted to reestablish the brand name focusing on the importance of the customer and remembering the long term success of Ann Taylor, "enough women still need to dress up for work".
Branding is a potential problem for ANN because the risk of salvage value within ANN and LOFT brands. Because of the lower prices LOFT offer, customers might bypass Ann Taylor. Out of over 900 stores, LOFT has 500 because of the more moderate pricing strategy. The retail store only focus on one type of product item instead of different products for different customers. The risk is greater because of a potential decline in sales in one specific area and not being able to recovery in another different area. Ann Taylor sought out new market segments however it created more branding problems. ANN introduced their online store in 2000, which accounted for 10% of ANN sales.
However because projected cash flow goals were not met they cut back in 2001. Being within the internet channel it helped ANN reach out the international market. No other retailer niches have clearly won over women 35+ however Ann Taylor and its other were to promise a shopping are and product for that specific demographic. In 2008, ANN loss $333.9 million dollars in net sales as a result in the overall economic conditions delaying what was to come in the future years. A restructured plan, by Kay Krill, was in the works focusing on a three new key areas, "the evolution of our brands and channels, the reduction of our overall cost structure, and the continued pursuit of growth".
With ANN selling women clothing, their segment is a high power purchase and the company must focus on the style that is specific to the preferred segment. Although fashion is constantly changing, ANN success will depend on predicting customer preferences. Those characteristics of versatile women could become costly. Rivalry is high among the competitors within the industry because product substitution has many options and is low cost. Although the barriers to entry are high the economies of scale are low in which it becomes more expensive to for the company's production. Ann Taylor had a management team turnover and with changing knowledge comes with new and different perspectives and a shift in how the focus of the company possibly the vision.
Although Ann Taylor faces many challenges with the decline in profit and consumer spending, they're not the only ones. Ann Taylor has been a focus differentiation strategy targeting one market. There are negative risks with just focusing on that specific market without a back-up plan in the event issues occur. As an alternative improving the supply chain would help with reducing any excess cost by closing underperforming stores and decreasing the number of staff within the company. Better differentiation from their competitors and their store divisions. Expand into the older woman trends by differentiating through demographics rather than the sociocultural trends. The economy is changing and consumers looking for lower prices so a more diverse range within the factory outlets stores.
Expanding the market segment and store differentiation demographics would lower the risk of the company. Research and development and continue to focus on the brand name itself. International expansion with intense research could possibly increase sales and revenue for Ann Taylor. Getting their brand name among the international market would be a way for the company to launch new store in that market. Redefine their website with more of a casual to moderate look to target the young and old woman. A menswear line of clothing is potential alternative for ANN; this could offer higher growth opportunities.
I would recommend Ann Taylor continue to focus on the single product strategy, it has kept them among some of the most top competitors. They are doing well with providing the consumer with quality and consistent products. I think they should expand internationally this well help with growth.
Related Topics