Ann Petry – Ann Houston Lane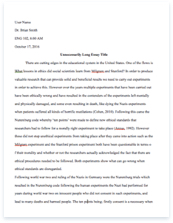 The whole doc is available only for registered users
A limited time offer! Get a custom sample essay written according to your requirements urgent 3h delivery guaranteed
Order Now
Was born on October 12, 1908, in Old Saybrook. The town, Old Saybrook, was mostly middle-class white society. She grew up listening autobiographies and fictional stories in the family environment. Although her family tried to protect her, she was exposed to racial discrimination as from her childhood. Ann graduated in 1931 with a degree from the Connecticut College of Pharmacy. She worked in the family's drugstore for a while. In 1938, she moved to New York City to become a writer. She started her career as a journalist. Ann took courses in creative writing at Colombia University and attended the American Negro Theatre in Harlem. Her first novel, The Street (1946), became a best-seller. She was the first African-American woman writer to gain bestseller status. She was a modest author and she didn't like the fame. So, she returned to her hometown. She kept a quiet life with her husband, George Petry, in Connecticut. She died in 1997 in her hometown with the relief of being the voice of the oppressed people.
She had lived in a dynamic period of the history; wars, migration, economic crisis etc. After World War I, almost 1 million blacks left to the South because of unemployment, racism and the unfair rental payments. So, they migrated to the Northern cities to escape the racial hierarchy of the South. They found jobs, but working conditions were hard and dangerous. Women migrants had more difficulty in finding jobs and the black men and women couldn't get rid of racism. Ann Petry witnessed the difficulties of urban life for black people such as; unsuitable housing, unemployment, racial oppression, poor education, poverty, double colonization, and sexual harassment. Ann Petry was against race, gender and class discrimination and explicitly engaged with the ideology of communism. Ann wrote articles about the exploitation of black women and the high crime rate. She founded the Negro Women Inc. to protest racial discrimination, double colonization and to support economic empowerment for women. She wasn't indifferent to the society in which she lived. Ann was the society's voice of conscience.
CHARACTERS
Johnson is an African American man married with Mae. He has a night shift job in a plant. He is always late for work. He is tired of the pain on his legs as well as the racist ideas of the society. He is exposed to the racial discrimination by Mrs. Scott. Actually, he is a gentleman, but the situation pushes his limit and he lost his control. Johnson's fist is his inner monster and he unleashes it at the end of the story. He is the protagonist, round and dynamic character. Mae is a black and double colonized woman married with Johnson. She works in a night shift job. She doesn't see racism as a problem, unlike her husband. Mae says, Johnson, that you're nothing but an old hungry nigger. The joke makes Johnson angry and he starts hitting her, maybe, to death.
Mae is the only person Johnson may use his physical power on. She is the protagonist and flat character. Mrs. Scott is the forewoman of Johnson. She is a fierce and racist woman. She is angry with workers especially with the black ones who are late for work. She is a flat character. The coffee shop girl is a flat character. Johnson orders coffee, but she says "No more coffee for a while." He misunderstands her and thinks she is racist like Mrs. Scott.
PLOT STRUCTURE
The exposition part starts with Johnson's dressing for work. He nurses his aching legs. Johnson is late for work as always. In the rising action part, Mrs. Scott gets angry with Johnson because of his tardiness and being late. After the shift, Johnson stops at a restaurant to buy a cup of coffee. He takes the coffee shop girl's saying personally and thinks she is a racist woman like Mrs. Scott. In the climax, Johnson gets angry with Mae and starts hitting her. We don't exactly know Mae is dead or not, but Johnson dies spiritually at the end of the story.
Related Topics