Analyze the persuasiveness of John Smith's "The New Land"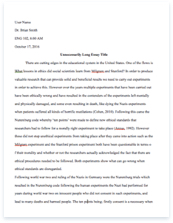 The whole doc is available only for registered users
A limited time offer! Get a custom sample essay written according to your requirements urgent 3h delivery guaranteed
Order Now
John Smith was a master at utilizing logical, emotional, and ethical appeals to convince his audience to come to America. He was able to do this by asking rhetorical questions that emphasized what his audience wanted. Smith's audience was mainly the poor people of England but also included craftsmen like "Carpenters, Masons, and Fishers" and their apprentices. His logical appeals all lead the audience step by step to the conclusion that only hard work is needed to secure land and food in America. His emotional appeals focus on the tantalizing status of being as prosperous as the rich in England that the people who come to America will feel. His ethical appeals were targeted at those who wanted to show their patriotism towards their country, in this case, that country is England.
Smith first dangles the prospect of owning land that only costs hard work and the only drawback is the risking of the person's life. This was not a very bad tradeoff because the poor in England did not really have anything to lose by losing their life. They had very little or no money, no land, and no way to acquire land. Land was a very big motivator back in Smith's time because the amount of land possessed corresponded to the owner's wealth. By comparison, risking their almost worthless lives in a gamble that would reward them with free land if they survived made the decision to go easy indeed. Next, Smith dangles the solution to the next most important problem of the poor in England. He tells his audience that one only has to "fish but an hour in a day, to take in more than they can eat in a week."
Smith also played on the emotions evoked whenever the poor think of the rich. He plays mostly upon the desire of the poor to be just like the rich so he talks about how they could hunt, eat and sell the pelts of the animals they catch in America. Hunting was a very desirable privilege because in England only the owner of the land was allowed to hunt in the land and this restriction rankled with the poor because then they couldn't assuage their hunger by hunting and eating the animals they caught. He further plays on the poor's desire to be just like the rich in England by addressing the poor as "Gentlemen", a title reserved exclusively for the aristocrats in Europe, thus giving the poor the feeling that they were important. Smith adds his own emotion to the mix by acting incredulous that anyone who goes to America could fail to gain wealth and prosperity.
The question of whether settling America was ethical or not answered by Smith when he claimed that settling America was a "benefit, for King and Country, Master and Servant," and a "gain to our native Mother-Country." By mentioning "Master and Servant" Smith meant that by moving their business to America, they ("Carpenters, Masons, Fishers, Fowlers, Gardeners, Husbandmen, Sawyers, Smiths, Spinsters, Tailors, Weavers, and such like") would become rich and help the Mother-Country. He also advocated that the Master bring their apprentices over and those apprentices would also get rich after they learn their trade. Smith says that settling America was a patriotic thing to do and anything patriotic is right. Patriotic actions were "right" back in Smith's time and are still right today and should be done to help the Mother-Country.
John Smith used a combination of logical, emotional, and ethical appeals in the form of rhetorical questions to draw his audience of readers, the poor people of England, into agreeing with him that coming to settle in America was a great idea. He only told his audience what they wanted to hear, these things were that they would get land, a chance to be like the rich of England, and that the only requirement was hard work from them.
Related Topics