Analysis of Keirsey Temperament Sorter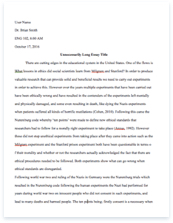 The whole doc is available only for registered users
A limited time offer! Get a custom sample essay written according to your requirements urgent 3h delivery guaranteed
Order Now
After reviewing the results of my Keirsey Temperament Sorter, I found that a great deal of the on-line information and analysis of the group known as Idealists fit the way I perceive myself quite accurately. However, in order to more accurately draw from the conclusions asserted in the material, I decided to ask someone close to me to review the results. Having completed the questionnaire a second time with a more objective observer, the data once again categorized my temperament as Idealist; yet this time instead of my variant temperament being described as Champion, it was found to be Healer.
The description of the idealist exhibits many of the qualities that I posses, and as such leads me to believe that the generalizations therein are reasonably valid. Phrases such as "credulous about the future and mythical about the past" are indicative of the way my mind operates. I do find myself to be an excellent listener, abstract in thought, intensely emotional, and as illustrated in the Healer portion of the material, "wishing to please their parents and siblings but not knowing quite how to do it, they often try to hide their differences." Certainly, a number of the negative traits I perceive within myself were mirrored such as my disdain for disciplined schedules, my ignorance towards the current surroundings, my tendency towards fear of voicing my real beliefs on an issue, and especially the double-edged sword of intense emotions.
According to the analysis, I would be skilled at teaching, counseling, tutoring, or interpersonal integration. In my opinion, these are not generally the traits that I think of when I picture a financial analyst or controller; however to be completely honest I do not believe that either of the two are part of my career path. Unfortunately, since the end of my high school years "financial analyst" or "controller" have been my answers to the age-old, "what do you want to be when you grow up" my response to the question on the first day of class was somewhat mechanical. In actuality, my experiences in college and life since high school have led me more towards the path of a career in human resources, possibly in an employment coordinator or training position.
Key challenges in the realm of human resources unquestionably necessitate the ability to empathize with others, behave ethically, and collaborate various, often opposing viewpoints. The Keirsey Sorter indicates that these skills are inherently part of my personality, and I concur. I do not believe and life experiences have shown that I have trouble performing managerial roles effectively because of my inability to make difficult decisions, especially when you increase the number of people my decisions will affect. I much prefer to have critical issues handled by someone else. Consequently, some of the most vital flaws that I need to improve upon in order to become successful in the human resources field include observation, expressiveness, curbing emotions (so as not to be too lenient), and chiefly adaptation to a regimented schedule. I am quite certain that there are vast amounts of areas in my temperament that I would need to either refine or exploit in order to be proficient in any profession, yet I do believe that I have some excellent abilities required for working in a human resources context.
Related Topics