Analysis of Jimmy Valvano's Speech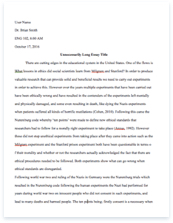 The whole doc is available only for registered users
Pages: 6
Word count: 1429
Category: Gratitude
A limited time offer! Get a custom sample essay written according to your requirements urgent 3h delivery guaranteed
Order Now
Jimmy Valvano was named recipient of the ESPY's 1993 Arthur Ashe Award. As Valvano delivered his gratitude for receiving the award, he also made sure to inform and encourage his audience to support his newly founded cancer research foundation. His audience showed great respect for Valvano and his intentions as they gave a standing ovation. Jimmy Valvano's enthusiastic personality revealed in the delivery of his speech enhanced his appeal to gain support for cancer research. Jimmy Valvano was nothing short of an inspiration from his coaching career to his own battle with cancer. Valvano became a glorified basketball coach who worked with the North Carolina State University Men's team starting in 1980 and later leading the team to a surprising NCAA Championship in 1983 (InfoPlease.com). After departing from his coaching career, he moved into broadcasting basketball games for ESPN and ABC Sports (InfoPlease.com).
With great unfortune, Valvano was diagnosed with terminal cancer in June of 1992. Despite his illness, Valvano is recognized for his "larger than life personality" and his "love and enthusiasm for the game." as noted by North Carolina State's Coaches' Corner. It is appropriate that Valvano receives the Arthur Ashe Award in 1993, the first to be awarded to an individual who reflects the spirit, courageousness, and willingness to stand up for their beliefs despite costs the way American tennis player Arthur Ashe had done (The ESPYS). Valvano's impressive accomplishments as a coach give him the ability to plea to his audience about the need for an increase in attention for cancer research as he is a respected person in the sport's world.
Valvano not only wants to gain funding for his research foundation, he wants to emphasize awareness for the cause because, as he notes, it is often over looked and other conditions, such as AIDS, are focused on more. When Valvano delivers his speech, he holds onto the podium and leans forward towards his audience.
While he was receiving support from his grip on the podium to keep him standing straight, this also shows his intensity on the topic. This is important for his audience because they are seeing a man who is dying give an inspirational speech about fighting against cancer by funding his foundation. The visual of Valvano needing support from the podium invokes an emotional response in the audience. Because he leans into his audience, it shows his desire to reach out to everyone in front of him. Valvano's audience intently listened to what he had to say.
It was evident that his audience, made up of hundreds of important athletic individuals from athlete nominees to coaching staff, was paying attention because of the occasional head nod or chuckle, when appropriate. Alongside the physical audience that Valvano was addressing, he was indirectly speaking to sports enthusiast viewers at home as they tuned into the largest athletic awards ceremony.
Valvano's relaxed and passionate language throughout his acceptance speech is appropriate for addressing his present audience of other nominees and individuals who were similarly involved with professional sports. He begins his speech with admitting to his audience that he will not be reading off a cue card in the back of the room and that he was "going to speak longer than anybody else has spoken tonight'" (Valvano). This allows him to connect with the audience on a comedic foundation. Valvano later goes on to quote Ralph Waldo Emerson, "Nothing great could be accomplished without enthusiasm'" (Valvano).
This is true for the success of his speech as his passion for cancer research is evident through its entirety. In addition, the quotation from the famous transcendentalist poet adds to the poetic quality Valvano creates throughout his speech with his groupings of threes. When he refers to the effects his illness has upon him, he makes note to express that, "It cannot touch my mind, it cannot touch my heart, and it cannot touch my soul'" (Valvano). Valvano's delivery is enhanced by his physical gestures and sometimes quick pacing of his words. His choice to combine comical and serious styles of language as well as a lively delivery of the speech works to entertain, inspire, and possibly encourage those witnessing to contribute to the cause. Individuals at home viewed this speech as a fan of athletic competition with upmost respect and sympathy for the speaker they listened to as they possibly gained further knowledge regarding cancer research and reasons to contribute to it.
Valvano first addresses his illness with lightheartedness as he jokes, "I got tumors all over my body. I'm worried about some guy in the back going, 30 seconds." To not neglect the severity of cancer as a sickness and as the situation Valvano was facing, he states, "Time is very precious to me. I don't know how much I have left, and I have some things I would like to say." This creates a form of empathy among viewers for the dying speaker and encourages a desire for the audience to consider contributing to cancer research. Valvano goes on to directly address each member of the audience, both present and viewing at home. He pleas, "[The money] may not save my life. It may save my children's lives. It may save someone you love."
This emotional appeal taps into the at-home audience's desire to want to protect those around them from this debilitating and deadly disease. Although Valvano was addressing the wealthy audience present at the awards ceremony who could contribute larger donations, he does not fail to mention that any amount would be helpful to furthering the research. Jimmy Valvano receives the Arthur Ashe Award knowing he is limited on time due to his battle with cancer. With this in mind, Valvano delivers his speech with passion and enthusiasm almost as if it were his last which adds to the impact.
He stresses three things throughout his speech that include: "To laugh, to spend time in thought, and to cry because of happiness" (Valvano). He points out the importance of feeling and reflecting on a daily basis. In addition, as he speaks of his foundation, he says, "I'm going to work as hard as I can for cancer research […]." Although Valvano does not cry during his speech, his passion for this cause is not of question. He even says, "I'd like to think I'm going to fight my brains out to be back here again next year for the Arthur Ashe recipient." Valvano's in-the-moment goal may have been unrealistic for his medical condition, but it did demonstrate his emotional attachment to accomplishing something great within his speech as his legacy.
The timing of Valvano's speech contributes to its success with the understanding of the AIDS epidemic and society's focus primarily on this cause. The early 1990s represented a time for new medical discoveries including that of a new HIV strain that caused AIDS. With this new discovery, national attention shifted from cancer research to AIDS prevention (New York Times- Medical Archive). Valvano recognizes this in his speech as he hopes to bring cancer research, "back on the front table." Because there was limited emphasis on cancer research due to the increased focus on AIDS, Valvano's speech had the opportunity to be successful as it had the potential to be an eye-opener for his audience. Valvano was informing people about a subject that had little recognition, therefore, he had a lot of room for teaching.
From his illness to his devotion to his foundation, Valvano expressed an intense passion for increasing cancer research. He emphasizes, "Don't give up […] don't ever give up" (Valvano). The situation of cancer research not prevailing as a popular national cause gives Valvano the upper hand when delivering his speech as he has an open platform to propel off of. If his cause had been exhausted in attempting to get people to fund and support it, his chances of success would have been greatly diminished. His audience was receptive to his message as he had a standing ovation after he completed his speech.
This demonstrated the respect that his audience had for him as the recipient of the Arthur Ashe Award- given to an individual who has the willingness to stand up for their beliefs (ESPN). Jimmy Valvano's liveliness and humble spirit contributed to his success in his appeals regarding the need for cancer research and his gratitude for receiving the 1993 Arthur Ashe Award. Faced with his illness and the widespread ignorance of cancer research, Valvano put in effort to persevere both challenges. His goal of raising awareness for cancer and his new foundation was successful in that it had an apparent positive response from his audience.
Related Topics