Analysis of Ernest Hemingway's The Happy Short Life of Francis Macomber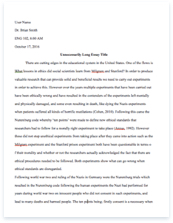 The whole doc is available only for registered users
A limited time offer! Get a custom sample essay written according to your requirements urgent 3h delivery guaranteed
Order Now
            Ernest Hemingway has become one of the most revered writers of all time. He had become one of the greatest because of the gripping effect of his stories. But of course, his status as one of the greatest owes much from his exquisite writing. One of his works reveals to us Hemingway at his best. The story "The Short Happy life of Francis Macomber" is regarded as one of Hemingway's masterpieces. The story had exemplified high aesthetic consideration for the characters, themes, and literary styles to be used. Moreover, the story is light-years away from being cliché. Unlike most of the popular stories being read by the public, this particular work of Hemingway is in some sense devoid of "love."
            From the beginning of the story you can gather that the relationship of Macomber and Margaret share is without love. As the plot develops, more evidences appear that supports the assumption that their marriage is cold. As the plot begins to unveil itself as the readers are brought to the near end of the story. In the ending we discover that Margaret had shot and killed her husband. It would be easier to digest that the fateful of Macomber was just a fateful accident. However, there are many facts and events in the text that support that this was done intentionally.
Brief recap of the text
Basically, the story is centrifugal to the relationship of Francis Macomber and his wife Margaret. It would be interesting to note that Margaret is being referred to by Francis Macomber as "Margot." Initially in the story, Macomber is depicted as a beta-male. There was an exchange of dialogue wherein the characters were discussing the cowardice of Macomber when a lion had charged after him. Macomber had even described his cowardly act through the words "I bolted like a rabbit." (Hemmingway 8)And of course if there is a beta-male, the alpha-male is represented by Robert Wilson. Wilson is a professional hunter who guides the rich couple in their hunt. Later in the story, Macomber had become somewhat empowered by the act of hunting. However, unbeknownst to Macomber, his wife Magaret had slept with Wilson. The tension of the story heightens during their hunt for a wounded buffalo. The wounded and enraged beast had charged towards Macomber. He tried several shots but he only hit the horn of the buffalo, which was beautifully described by the author as "…splintering and chipping like hitting a slate roof" (28). Margaret had grabbed a gun, supposedly to shoot the charging beast, she had shot Macomber and killed him instead. It was not clarified in the text whether Margaret had intentionally shot Macomber or it was all just a fateful accident.
The theme of Marriage
            Of course, one of the most visible themes in the story is marriage. As mentioned earlier, the story had revolved around the relationship of Macomber and Margaret. The readers would be immediately given the idea that what the Macomber's have is far from a happy marriage. Macomber wanted to please and impress his wife as exemplified by the instance wherein he wanted to "…clear away that lion business" (10). On the other hand, Margaret was seemingly always displeased with her husband. This aspect of his character was strongly suggested by her line "The beautiful red-faced Mr. Robert Wilson" (17). It would be helpful to note the word "beautiful" to describe the professional hunter. She had never used such adjectives to describe the man that she had married. It had also seemed that the dislike for the marriage in general is mutual to both Macomber and Margaret. In a husband-and-wife dialogue, Macomber had said to his wife "You are a bitch" (19). Then Margaret casually replied "…you are a coward" (19). Those lines are explicitly expressing that both Macomber and Margaret are displeased with one another.
Another interesting aspect of the Macomber's marriage is that Margaret does not want to relieve the decay of their relationship. The reader may suppose that Macomber does not only do the hunting for his own degrading pride, he may have also wanted to do an activity which is full of machismo such as hunting to impress his displeased wife. However, Margaret seemed disturbed to see improvements on her husband. This interesting aspect of the character of Margaret is exemplified by the lines "You've gotten awfully brave, awfully suddenly." It is easy to detect that she was surprised and at the same time disturbed at her husband's sudden improvements. Then the author had added that Margaret said these words contemptuously. However, "her contempt was not secure. She was very afraid of something" (26). A probable reason for Margaret's disturbed state is that she is afraid to see her husband gain confidence. That is because she cannot cast her womanly control on her husband if Macomber becomes confident of himself. After all, she was just a beautiful face who had been married to a wealthy man.
The marriage of the Macomber's is full of negative aspects. A lighter interpretation could say that their marriage had run out of love. However, on a harsher note, it could even interpreted that their marriage had been missing the component of "genuine love" for one another. It is strongly implied in the text that Margaret was "an extremely handsome woman." (5) Hemingway had kicked her description a notch when he wrote that she was even a model for a beauty product that he did not use. The irony in that line is tastefully profound.
Irony  
            As stated in the last sentence of the previous paragraph, the story is full of irony. The marriage of the Macomber's is already essentially ironic. Both Macomber and Margaret are already perpetually unhappy in their marriage and yet they are still together.
            Irony is even present immediately from the title. It is just ironic that the story was titled "The Happy Short Life of Francis Macomber." Macomber was definitely unhappy about the way his marriage and his whole life had turned about. Moreover, he did not lived a short life. It even seemed that he was dealing with midlife crisis during the time that the story transpired. Macomber's midlife crisis is strongly suggested by his recharged enthusiasm during hunting. He did not set for an expensive stay in Africa. Francis Macomber was in Africa for two likely reasons. One is that he was simply looking for adventure to boost his self-confidence. And another is that he wanted to have a break away from his unhappy life.
            It is also ironic that the wealth Macomber's were in the wild, where their money has no value at all. But perhaps the greatest irony in the story is the irony of being killed by one's own wife, to whom you had made an oath "to death do us part."
Symbolism
            Just like irony, symbolism also played a significant role in the text. The act of hunting is already a rich symbolism. Hunting could have been the symbolism for Macomber's desire to put a stop of something, or plainly, to kill something. He is so tired of his marriage or his life that he wanted to end it. Note that Margaret was just as exited as  Macomber to go hunting and kill something.
            The wild and the luxurious sheltered life of the Macombers are also interesting symbolism. The wild is a symbolism for a life full of danger, thus adventure. It is important to note that the wild is Wilson's world. On the other hand, the luxurious and sheltered life of the Macomber's is the symbolism for a dull and listless life. In addition to that, the popular notion that there are things in this world that money could never buy, such as love, goes well with those symbolisms. Margaret could have been tempted to never leave the wild and to stay with Wilson. That could also be another possibility for her killing her own husband.
Conclusion
            Hemingway had intricately designed the plot for the readers to be guessing whether Macomber's murder was intentional or not. The readers are then tempted to do a second reading and search for supporting evidences—and they would find many. An unhappy marriage for such a long period of eleven years could be enough to drive a person to such murderous mentality. After all, it is not impossible that Francis Macomber could have also shot his wife if she was in his position.
Work Cited
Hemingway, Ernest. The complete short stories of Ernest Hemingway: The Finca Vigia
Edition. New York: Simon & Schuster. 1998
Related Topics