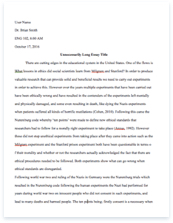 The whole doc is available only for registered users
A limited time offer! Get a custom sample essay written according to your requirements urgent 3h delivery guaranteed
Order Now
Many groups of people live in the United States today. The simplest of the groups in the U.S. would be the Amish. They are a community of people known for their simple dress and avoidance of modern conveniences such as cars, electricity and telephones among other things. They separate themselves from society due to religious reasons. The Amish do not join the military, take out any insurance, or accept any form of financial assistance. They are of Swiss-German decent with a German dialect known as Pennsylvania Dutch. The simple dress for some Amish groups prohibits the use of buttons and zippers. The Amish only allow hooks and else to keep clothing closed. Some may allow small undecorated buttons in dark color clothing ("Amish Country", 2011). The reason as to why buttons are restricted is because they are associated with military uniforms and they also serve as form of vain display. The clothing they wear should not call attention to the person that wears the clothes or any feature. (New World Encyclopedia)They do not allow any type of prints such as floral, polka-dots, and stripes. The men typically were dark-colored trousers and dark vest with suspenders. Amish do not educate their children past the eighth grade, because they believe that this education level is enough to prepare them for the Amish lifestyle. (New World Encyclopedia) Amish children are sent to school that is held in one-room schoolhouses with teachers from the Amish community. The Amish are a tight knit community with many various ways to interact and help each other while maintaining their simple way of life ("Amish Country", 2011). * Type of work the residents do
The Amish people are very hard working people, and they do not believe in technology and they preferred to live life the old fashioned way. The Amish people work on farming, woodworking, horseshoeing, and carpentry. The women work on homemaking and acquire business skills to help with family businesses. Also, the women help men from time to time in the farm. The Amish men are considered head of the family. The men are in charge of financial matters. Women are respected for their opinion by their husbands and even deferred to for some final decisions. The Amish reserve Sundays as a day away from work. Sunday is a day to go to church, to visit a family member or a friend. The Amish women try to prepare food in advance so that Sunday they do not have to worry about cooking ("Amish Country", 2011). * How would you describe the responsibilities of the individuals to the community?
The Amish way of living has increasingly separated from that of modern society and contemporary cultures. This has caused members of other modern communities to discriminate against this group and to perform hostile behaviors such as throwing of stones or other objects at Amish horse-drawn carriages on the roads ("Lancaster Pa Amish Education and Work", 2012). The Amish do not usually educate their children past the eighth grade level. They believe that the basic knowledge offered up to that point is enough to prepare a person for the Amish lifestyle. Hardly any Amish go to high school and college since parents think this may lead them into adopting another style of living. In many Amish communities, the Amish operate their own schools, which are usually one-room schoolhouses with teachers who are normally young unmarried women from the Amish community ("Lancaster Pa Amish Education and Work", 2012).
Most Amish spend their entire life running a farm or any business that is operated by members of the family, extended family or members of the community. These minimal responsibilities are the ones delegated by the older members or leaders of the Amish community. Most Amish believe that collective work, including volunteer, for the good of the community, environment, and society is the socially responsible thing to do. Amish find this to be a main part of their ethic beliefs since this group believes in being an independent and modest sector which does not need or depend on others. An example of that is how Amish groups do not believe in receiving any type of monetary assistance such as the social security. Some Amish groups do not believe in the necessity to pay for liability or any type of auto insurance. The idea of social responsibility is considered to be different than that of more popular contemporary cultures in the western hemisphere ("Lancaster Pa Amish Education and Work", 2012). Evaluate the effects of socially responsible
In the Amish community, toil is proper and good, religion provides meaning, and the bonds of family and church provide satisfaction and love. To some people, the Amish may come off as a community from the past. They lack government which has neither national laws nor a system of courts. Some may even question how this old fashion society can survive but yet also thrive in today's modern society. Despite their reluctance to accept change into their lives they still experience significant growth. Religion plays a huge role in their daily lives but they also combine their faith with their entire culture. The Amish people refer to their beliefs as the Amish Charter, which comprise their beliefs and values which guide them in their daily lives.
The Amish values center on Gelassenheit, the German word for submission and yielding to a higher authority-God. Humility is highly prized but pride is abhorred. The Amish are modest but yet reserve and place the needs of others above themselves ("Lancaster Pa Amish Education and Work", 2012). Social responsibility is an obligation to act to benefit our society as a large. By El Pasoans doing so, we maintain a balance between the economy and our surroundings. That way we are able to sustain equilibrium between the two. By being socially responsible within our community we perform activities that directly advance social goals. Allowing us to continue to develop, share, create and contribute knowledge to our community. Social responsibility is voluntary. It involves being proactive to a problem and giving a solution instead of reactive to a problem. In today's society maintaining ethical principles allows one to be successful.
References
Amish Country. (2011). Retrieved from http://www.blogforgood.net/2011/09/12/amish-country/ Lancaster PA Amish education and work. (2012). Retrieved from http://www.padutchcountry.com/towns-and-heritage/amish-country/amish-education-and-work.asp
Related Topics