American Tongues Film Commentary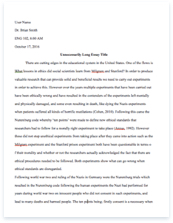 The whole doc is available only for registered users
A limited time offer! Get a custom sample essay written according to your requirements urgent 3h delivery guaranteed
Order Now
In the film "American Tongues," enormous majority of American from different cities have different regional accents of English. Some people have positive attitude towards the different regional accents of English. They believe that the way people speak is always changing based on what they hear from their linguistic environment. There are a few scenes in the film where people share what they think about using certain dialects in positive attitude. In one scene, there is an African-American woman who is interviewed and asked whether she uses a vernacular dialect or a standard form of English in her everyday life. Her reply was that she uses both types of dialects during different times of her life. She said that when she is out in public or at her work, she talks in a standard form of English. However, she also said that when she is with her family or with her friends, she talks in her vernacular dialect. This shows that the woman thinks that both forms of dialect are useful depending on the situation. By using Standard English towards her professional life, this shows that she knows that people will judge you by the way you speak. So she uses a standard form of English out in public or at her work, because people will think she is more "educated" or more "professional".
However, some people believe that some differences in dialects can grow into stereotypes and the way individuals are observed. For example, those who have a southern accent may be considered slow and drawn out, and the opposite is said for northerners. Those with northern accents are judged on their typical high fast paced dialect. In some cities, people can accept and understand different accents, but others can't accept it. They would feel funny, and laugh at the person who pronounces in a strange way. For the Black, they also feel that racism occurs to them when they speak "black English" to others who are not Black. Because there's so much slang in "black English," people view the Black as a different group even thought they can accept the way the Black speak. I wasn't aware of these kinds of attitudes before I saw the film. As a Chinese native speaker, I have experienced both positive and negative reactions to the way I speak English, but positive reactions more than negative reactions. English is my second language and I learned it since I was 9 years old. Sometimes, my American friends feel interested in my Chinese accents and imitated the way I speak. But mostly, they would like to help me correct the accent when they cannot get the words I talked about rather than laugh at me. I was worried about my Chinese accents sometimes in the past, and I asked my friends whether it was difficult to understand my speech.
Beyond my expectation, they told me that I was doing a great job as a foreigner and they encouraged me to speak more frequently. I feel good with the positive feedback and therefore I continuously speaking in my own way. My uncle's family has immigrated to USA more than 20 years. My uncle and his children can speak fluent English, so they didn't receive any special reactions. However, for my parents, they only know a little bit English and have heavy Chinese accents. When they visited me in the U.S., people cannot understand their accents and asked them to repeat their words again and again. In China, the majority language is Mandarin. There are many regional accents, such as Northeast accent, Chengdu accent and Cantonese accent.
People usually receive positive reactions to the way they speak Mandarin. People would like to communicate in standard Mandarin if they are not familiar with each other. Old friends or people from the same regions would like to use the same accents to communicate with each other because of the feeling of intimacy. In China, people do not feel weird or strange about different accents as long as they can understand each other. It is impossible to speak in one standard Mandarin accent because China is large country with a huge population. I think it is different from the situation in the present-day America and in the film I saw. Regional accents are very common and acceptable for Chinese people in mainland China. People don't usually receive negative reactions to the way they speak Mandarin. However, in the U.S., Americans have many different attitudes toward the accents and feel frustrated if they use local words and regional accents in place of the Standard American English.
Related Topics