Affect of narrative convention to reader's response to a story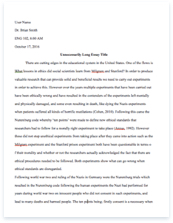 The whole doc is available only for registered users
Pages: 2
Word count: 430
Category: Abuse
A limited time offer! Get a custom sample essay written according to your requirements urgent 3h delivery guaranteed
Order Now
Question 1: Discuss how specific narrative conventions contribute to how readers respond to a short story you have studied.
The narrative convention is critical in each of every story. It is responsible for how readers respond to the story, and therefore, it decides the value of the story being told. For example, the short story "Sunday in the park" by Bel Kaufman was told in 3rd person point of view, mainly through the wife's narrator. Using this way, not only could the settings of the story be described clearly, but the feelings and body languages of the characters also be exposed specifically to the readers. In the beginning of the story, the readers were told that the family was in a "muffle" park, in the "late Sunday afternoon". This information helps us to understand why the bully incident could take place as they were positioned in a quiet and deserted park. As the story continues, we also know that the wife in the story is a very satisfied woman with an educated husband – who works in the university as a lecturer, and a son thanks to her affection and happy thoughts "How good this is", "almost smile at her sense of well-being", "squeeze Morton's hand affectionately and glanced at Larry, delighting…". Her happiness wasn't last for long since another boy throws sand at her son twice, despite that she told him to stop. The omniscient narrative describes the rudeness of the boy's father spatting on the ground after the wife spoke to the boy.
Her thought of anger was also be read: "Her first instinct was to rush to her son, brush the sand out of his hair, and punish the other child, but she controlled it." It also illustrates her expectation from the male as it's written "She always said that she wanted Larry to learn to fight his own battles". The Man who is the representative for the Bully was very aggressive and perverse as he "flexed his arm, waiting" and "stood with his legs spread apart, rocking a little, looking at Morton with utter scorn" while Morton is trying to reason with him. We were modified that the man ignored all the reasons. He intimidated other people by his physical size. The theme of the story, which is about the different versions of society's expectations of masculinity was also brought out due to her thought of "a relief" as the fight had been avoided, however "an unpleasant incident, more than a defeat of by force" she thought, and that it was "something to do with her and Morton".
Related Topics