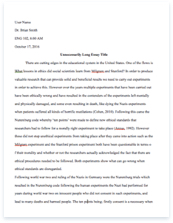 The whole doc is available only for registered users
A limited time offer! Get a custom sample essay written according to your requirements urgent 3h delivery guaranteed
Order Now
Advocacy can be defined as 'pleading the case of another' or as a means of transferring power back to the client to enable them to control their own affairs. Social workers interview their clients and sometimes liaise with other professionals in order to assess their needs and draw up a plan of action. When a social worker takes on a case, the first thing they have to do is make an assessment, that is, decide on the appropriate course of action. It may be a question for example, of giving an elderly client advice about claiming benefits or of taking urgent steps to deal with a sudden domestic crisis. Social workers act as an advocate on their client's behalf when attending police, doctors, solicitors, etc. While social workers advocate for their clients they try to make them as independent as possible and do as much for themselves. Social workers need to be able to listen with understanding and sympathy, and give support at appropriate times. They also need to be able to encourage people who lack confidence that other people will value what they say.
Social workers try to act as a stabilising influence in their clients lives and can help them to acquire some of the skills that most people take for granted, which in turn, will enhance their self esteem and make them feel less outcast from society. Much of a social workers time is spent arranging services for clients; for example, a care package including a home help and meals on wheels could enable an elderly client to remain at their own home; or single parents with very young children or young people with a drug problem could be greatly helped by attending a self help or support group. The social worker would set up this help and support for their client. Social workers from the probation service aim to 'advise, assist and be-friend' their clients and encourage them towards a more socially acceptable way of life. In court social workers act on their clients behalf and try to act in their best interest. If the client is placed on community service the social worker must find community service for their client.
Social workers need to be aware of ways of communicating which make people feel less equal, less respected or diminished in any way. Social workers working with older people find ways to communicate warmth and support without resorting to language which is infantilising like 'good girl' or using a first name before checking out what someone wishes to be called. Working with young people means avoiding patronising and clichéd questions about schools and teachers, and letting the communication begin gradually so that the child is able to respond in a way that they want to. Social workers have worked across the age range and have seen how identity may be threatened at all stages of life. Their focus has been the need to understand the whole person, both in present and past, as a basis for developing sensitive and individualised care practice.
Related Topics