Advertisement in America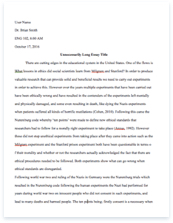 The whole doc is available only for registered users
A limited time offer! Get a custom sample essay written according to your requirements urgent 3h delivery guaranteed
Order Now
If you live in a city of the United Sates of America it is almost impossible to go about your daily life without coming across an advertisement, it is enviable, partially due to capitalism and the messages that corporates are sending constantly to the public, which is to consume (more). That being said, great effort and funding go into creating these advertisements that we come across often, companies even go as far as to targeting a specific audience, you or me. So let's analyze an advertisement using Aristotle's model of Ethos, Pathos, and Logos but before doing so I want to define each terminology proposed by Aristotle. Ethos is the credibility of the speaker; Pathos is the emotional dimension of the appeal possibly influencing the audience's disposition of the topic, and Logos can be defined as the logical dimension of the appeal.
So, the advertisement that I came across that made me really salivate was when I was flipping through a skateboarding magazine: Thrasher where there was a very simple 2D picture of a roughly sketched person's head turned to the side. The brain section is colored all in red, while his pigment color has a slight tan. The advertisement of the brand is: Krooked with the second k being backwards with addition words saying: "Stay true." Also the background has blue paint strokes, needless to say the picture isn't super tidious with compositions. The appeal of Pathos from Aristotle's model would be the words "Stay true" because skateboarding is about staying true to oneself regardless of what people say or think. You create your own rules; you skate where you want even if you are not supposed to.
This of course should not be encouraged but it is part of the skating culture period, this is why shopping malls especially dislike skaters because they claim they mark up the parking lot with skid marks, being loud, disturbing the public, etc. Furthermore, the reason why I feel as if I can trust this ad is because I am familiar with the brand Krooked, so this brand is the credibility, which is part of Ethos and the greater the credibility the greater the chance that people will buy products from them (I mean they got me). Also if I buy a skating product from this brand I am identifying with the saying "stay true." The last model of Aristotle's appeal in this advertisement would be Logos (the facts of the products).
Related Topics