ADN vs BSN prepared nurse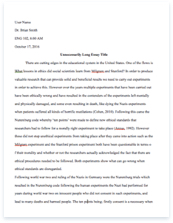 The whole doc is available only for registered users
A limited time offer! Get a custom sample essay written according to your requirements urgent 3h delivery guaranteed
Order Now
The pathways to become a registered nurse are three-fold: a three-year diploma program, a three-year associate degree program, and a four-year baccalaureate degree program. All nursing schools teach the students the basic competencies necessary for nursing practice. All graduates are required to take the same NCLEX_RN licensing exam, regardless of the pathway chosen, however it has been argued that with a higher level of education it is probable that a higher level of performance can be achieved. We will compare the associate degree to the bachelors degree nurse in this paper, and discuss a patient care situation demonstrating the possible different approaches to decision making. We will examine how research correlates education to better patient outcomes and improved quality of patient care.
According to the American Association of Colleges of Nursing, research conducted has linked a decrease in medication errors, lowered mortality rates, and a decrease in post-operative complications, as well as a shorter length of hospital stay, along with better patient outcomes, with the BSN prepared nurse, therefore correlating education to better patient outcomes. There are multiple factors responsible for the increase in the intricacy of today's health care environment. Nurses interact differently with other health care providers. Patients are becoming increasingly more complex, especially with the increased longevity possible due to advances in medical research, and the multiple medical comorbidities that can be stabilized with a variety of different medications. Understanding and managing these patients requires a more educated health care team.
A typical syllabus for the Associate of Nursing Degree requires two to three years of course study in anatomy, biology, chemistry, nutrition, nursing, microbiology, pathophysiology, psychology, as well as other social/behavioral sciences. The curriculum will also include supervised clinical experience. ("Wikipedia," n.d.,)The ADN nurse is required to take the NCLEX_RN licensing exam; this measures the "minimum technical competency " for safe entry into basic nursing practice. (ANA) The ADN is often referred to as a technical nurse, and is prepared for bedside patient care and clinical aspects of nursing. The ADN uses critical thinking, nursing ethics and acts as an advocate, and provides safe nursing practice to patients with minimal education in areas of leadership skills, managerial skills, research, evidenced-based nursing practice, nursing theories, or in specialty areas of nursing such as community health.
The Bachelor of Science in Nursing is a four-year degree in the science and principles of nursing. The Bachelors Degree (BSN) prepares nurses additionally for a professional role away from the bedside with course work in nursing science, research, leadership, and nursing informatics. A broad knowledge of nursing theories, evidence based practice, and strong critical thinking abilities allows the nurse to take a broad approach to decision making, care planning strategies and the overall care of the patient. A bachelor's degree qualifies the nurse for career advancements in administrative, research, consulting, teaching, community health, and case manager positions. ("Wiki," n.d., p. 2).
According to a report by the Institute Of Medicine "The Future of Nursing: Leading Change, Advancing Health", in order to meet the demands of an evolving health care system and meet the changing needs of patients, nurses must achieve a higher level of education. Today's health care environment is undergoing tremendous and rapid change. There is shift towards performance-based reimbursement, which has shifted focus towards implementing quality metrics and key performance indicators within the hospital setting. For nurses to effectively function and lead these particular initiatives, truly a higher level of education is necessary. Community health nurses act as care providers, leaders, educators, advocators, collaborator, and researcher. The BSN is better prepared than the ADN as it relates to todays workforce demands.
The nursing role is evolving, requiring a higher level of education to prepare them for the challenges that face nurses today. BSN programs are structured to guide students in integrating knowledge from clinical, social, and behavioral sciences with the practice of nursing to enhance development of clinical reasoning skills. The approach to a clinical situation may differ between the ADN and BSN nurse. For example detection of an elevated blood pressure during routine vital check may prompt administration of pre-ordered prn antihypertensive medication, where as a BSN may further investigate other potential causes such anxiety due to an upcoming procedure, or post-operative pain. The former can be addressed with further education and discussion and reassurance with the patient, where as the latter situation could be addressed with various modalities such cryo-therapy and pain medication. In over five decades nurses have been able to practice with three different levels of education.
Scholars would all agree that higher levels of education correlate with better performance. According to The National Advisory Council on Nurse Education and Practice (NACNEP), the intricacies of successful nursing requires individuals to have the ability to adapt and change as necessary with the changes in the health care environment. Analytical and problem solving skills along with knowledge of social, management, and behavioral sciences are necessary, along with the ability to communicate clearly and effectively, and ability to analyze data (NACNEP). The ADN prepared nurse is educated in clinical practice at the entry level. The BSN prepared nurse is educated at the professional level, along with a broader knowledge of the nursing practice. A higher level of education is imperative to meet the ever-increasing demands placed on nurses in a healthcare environment under going transformational change.
References
American Association of Colleges of Nursing ("n.d") (http://www.aacn.nche.edu) American Nurses Association. ("n.d."). . Retrieved from http://www.nursingworld.org/FunctionalMenuCategories/FAQs Associate degree. (n.d.). In Wikipedia. Retrieved May 3, 2014, from http://en.wikipedia.org/wiki/Associate_degree Bachelor of Science in Nursing. (n.d.). In Wikidpedia. Retrieved , from http://en.wikipedia.org/wiki/Bachelor_of_Science_in_Nursing Fulcher, R., & Mullin, C. M. (2011). A data-driven examination of the impact of associate
and bachelor's degree programs on the nation's nursing workforce (Policy Brief 2011-02PBL). Retrieved April 30, 2014, from http://www.aacc.nche.edu/Publications/Briefs/Pages/pb03222011.aspx Institute of Medicine ("n.d") http://www.iom.edu/Reports/2010/The-Future-of-Nursing-Leading-Change-Advancing-Health.aspx National Advisory Council on Nurse Education and Practice ("n.d.") http://www.hrsa.gov/advisorycommittees/bhpradvisory/nacnep/ Osterman, P. L., Asselin, M. E., & Cullen, H. A. (2009, June). Returning for a Baccalaureate A Descriptive Exploritory Study of Nurses Perceptions. Journal for Nurses in Proffesional Developement, 25(3), 109-117.
Related Topics